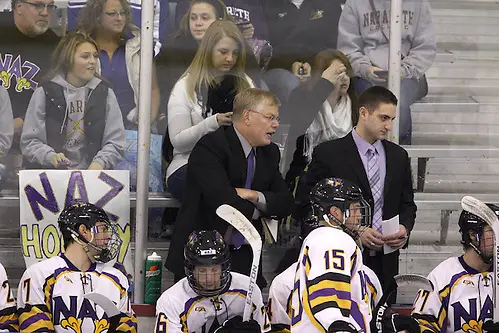 It was a new beginning in Rochester, N.Y., this fall. Not for the storied Rochester Americans of the American Hockey League, or the almost 30-year-old club program at the University of Rochester, but at Nazareth College, which iced its first varsity men's hockey team in October.
The preparation, though, began much, much earlier than that.
Nazareth hired George Roll, former bench boss at both Oswego State and Clarkson University, as its first head coach in July 2011.
"It was a daunting task at first," said Roll, who is closing in on 250 total wins in his career. "To have the opportunity to start from scratch, you feel good about the type of people you bring in to build a culture."
"We're absolutely thrilled that we were able to attract a coach of George's caliber," said Nazareth Athletic Director Pete Bothner when Roll was brought onboard last year. "We had a tremendous pool of applicants, but we think that George stood out above the rest."
At this time last year, Roll said there weren't a lot of commitments to the fledgling Nazareth program, as many recruits were still focused on getting a chance to play at the NCAA Division I level. As January and February rolled around, he said they got more pledges from skaters they felt could be competitive at the Division III level, with assistant coach Jared DeMichiel doing a lot of the legwork.
"Jared did a great job," said Roll of the former RIT goaltender. "He knew the type of players we wanted to go out and get."
The Golden Flyers' other assistant coach is volunteer Rory Fitzpatrick, a former NHL defenseman who skated with Montreal, St. Louis, Nashville, Buffalo, Vancouver, and Philadelphia in his career.
The 2012-13 Nazareth roster features players from 11 U.S. states, two Canadian provinces, and even Russia and South Africa. Despite being heavily-laden with 27 freshmen, it is also dotted with five juniors, three sophomores and one senior.
The Golden Flyers got off to a golden start in winning their first-ever game, a 3-2 overtime decision over visiting Geneseo on Oct. 18, as Reed Smith connected in the extra session on a power play at the Sports Centre at MCC in Rochester. After Geneseo rallied for a 2-1 victory at home two days later, the Golden Flyers made it two-for-three by besting host Brockport by a 7-2 score on Oct. 23.
"We started off pretty good," said Roll, now in his 15th season as a collegiate head coach. "We felt we could be 3-1, or 1-3, and expectations were raised."
Nazareth has since struggled as the season continued, as might be expected of a first-year program. Following a 4-3 loss to Salve Regina on Oct. 27, the Golden Flyers began conference play and dropped their first five ECAC West decisions. A 7-2 loss at Utica was followed by sweeps at both Manhattanville and Hobart, leaving Nazareth at 2-7 overall and 0-5 in the league.
"I don't think we've played at the level we're capable of," said Roll following the Manhattanville series. "I know we can get better, and we've established to the players not to be satisfied."
There have been some bright spots, regardless of the record. Sophomore forward Julius Tamasy led Nazareth in scoring with a goal and nine assists for 10 points in nine games, and was tied for third in the nation in assists, while classmate Mark Zavorin was pacing the Golden Flyers with six goals in that same span. Assistant captain and freshman defenseman Scott Dawson was fourth on the team scoring with three goals and three assists, and had also recorded 23 penalty minutes.
The two other team captains, senior forward Ben Waldman and junior blueliner Jordan Ciccarello, were also in the top 10 in club scoring, while junior forward James Redman led all Nazareth skaters to date with 36 penalty minutes.
"It's definitely an honor to be a senior this year on a new team," said Waldman, the lone senior on the roster. "There's been no expectations, and it's really a special opportunity. I'm just trying to embrace the whole thing."
Freshman goaltender Ed Zholsek has seen the bulk of the work in the Nazareth net so far, recording both wins, along with a 3.98 goals-against average and a .897 save percentage. His backup is classmate Joe Gladnick, who has seen action in two contests.
"I'm really pleased with the effort," said Roll. "We'll try to improve our execution and our depth. We've also had some injuries, which is always a factor."
The Golden Flyers now have a nearly two-month break from league action that begins this weekend when they travel to the Skidmore Invitational to face host Skidmore, and then either Curry or Morrisville. They won't get back to ECAC West play until Jan. 17 at home against Elmira.
His players have enjoyed competing for Roll, himself a former 150-point scorer and national champion at Bowling Green in the mid-'80s.
"He's a really laid-back guy," said Waldman. "He lets me play more offensively, and he has a great relationship with kids … He's doing an awesome job so far."
Roll knows the climb will be slow but sure, but not impossible, for his team. He believes it's a matter of getting on the same page and executing systems better, while dealing with the inevitable growing pains.
"I'm pleased with where we're at," he admitted. "We have a lot of room for improvement, and we'll try to get better every weekend."
ECAC West Notes
–Sophomore forward Louis Educate of No. 10 Utica is tops in the conference and third in NCAA Division III with 15 points (seven goals, eight assists). He earned ECAC West Player of the Week honors after recording seven points, including a hat trick, last weekend in a split with Elmira.
–Senior forward Frank Salituro of No. 7 Hobart is tied for fourth nationally with 14 points (eight goals, six assists), and is third overall in goals. Hobart freshman forward Mac Olson collected four assists in a sweep of Nazareth to attain ECAC West Rookie of the Week status.
–Senior netminder Nick Broadwater of Hobart ranks 10th nationally with a 1.15 goals-against average, and is second in Division III with three shutouts. He's gone 5-0-2 in seven outings, allowing just eight goals while recording a .948 save percentage, and also has a school-record 10 career shutouts.
–Utica is averaging 5.71 goals scored per game, good for third in the nation, while Hobart is right behind the Pioneers at 5.11 goals per game. The Statesmen are also eighth nationally in allowing just 1.67 goals per contest, and are now atop the ECAC West standings with a 3-0-1 mark (7-0-2 overall), one point ahead of second-place Utica.
–Neumann sophomore netminder Ben Curley made 39 saves in a 5-3 win at Salve Regina to earn his first collegiate victory, and also collect ECAC West Goaltender of the Week accolades. He's 1-1 so far this season with a 2.95 GAA and a .971 save percentage.
–Senior defenseman Scott Farrell of Neumann tallied two goals and an assist in the 5-3 win at Salve Regina, and earned a spot on the ECAC West Honor Roll. He leads the Knights so far this season with four goals and three assists, and all four of his goals have come with the man advantage.
–Also named to the ECAC West Honor Roll was Manhattanville sophomore goalie Alex Scola, who had 38 saves in a 6-3 win over Morrisville for his first career collegiate victory, along with Manhattanville freshman forward Matt Coleman, who had a goal and two assists in that same contest. Utica freshman forward Joel Wetmore had three points, including his first collegiate goal, in an 11-2 win over Elmira.