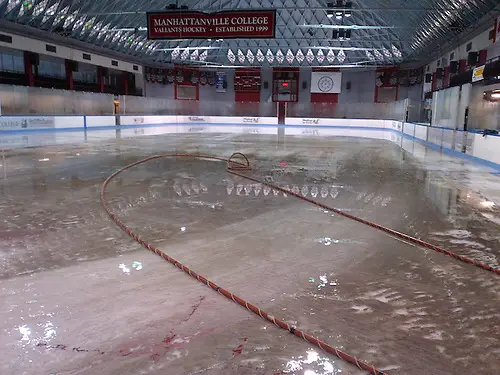 On October 29, Hurricane Sandy made landfall on the Atlantic seaboard, wreaking havoc and destruction in many parts of Northern New Jersey and the New York City area.
Among areas affected by the storm was Manhattanville's home rink in the Playland Ice Casino, located right next to the Long Island Sound in Rye, N.Y. The Valiants have called the main rink at the historic park home since 2002, and it at one time was the New York Rangers' practice facility.
Fortunately, no one in the Manhattanville hockey family was personally affected by the storm, but the heavy rain and high winds from the storm took a devastating toll on the Playland amusement park boardwalk, as well as the rink.
Noah Strone, director of ice hockey operations at Manhattanville College, said that two doors located 10 feet from the water, which normally only open out, blew in during the high winds, exposing the rink's ice surface and basement to the storm.
"The ice was flooded and covered in sand," Strone said. "The power also was knocked out, and then our backup generator in the basement didn't run, which flooded the basement of the facility in five feet of water."
Strone said that Playland was able to maintain the ice initially, but due to structural damage to the boardwalk and the rink it was determined by Westchester County officials that it would be too much of a liability to keep the park open for the remainder of the 2012-13 season.
"They just took the ice out recently," said Manhattanville coach David Turco. "The park itself is closed indefinitely, as the whole property took a pretty big hit and not just the Ice Casino. Playland, and the county who owns it, are evaluating the damage and I think they are looking for a little bit of government assistance like a lot of people are down here. There is no definite answer as to when it might be reopening."
The Manhattanville women were scheduled to host Massachusetts-Boston and St. Anselm the weekend after Hurricane Sandy hit; those games were each switched to road games for Manhattanville. The Valiants beat Mass.-Boston, 4-1, on Friday and then followed up with a hard-fought 2-2 tie against St. Anselm on Sunday.
Since Sandy hit, Manhattanville has played five games, all on the road, and is 4-0-1 in those games, including solid wins over Salve Regina, Holy Cross, and Neumann.
"We're feeling pretty good with what we've done in the face of adversity," Turco said. "We've built an identity that we're going to be on the road a whole lot, and if you're going to go deep in your season, you've got to be able to win on the road."
This weekend, Manhattanville will finally plays its first "home" games of the 2012-13 season when it hosts Plymouth State on Friday and Southern Maine on Saturday.
"This will be the first time we're playing a 'home' game," Turco said. "We've had some success on the road, so we're not complaining, but it will be nice to play near campus and get a little fan support, along with the home ice advantage."
Since the hurricane, Manhattanville has been able to find ice at the Terry Conners Rink in Stamford, Conn., which is now serving as the temporary home for the Valiants' men's and women's hockey programs in 2012-13. The rink is about 20-25 minutes away from campus, according to Turco, which is only a little bit farther than Playland was from Manhattanville's campus in Purchase, N.Y.
"Between our program and the men's program, we're at two different places, depending on who is at home that weekend," Turco said. "But, the other rink is a few more minutes down the road, so it's not too bad. There's not a lot of complaining going on between our men's and women's hockey programs. We kind of had a tough thing happen here, and it is what it is but a lot of people obviously were affected much bigger than us."
While Terry Conners Rink has been able to accommodate ice times for Manhattanville, it also has numerous other groups on its schedule, including other local high school and youth hockey teams, as well as local figure skating clubs. The high demand for ice time has forced Manhattanville into some peculiar situations that it never had to deal with before at Playland when the Valiants were the primary tenants of the building.
"Essentially, we've lost our home down there at Playland with our locker rooms, training facilities, and office space," Turco said. "It's kind of like you don't know what you got until it's gone and we're kind of back to basics here. It's pretty much finding ice time that works for us and the rink schedule. It's kind of old school, where you show up to the rink with your bag, practice for two hours, pack up and drive home, and then do it all over again the next day."
Saturday's game against Southern Maine is a perfect example of one unique situation. Due to a major figure skating competition scheduled in the afternoon/evening, Manhattanville and Southern Maine will drop the puck at 11:30 a.m. on Saturday morning, which will be less than 14 hours after Manhattanville finishes up its Friday game against Plymouth State.
"It's a little bit of hassle playing so early, and we had to talk to Southern Maine and get them to agree with it and they did, as John [Lauziere] (USM coach) was really nice about it," Turco said.
Southern Maine plays Nichols at 7:40 p.m. on Friday, and then will have to travel 2:30 hours from Harrisville, R.I., to Stamford, Conn., to play at Manhattanville the next day.
"They are getting into their hotel at around midnight, so we're actually sending a bus up to get them and bring them down the rest of the way on Saturday morning so that their driver can get enough sleep that is mandated by the law and can get them home," Turco said.
Strone and Turco both expressed their thanks to the Terry Conners Rink and the local youth and high school hockey teams for helping out Manhattanville hockey in a time of distress.
"TCR has been a gracious host to us, and it's a great college hockey venue to play games in," Strone said. "The local youth and high schools teams have been very accommodating to us by interrupting their schedules to allow us to have a rink to play home games in."
Through it all, Manhattanville has emerged with a 4-2-1 overall record and a 3-0-1 mark in ECAC East play, with all seven games being on the road. The Valiants haven't lost since Oct. 28, and they are the lone unbeaten team remaining in the ECAC East. Manhattanville controls its own destiny now when it comes to league play after St. Anselm ended Norwich's 44-game conference regular season unbeaten streak.
"Even from that beginning weekend, we were doing a really good job playing without the puck and not giving teams a whole lot in terms of getting shots and quality scoring opportunities," Turco said. "In every game we've been in, we've played some tough teams. We've showed a lot of character to start coming out on top in these close games after losing two close ones to open the season."
Perhaps some of that character has come from losing your home rink.
Manhattanville will be hosting a Think Pink game against Plattsburgh on Dec. 7 to close out the first semester schedule. Tying into that, the Valiants will have some donation jars going around the rink for Hurricane Sandy relief.