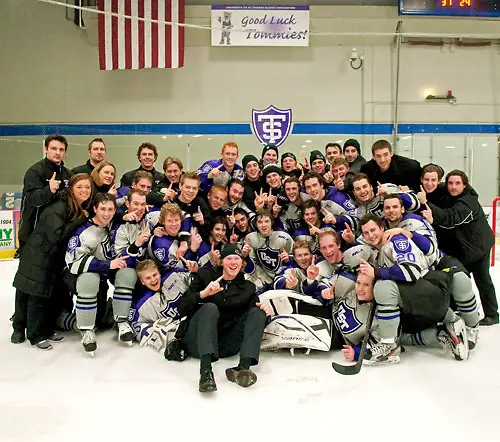 The Christmas season has returned, and as we all know, it's the most wonderful time of the year. I always try to be more about giving than receiving, so this year, I've opted to write you a letter Santa, about what I believe each team in the Minnesota Intercollegiate Athletic Conference would like to have for Christmas.
It's been awhile since I've actually written you a letter. The last time was back in 2000 when I was sitting in an airport waiting out a delay for my flight to Houston to cover a bowl game.
At that time, I asked you for an East Carolina win over Texas Tech, and you delivered.
So this time, I'm asking you to fulfill the needs of each team in the MIAC. I know you have a lot of work to do in the next couple of weeks, but if you can help out the teams in the MIAC, I'm sure they would truly appreciate it.
St. Thomas
I'll start with St. Thomas, the defending regular-season champion and the favorite to win the title this year. The Tommies are pretty excited about their football team at the moment, as they will play Mount Union for the national championship on Friday night in Virginia. But their hockey team has generated a lot of excitement as well. It is 7-5-1 overall and tied for first in the league with a 5-1 record.
They are clearly playing well, and I'm sure they not only want to win the conference again, but they wouldn't mind winning the MIAC tournament either after losing in the semifinals last season.
Bethel
Bethel is currently tied with St. Thomas in the standings, and considering the Royals were picked ninth in the league, I'm sure they already feel like they have the best Christmas present they could ask for.
In case you haven't been paying attention, Bethel has been pretty good offensively, scoring 29 goals, but they have given up 31. If you could help the Royals step it up on defense a little more, I'm sure they would be thrilled.
The other big item on their wish list is a strong start to 2013. Bethel doesn't play again until Jan. 4, and the game is against St. Thomas on the road. It's the start of three consecutive road games, and the Royals would love you forever if you could give them a 3-0 record during that stretch of games.
St. Olaf
When it comes to St. Olaf, the Oles have good reason to feel good about being in second place with a 4-2 league record. Plus, St. Olaf lost two of its best defensemen from a season ago, and yet, it is still one of the better defensive teams in the league, having allowed only 24 goals.
My guess is the Oles are hoping to continue their defensive success, but what they would really love you to bring them is an opportunity to win the conference tournament this year. St. Olaf lost in the championship game a year ago, and a MIAC tourney title sure would look nice in its trophy case.
St. Mary's
I think St. Mary's got one of its presents early from you, as freshman Mike Hill has been nothing short of sensational. He has scored six goals and has dished out nine assists to help the Cardinals move into third place in the league with a 3-1 mark.
But the Cardinals still need some help, especially on defense. They gave up 12 goals in their last three games, all losses, and they don't play again until January.
St. Mary's is going to have to play better defense to succeed. So if you could give them the ability to take their defensive play to another level, life will be good in St. Mary's, because a good defense to go with a potent offense will put the Cardinals in a position to contend for a conference title. And that would be huge for a team that was picked to finish dead last this season.
Concordia
Concordia is 3-3 in the league at the moment, and could really use some consistency going forward. The Cobbers seem to be stuck in a mode where they win a game and then lose a couple before winning again.
If Concordia is going to be in the mix for a league playoff berth, it needs consistent play. So, please Santa, give the Cobbers some consistency for Christmas so that they can string some wins together and give themselves a shot at being one of the better teams in the MIAC when it's all said and done.
Oh, and if you could allow Jordie Bancroft to continue to make an impact, Concordia would appreciate it. The freshman has been on a roll, scoring six goals and tallying four assists in his first 11 games.
Gustavus Adolphus
Okay Santa, here is the deal with Gustavus. The Gusties were picked to finish second in the league this year, but they haven't had much luck during the first two months of the year.
Offensively, they have been fine, tallying 32 goals, but they have also given up 32 goals. They could use some help in limiting shot opportunities for opponents; that would be great. Teams have racked up 409 shots against Gustavus, and the number is going to have to come down if the defending conference tournament champions are going to get back on track.
Zach May, who led the Gusties in points last year with 23, needs some more goals for Christmas. He has scored twice, but if he can bring his goal total up, Gustavus is going to be tough to deal with in the second half of the season.
The bright spot for Gustavus is that it has won four of its last five games, and I hope that you can give them continued momentum when they get back to playing in January.
Augsburg
Augsburg has only one league win so far, but there is always hope, especially at Christmas. One thing the Auggies could use is a strong second half of the season from goalie Justin Lochner.
Lochner is one of the top goalies in program history, but he has just a 3-6-1 record at the moment. I understand, though, that Lochner can't do it alone. He needs the defense in front of him to do its job as well. So Santa, if you could turn things around for Lochner and the Augsburg defense, perhaps there is a chance the Auggies will end up better than their expected seventh-place finish.
St. John's
St. John's came into this season with high expectations. The Johnnies made the playoffs last year and were predicted to finish fourth this season.
Well, Santa, the Johnnies have only one league win and are 4-4-1 overall. St. John's has only three players with three or more goals. They need more balance in their offense, and I'm hoping that perhaps you can help them out.
The positive sign for St. John's is that it has won its last three games, and eight players scored goals in those wins. It's a step in the right direction. The Johnnies just need your help to keep it going.
Hamline
Finally, I need to ask you to help out Hamline. The need for the Pipers is easy. They need some wins.
Hamline has played 13 games and has lost 11 times. The other two games ended in ties. The Pipers have been blanked four times and have only 24 goals on the year.
They not only need more offense, but they need some help when it comes to stopping opponents. Hamline, after all, has given up 56 goals.
I don't expect you to give Hamline a chance to win the rest of its games, but if you could give first-year head coach Doc DelCastillo a reason to smile — seven or eight wins would help — I'm sure he will be your No.1 fan forever.
I know you are busy Santa, so I will wrap this up. I appreciate you taking the time to read this letter, and hopefully you can deliver a little Christmas joy to the teams in the MIAC.