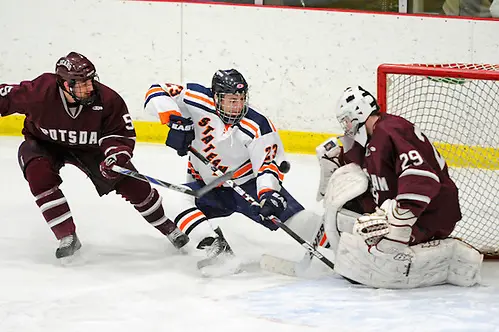 Rather than the regular column this week, here's a look at what each of the six ECAC West schools might like to see under their Christmas tree (or Hanukkah menorah) this month.
 
Hobart (11-1-1 overall, 5-0-1 ECAC West)
The No. 4 Statesmen would like to still be undefeated, following Saturday's overtime loss to No. 2 Oswego, but they still seem to be in pretty good shape after suffering their first setback since February. Maybe a tad more scoring from the blue
line might help, as eight of Hobart's nine top scorers so far are forwards, led by senior Frank Salituro with nine goals and 10 assists for 19 points.
Manhattanville (8-3-1, 4-1-1)
The best thing Santa could bring the No. 5 Valiants is continued health and good play from sophomore netminder Brian Fleming (6-3-1, 2.29, .924). The New Brunswick native has taken over the No. 1 job held the last three years by since-graduated goaltender Pierre-Olivier Lemieux, and has made 25 or more stops in a game five times this fall, including a 51-save effort in a tie at Hobart.
Utica (9-2-0, 3-2-0)
The No. 9 Pioneers have reaped the benefits of having an experienced player join their ranks this year in forward Louis Educate, who averaged a goal a game last year with Nichols and is pacing Utica so far with 19 points. Perhaps Jolly Old Saint Nick could help to shore up the Pioneers power play, which has gone just 10-for-59 (16.9 percent) to date.
 
Elmira (5-6-0, 2-4-0)
The Soaring Eagles have rebounded from a 9-0 season-opening loss to Oswego, but still haven't been able to sweep a series so far this season. Improved special teams by way of Santa (or someone else) could help, as Elmira is just 59-of-74 (79.7 percent) in killing penalties, while the power play isn't even ranked in the top 60 in Division III, sporting a 12.3 percent efficiency. Cutting down on penalties would also help, as the Soaring Eagles are the sixth-most penalized team in the nation, with 99 infractions so far for 247 minutes. Four of Elmira's top six scorers are also freshmen, led by Michael Collins with 5-7—12 points.
Neumann (5-4-2, 2-4-0)
The Knights are in the middle of the Division III pack in terms of special teams (20th power play, 16th penalty-killing), and are getting solid goaltending from junior Brealy Torris and sophomore Ben Curley, who have combined to allow just 26 goals to date. They could really use more scoring to come down the chimney, though, as Neumann has tallied just 32 goals in 11 games, and has no players in double-digit points. The team point parade is led by senior forward Dave Gervais (3-6—9 points), but he could use more help.
Nazareth (4-8-1, 0-5-0)
The first-year Golden Flyers have fared well outside the confines of the conference, but could really use a league win starting in January. That, and more nine-goal outbursts like on Friday against Western New England. Nazareth is 11th in the nation on the power play, having gone 22-of-83 (26.5 percent), although Father Christmas could help with a penalty kill that is ranked just 45th (79.1 percent). Consistent production from top scorer Mark Zavorin (9-6—15 points), who exploded for five points against Western New England after a six-point outing against Brockport in November, would also be a boon.
Happy holidays to you and yours!