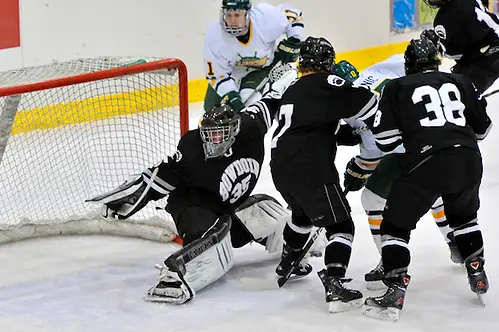 Somewhere at the North Pole…
"Hey guys, hey elves gather round.  It's always great to get the Christmas lists from all of the hockey coaches and this year the NESCAC boys have out done themselves."
"Really Santa?  Why do you say that?"
"Well, not only is everything neatly typed and alphabetized in convenient Excel spreadsheets; the lists are, well, they are kind of short."
"Really Santa?"
"Yup, kinda short this year. Don't get me wrong, we have our work cut out in coming up with the appropriate gifts for Jack and Bill and Terry and Bill and Chris and the new guy Blaise, but they aren't asking much of us — just more from their teams."
"Wow Santa, is there enough to keep us all busy?"
"More than enough my industrious minions. Let's get to work on this and make sure to keep things in order like the NESCAC likes."
"Sure thing Santa! Let's get a look at what need to get done in the next few days."
Amherst Lord Jeffs
At 5-3-1 overall in the first half, the Lord Jeffs have seen some very interesting games already this season, having played in three 1-0 contests. That's really playing some tight hockey without a lot of margin for error. So far in the first nine games, the team has just surrendered 13 goals, so not much need for improvement there. One Christmas wish may be for some balanced scoring outside of Johnny Van Siclen, Mike Moher, and Mike Rowbotham, who currently account for 12 of the 21 goals this season.  So Santa, how about some goals for some other guys in the second half, starting at the Cardinal Classic to open the New Year?
Bowdoin Polar Bears
As one of only three unbeaten teams remaining in the D-III men's hockey ranks, Bowdoin has certainly played as well as their 9-0-1 record reflects to date. Like one of the other unbeatens, Norwich, the Polar Bears have had their share of injuries that have kept key players like Ollie Koo and Colin Downey out of the lineup in some first-half games. Every team has to deal with injuries, but it would be great, oh red-suited elf, if we could see the team playing with all of its parts in the second half for what could be a great run this season.
 
Colby Mules
The Mules broke into the win column in conference play by beating Tufts on the final game before the break. Hopefully, this will carry some momentum into the second half, where new coach Blaise MacDonald really wishes for some better decision making and focus for the full 60 minutes to compete at the needed level to see more "Ws" in the second half. For a team that also historically has been really good on special teams, the Christmas list probably shows a few items for improved play on the power play and penalty kill in the second half.
Connecticut College Camels
If you just look at the final six games in the first half, the Camels went 2-3-1 and played very well on the road against conference powers Middlebury and Williams. They lost a close one to Manhattanville before a Jekyll and Hyde weekend that saw a 7-2 win over Colby and a 7-1 loss to Bowdoin. So what is on the Christmas list for coach Jim Ward? It's an easy gift on this one — penalty killing, nicely wrapped and with a big bow! The Camels are only killing penalties at a 65 percent success rate, and that will get you in trouble in the NESCAC conference. Please Santa, make sure this one gets delivered in time for the Ledyard Bank Classic and a date with top-ranked Norwich and its 28 percent power play.
Hamilton Continentals
The Continentals are eight games into the season and they have scored one or fewer goals in five of those games. In fact, the offense has produced just 12 goals in all eight games, so this Christmas wish list is an easy one for coach Rob Haberbusch.  Only six players have scored so far this season, and that doesn't include Michael DiMare, who scored 31 in his first two seasons with Hamilton. Please bring some magic sticks, tape, or pucks or new five-hole radar to place under the tree, and that should help the Continentals with their upcoming five-game homestand that includes Curry and Bowdoin to start the second half.
Middlebury Panthers
This year's young edition of the Panthers has certainly demonstrated some offensive prowess, averaging over four goals per game and an astounding 43.8 percent success rate on the power play. Louis Belisle is off to a great start, along with several of the freshmen, so the offense is not the challenging part of the game for Middlebury. So Santa, could you maybe gift wrap some help on the penalty kill and maybe a bit more consistency in goal, where no netminder has a goals-against average below 3.00 or save percentage over .880.
Trinity Bantams
At 5-1-1, the Bantams and coach Matt Greason should be pretty happy about the first half of the season. They took down Amherst, 1-0, and then beat another ranked team in Manhattanville, 3-1, to close out the first half of the season. Benjamin Coulthard has been the real deal in goal, and even has chipped in offense with an assist to his record. The Menard boys have done as expected, so what could Trinity be looking for from Santa? Well big guy, let's not be afraid to bring a little more offense down the chimney this Christmas. Not looking for a lot here, but a little more balance on the scoring among the half-dozen players who have lit the lamp just once this season would be a welcome sight under the tree. Williams, Middlebury, and Bowdoin are all opponents in the first half of January — the goals will be needed.
Tufts Jumbos
After a 3-1-1 start to the season, Tufts finished the first half losing their final four games by a combined 24-10 score. I am sure there are a couple of key items that coach Brian Murphy would like to see gift-wrapped for the Jumbos, starting with the opponent shot reduction program. Opponents are averaging 39.9 shots on goal against the Jumbos, which certainly is placing a heavy load on goaltender Brian Phillips. Add in a struggling penalty kill unit that surrenders a goal over 32 percent of the time and you are looking at a scoreboard deficit that is tough claw back. A quick time machine snap back to the start of the season's performance would help rebuild the confidence against SUNY-Canton on Jan. 5, and it will be needed before a five-game road trip that includes Amherst, Wentworth, and Trinity among the opponents in mid-January.
Wesleyan Cardinals
The Cardinals have things going well overall at 4-3-1, but are only 1-2-1 in conference play this season. The scoring, defense, and goaltending, as well as special teams, all are getting better than passing marks, so what could coach Chris Potter put on his list for Santa? Well, 26 of the team's 32 goals in the first half came off the sticks of juniors and seniors. With key freshmen like Jaren Taenaka, Terence Durkin, Alex Carlacci, and Jay Matthews combining for a three goals and eight assists, the Cardinals would surely benefit from more production for a group that is now seeing some significant ice time. So Santa, how about some puck luck for the new guys under the tree this Christmas? It will surely come in handy at the Cardinal Classic before the New Year to open the second half.
Williams Ephs
At 6-2-0 overall and 5-1-0 in conference play, the Ephs have proven they can be very effective in close contests, having played in seven games where the margin has been two goals or less. The goaltending of Sean Dougherty has been superb, and the team is currently riding a four-game win streak entering the break. This is another team that has all components operating at high efficiency, so what could coach Bill Kangas possibly need for Williams from Santa? Well Santa, if there is anyway Williamstown can be immune to any flu outbreaks, accidents, and injuries for the second half, it would be great. The roster is solid, but thin in overall numbers, so everyone staying healthy will be a key to Williams' success after the break.
Well that's the list for all the NESCAC teams who are immersed in final exams over the course of the upcoming days. Hope all stay true to their diet and conditioning during the break and don't try to emulate Santa's appearance. The league competition is hard enough, so maybe, just maybe, these Christmas wishes will be enough to push some teams on to greatness in the second half.