It's holiday break time in the WCHA. As usual, there is a logjam at the top the standings as teams vie for the MacNaughton Cup with a couple surprises, one big.
No. 16 St. Cloud State is in first place by a point but No. 7 North Dakota, tied with Denver, is right behind with two games in hand on both the Huskies and Pioneers.
No. 14 Denver got off to a jackrabbit start and led the league by a mile only to see the tires fall off after sweeping Colorado College, allowing SCSU to overtake them and other teams to gain ground.
SCSU's rise is not a major surprise, but Minnesota State, ranked 18th, sitting in fourth place is. It will be tough to hold onto home playoff ice with No. 4 Minnesota and No. 12 Nebraska-Omaha tied for fifth with two games in hand on the purple Mavs. If the potential-laden Gophers start to click as a team, they could rise to the top quickly.
Some bottom-half teams are far from out of it. Eighth-place Colorado College and 10th-place Wisconsin have two games in hand on seventh-place Minnesota-Duluth, which quietly climbed up the standings over the past month. The battle for home playoff ice will not be decided until the final weekend, as usual.
Here are a few topics looking back on the first half and what's coming up over the next three months:
Breakout team of the first half
It took a little while for Minnesota State to bust out, but a change in net got the Mavericks going in the right direction.
Freshman goaltender Stephon Williams relieved senior Phil Cook during the second period of a Nov. 9 loss to Denver. In the six games after that series, Williams allowed no more than two goals per game with two shutouts.
The Mavericks ended the first half with a 7-1 record in their last eight games to catapult them into fourth place. With a favorable second-half schedule, MSU could keep climbing the standings.
It's a big step up from the previous three seasons, when the Mavericks (10-6-2, 8-6 this season) mustered eight league wins (8-16-2 in 2009-10, 8-16-4 in 2010-11 and 8-18-2 in 2011-12). MSU last reached double-digit wins (11-13-4) during the 2008-09 campaign.
Sophomore Matt Leitner is on pace to be MSU's first 40-point man since St. Louis Blues captain David Backes and AHL player Travis Morin finished with 42 each in 2005-06. Eriah Hayes is on pace to be the first Mavericks player to hit the 20-goal mark since Mick Berge in 2007-08.
Breakout player of the first half
Of all the Colorado College players enjoying a strong first half in the WCHA's second-best overall offense, senior captain William Rapuzzi has shown the most marked statistical improvement from the previous season.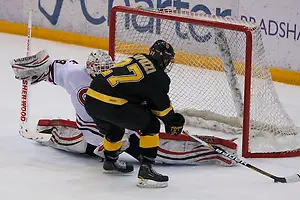 His 10th goal of the season last Friday raised his season total to 23 points (13 assists) in 20 games and surpassed his previous season high of 22 set as a sophomore in 43 games.
Rapuzzi recorded 15 points (12 assists) as a junior recovering from a wrist injury while spending much of last season on the same line as the departed Jaden Schwartz and current Tigers leading scorer Rylan Schwartz.
His 10-game points streak ended last Saturday. But the senior right wing from Anchorage, Alaska, remains tied for fourth in the league in overall points and second on the Tigers. He is tied for the team lead with 10 goals with Schwartz and senior Scott Winkler and is tied for second with seven others in the WCHA.
Teams most in need of the break
It was not a good first half for the Front Range teams.
Denver stumbled, as rival Colorado College did, over the final weeks of the first half with a 2-5-3 record, going from a comfortable lead in the WCHA standings to a tie for second place with North Dakota. DU's only wins came against CC.
The Pioneers' decline could be seen each week in the overall team statistics with DU going from a league-high 4.5 goals to 3.28, sixth overall, entering the break.
That is a considerable drop and certainly enough to cast serious doubt on the Pioneers' MacNaughton Cup dreams as they enter the second half. Denver fans can only hope their team can find their mojo during the break.
CC, tied with Bemidji State for eighth place, is even more worn down by the grind of a first half played without a bye week. The Tigers mustered only four league points over the past five weekends, starting by being swept by DU. The mental fatigue took a toll, according to assistant coach Eric Rud.
"You could feel it just being around the guys," he said in a radio interview after the Tigers mustered only 17 shots in Saturday's 3-1 loss at first-place St. Cloud State. "They need to finish up school, go home and stay away from the ice to recharge for the second half."
Team poised for a second-half surge
With only two top-half teams (Minnesota and North Dakota) on Minnesota State's second-half schedule, the Mavericks are in good position to get a high seed for the first round of the playoffs.
MSU sits in fourth place with 16 points, two points out of first, and face five teams currently in the bottom half of the WCHA in their remaining seven league series. Three of the games against Minnesota and North Dakota are at home.
All of that points to the Mavericks contending for the MacNaughton Cup. MSU's fortunes hinge on freshman goalie Williams, who was hot until he allowed eight goals in two games at Nebraska-Omaha.
Roughest road ahead
Life in the WCHA is all about playing a tough schedule, but Wisconsin (4-7-5, 2-5-5 league), tied for 10th with Michigan Tech, faces an especially challenging second half because of a weak home record and poor offense.
The Badgers open the second half with consecutive road weekends at Alaska-Anchorage, always a tough place to play, and fourth-place Minnesota State.
An evident lack of scoring depth when Nic Kerdiles and Mark Zengerle were unavailable (suspension and injury, respectively) showed how anemic the WCHA's 11th-rated offense (2.19 goals overall) is.
The league's top returning points-scorer from 2011-12 (50 points), Zengerle is struggling with eight points, partially because of a broken finger suffered Nov. 3 and because there are fewer skill players around him. Zengerle's two points in the four games since his return from injury were assists against struggling Alabama-Huntsville.
Road trips to Nebraska-Omaha and North Dakota will be awfully tough. So will be home series against CCHA co-leader No. 5 Miami and St. Cloud State and a single home game against Minnesota, with another at Soldier Field in Chicago.
A few more thoughts
• Minnesota's Erik Haula recorded 49 points last season and has 22 (14 assists) in 17 games this season. Haula has the longest point streak in the league at 12 games, with five goals and 13 assists in that stretch going back to Nov. 2.
• Bemidji State coach Tom Serratore won his 200th career game for his alma mater with last Saturday's 5-1 home win over Denver. His namesake, nephew Tom, a junior forward for Minnesota, has a career-high six goals so far, doubling his total from his sophomore campaign.
• Denver senior Chris Knowlton is only one point away from matching his career-best 19 points (12 goals) set last season. He has 18 points (10 goals) so far.
• The first of two exhibition games for Team USA going into the World Junior Championship is Thursday. USA takes on Sweden at 11:30 a.m. CST on the NHL Network and NHL.com. Michigan Tech's Blake Pietila, Minnesota's Brady Skjei and Mike Reilly, North Dakota's Rocco Grimaldi and Wisconsin's Jake McCabe are the WCHA players fighting for a final roster spot.
• St. Cloud State has won three straight games, a stretch in which it faced two of the top three scorers in the WCHA — Nebraska-Omaha's Ryan Walters (26 points) and Colorado College's Rylan Schwartz (24 points) — going into the break. The Huskies held both players scoreless in those three wins.