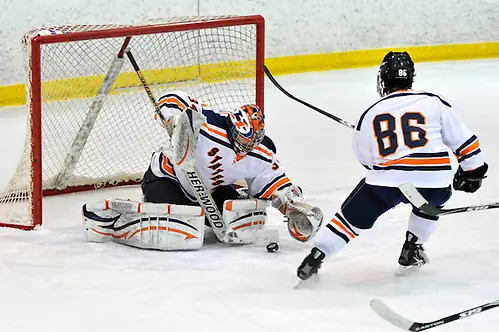 Hobart College senior goaltender Nick Broadwater has already surpassed most of his accomplishments from last season. After all, he only played in a dozen games a year ago.
In 11 outings so far this season, Broadwater has gone 8-1-2, with the only blemish a 3-2 overtime loss to No. 2 Oswego on Dec. 8 in the final game of the fall semester. The Portland, Maine, native made a season-high 40 saves in that contest, the most he's made in one game since he posted 40 stops in a shutout of Neumann in February 2011.
"We've been doing well," said Broadwater earlier this month. "We had the injury bug toward the end, and the break is coming at the right time. We'll recover and get back for the last stretch."
Coupled with his 36 saves in a 3-1 win over Buffalo State on Dec. 5, Broadwater earned the most recent ECAC West Goaltender of the Week accolades, as the Statesmen maintained their hold on first place in the conference.
No. 4 Hobart (11-1-2 overall, 5-0-1 ECAC West), off to the best start in program history, has been off since the Oswego loss, and will not play in a post-Christmas tournament. The Statesmen will instead take an exhibition trip to Europe beginning Dec. 27, and will return to regular-season action on Jan. 12-13, when they visit Curry and Nichols in non-conference action.
One could argue Broadwater was somewhat well-rested entering this season. He played in a total of just six games in October and November of 2011 before being sidelined by injury. Classmate Martin Ausserhofer held the fort in the interim, going 10-5-1 before Broadwater returned in February by stopping 21 of 23 shots in relief in a 6-4 loss at Elmira in his comeback appearance.
Apparently, the 5-foot-10, 190-pound netminder got all the warmup he needed in that one game, as he then reeled off five straight victories, including a 26-save performance in a 5-0 win over Neumann for the ECAC West Tournament title.
"Since he got injured, he came back on a mission," related Hobart coach Mark Taylor recently. "He's set himself up here, and to try and play after here."
Broadwater, 23, has started for the Statesmen since his freshman campaign in 2009-10, when he went 10-8-3 in 22 games with a 2.41 goals-against average. He then fashioned a 14-7-2 mark with a 2.42 GAA in 26 games as a sophomore.
He chose Hobart after playing with the Boston Junior Bruins, and also spent time with the Portland Junior Pirates and Deering High School.
"I kind of weighed my options," he recalled of his college search. "I got hurt and wasn't sure if I would be playing another year of juniors."
It was then that an opportunity arose at a small NCAA Division III school in Geneva, N.Y.
"They brought in three freshmen, and I knew the job was open," said Broadwater. "Part of it (choosing Hobart) was the chance to play, plus the academic reputation of the school."
Broadwater is majoring in American Studies, with a concentration in International Relations. He's also carrying a minor in Political Science, but even with his sizable academic workload, he's still gone 32-16-7 with a 2.21 GAA and 12 shutouts in 71 career games between the pipes at Hobart.
"He's very solid in all areas," said Taylor, now in his 13th season at the Hobart helm. "He's got nice poise and character, and that makes him what he is."
Taylor, who has coached All-American goalies at Hobart in the past (such as Keith Longo in 2009), said that the common thread among those top netminders was their consistency level, which he added is linked to quality character traits like the ones Broadwater possesses.
As for the future, Broadwater himself is open to having options, both on- and off-the-ice.
"I'd like to keep playing as long as I can, although nothing is guaranteed," he admitted. "I'll roll with it and see where it takes me day by day."
Until late March and early April, at least, when he'll be looking to backstop Hobart to another ECAC West crown and hopefully its first NCAA tournament berth since 2009.
"I think right now we're a focused and close-knit team," offered Broadwater. "Going to Europe will bring us closer, and I think we can contend with everyone else."
"He's a great team guy and a focused hard worker," added Taylor. "He's self-improved and a self-starter, and he's focused on doing everything to help his team win."