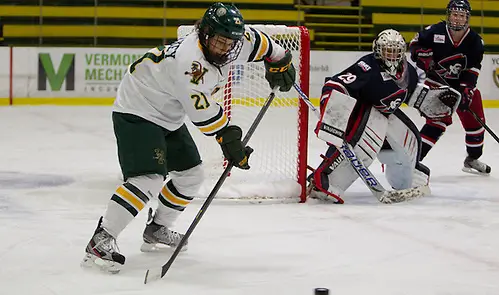 At Vermont, the end of the Hockey East regular season has always meant one thing: the start of the offseason. With the expansion of the league tournament to eight teams, the Catamounts are assured of their first taste of the postseason at the D-I level.
However, under new head coach Jim Plumer, UVM likely would have been bound for the HEA playoffs even without the rule change. With a 4-3-2 record in league action, its .556 winning percentage trails only Boston College and Boston University. Less than halfway through the conference slate, Vermont is only two points shy of the 12 points it compiled two years ago, the highest point total it achieved over its first seven Hockey East campaigns.
"I think it's difficult to get that winning mentality without having the experience of winning, particularly some close games, but I also think that it is primarily a product of learning to do the things that put you in the best position to win," Plumer said. "For me, I think a lot of that comes in practice."
Junior Roxanne Douville, the team's primary goaltender through her career, has been in net for all of the team's HEA games, and has seen changes in approach under her new coach.
"Coach Plumer has high expectations for us and he pushes us a lot in everything we do," she said. "He also is a very good communicator and an optimistic realist. Practices really make a difference this year; we practice longer with more intensity and quality."
Plumer has had success using demanding practices in the past at Amherst, where he guided the Lord Jeffs to two NCAA titles in his nine seasons as head coach.
"That's very similar to what I tried to do at Amherst, particularly in creating a competitive culture where the kids really worked each day in practice in a way that is a little different than the way some other programs work in that we compete with each other a lot and try to build a competitive mindset from within," he said. "One of the benefits of being a D-III coach is that you can go pick a lot of D-I coaches' brains. I would go watch practices from various programs. So I had an idea of the way things worked and how I might want to do some things differently, but I don't have that luxury anymore. I don't think anyone is telling me their secrets."
One coach who has continued to be a source of information is associate head coach Grant Kimball, in his fourth year at Vermont.
"Grant has been invaluable both because he's been in the D-I game for nine or 10 years, he's recruited, and he understands some of the stuff about how administratively it works," Plumer said. "So I think in terms of the recruiting and being able to jump in and know the pool of recruits and things like that, I couldn't have done it without someone like Grant, and he's been great in knowing the culture at UVM and has been really helpful."
The new boss has needed all of the help that he could get, because the hockey gods have been less than kind on the injury front.
"That was really severe, to be honest," Plumer said. "Most of it was really leftover injuries from last year or the summer. Amanda Pelkey was injured this summer with the U.S. national program. We had some concussion problems that happened early in the season. We went to play UNH, we had three defensemen in mid-October there, so it required adjustments in every way possible, from how can you practice with 12 or 13 or 14 players and prepare to play a full-ice game when you can't do any meaningful five-on-five work to looking down the bench sometimes and going, 'Where is everybody?' On the other hand, it gave everybody a chance to step up and play an important role, so there were no people in the stands feeling unhappy."
The roster bottomed out in a 6-1 loss to Rensselaer where the Catamounts only had 11 skaters dressed. The challenge of playing behind the makeshift lineups fell to Douville, who as a rookie backstopped a squad that only provided her with an average of 1.3 goals in support.
"I experienced pressure during my first year at UVM because we couldn't afford going down by two goals," she said. "This year is very different. We believe we can come back from behind and have the confidence we can go and score some goals. My job is a little harder this year having a younger defense. I really have to focus on controlling my rebounds to make everyone's job easier. That aspect of my game is going well; combined with a good defensive effort from the team in the past five games, it has made a big difference."
By November, the injury situation improved and so did Vermont's results.
"It was frustrating being injured at the beginning of the season, but I had the right people surrounding and supporting me to get me back ASAP," Pelkey said. "Although it was frustrating, it was nice to watch our team really come together as quick as we did under a new coach."
The Catamounts closed 2012 with a five-game unbeaten streak, changing the outlook from years past.
"Our team is really excited for the second half of the season, especially with 11 of our 16 games being at home," Douville said. "The fact that Hockey East expanded the postseason tournament to eight teams relieves pressure from our team. We used to focus so much on just making the playoffs. Now, we just want to be the best we can be and try to get home ice advantage for the postseason tournament. It raised the expectations we had for our team."
Although the remaining schedule includes a lot of home games, it also holds all six contests versus league leaders BC and BU. While playing at home in the quarterfinals is within reach, the team still faces an uphill climb.
"I think if you'd asked me in the middle of October that certainly seemed like a big stretch," Plumer said. "I think I can say that if we play well, we can play with everybody that we've played so far. I know that there is some great talent on BC and BU, and I respect them a lot. It's going to take us to play well and to stay healthy. When we're healthy, I think we're a pretty good team. When we're not, depending on who is not healthy, it can really take a big bite out of us."
Whether or not the team is able to put together a strong second half and earn home ice or make some noise in the Hockey East tournament and reach the semifinals in Hyannis, Mass., gains have been made in reshaping the identity of the program. According to Plumer, the progress goes beyond the wins and is evident in more competitive performances in other contests.
He said, "I think it's very much a chicken-and-egg kind of question at work here, 'Which comes first, the fun or the success?' I don't think that you can have much of one without the other, and I think it's a grind when you're not having any success."
While winning is fun, it requires a great deal of work.
"We're becoming a really hard-working team, which is something that I've always wanted my teams to be — hardworking, two-way players that if at various times we're not the most talented team that we're going to make hard work a skill that everybody can have," Plumer said "I think that's what we want to be the foundation of our program going forward. We're going to be a team that works just as hard in the defensive zone or without the puck as we do with the puck. I think that we've made big strides already with that, and I think that if we can keep doing that, we can give ourselves a chance in any game."
The squad also possesses skill in the more conventional sense, and the future looks promising, as the four leading scorers are sophomores Brittany Zuback, Klara Myren, Meghan Huertas, and Pelkey. Vermont's renaissance may have begun with the signing of their class, a more talented group than usual in Burlington.
"Growing up playing youth hockey in Vermont always pushed me towards wanting to play at UVM when I grew up," Pelkey said. "One of the main reasons I chose UVM was to be a part of a turnaround program and hopefully be successful in doing so. This year, with the huge help of Jim and the rest of the coaching staff, we have really stepped up our game from last year. We're a completely different team. We're truly headed in the right direction."
Pelkey recently returned from U.S.A. Hockey's holiday camp.
"The opportunity to practice and compete with the best players in the country was amazing," she said. "Even though the camp was only 5 days long, there were a lot of tools I learned at camp that I hope to share with the team and the coaching staff to help elevate our game. Not only the physical part of the game but also the mental part as well. There was a lot of time spent at camp going over the mental aspect of the game. I learned the critical importance of it and how much it helps."
Perhaps down the road either this season or next, having navigated that rocky stretch with all of the injuries, might pay dividends.
"I certainly wouldn't wish it on anybody and I wish it hadn't happened this way, but I think our feeling going through it was we're going to do the best we have with what we have right now and try to not lose perspective of that," Plumer said. "That's a lot easier said in early January when you're looking back on it than when you're in the middle of it. That game that we played with 11 players was a combination of injuries and some disciplinary issues. You've got kids on special teams that normally don't play special teams. In the middle of the game you've got a kid in the penalty box and you're pulling people out — 'Just run out there and do the best you can.' I do think that we did the best we can with what we had and I think even now with 17 skaters there's not a lot of margin for error."
Of late, their best has the Catamounts in position to reach some new heights.