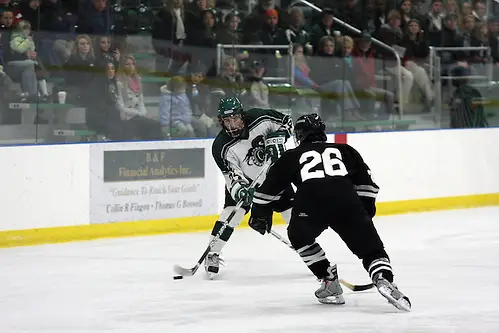 For the Castleton Spartans, a roster of returning players and recent success in the highly competitive ECAC East did not automatically mean success this season, as the team and their coach have struggled to clean-up their game and play the consistent hockey it takes to produce wins routinely.
"It certainly has been an interesting year, one of my most interesting years as a coach," noted coach Alex Todd. "We have struggled in a lot of areas all season, including a number of injuries and some really poor decision making and mistakes on the ice at just the wrong time. We don't often make the same mistake, but we still make too many and it has hurt us on the scoreboard and most definitely in the final outcomes of games. We have just nine games left on the regular season schedule — one each against each of the other teams in our conference, so really it is pretty simple at this point in the season after seeing everyone else once already.
"We are definitely getting healthy, and that will certainly help put some players back into their regular spots on lines and in ice time, but more importantly we have to play smarter and go out and play without making so many mistakes and taking so many penalties. It is a goal for our team not to take penalties, and we still do. Our team is really frustrated by it, especially since this is probably the least physical team I have had here at Castleton. Smart, mistake-free hockey, stay out of the box, and we have a chance to move up and get to where we want to be at the right time of the season."
After starting the season without consecutive wins until the weekend following Thanksgiving, the Spartans have gone 7-2-1 in their last 10 games, which include two quality wins over a tough Plymouth State team and nationally-ranked Plattsburgh last Saturday night at home. Even the two losses by identical 2-1 scores to Lawrence in the opening round of the Oswego Pathfinder Tournament and to No. 1 Norwich to open December were games that their coach felt signaled a bit of a turnaround.
"The Norwich game was very well-played," said Todd. "They scored with 15 seconds left in the third period to take the win — it was very tight. The Lawrence game was another one where a late goal beat us. We really need to eliminate mistakes as a team, and hopefully we will win more of those tight games like the Plymouth State games which were decided by just one goal as well."
Todd is also looking for a few guys to elevate their game at just the right time of the season, and thinks he may have some weapons to fill the offensive void left by the departure of junior Nick Lazorko back to Texas.
"We have some guys that have put up some numbers and now really need to chip in to help us in the second half. Justin [Alonzo] has put up some very good offensive numbers in his career here, but just has two goals this season while missing some games for us. Defensemen Gabriel Cromp and Kevin Van Dyk have also shown some development, particularly on the power play, and I expect them to be more of a factor offensively for this team over the remaining games on the schedule."
While Todd and his players have expressed frustration about critical mistakes and inconsistent play, there is also the keen awareness that opportunity for a successful season is right in front of them if they choose to clean up the mistakes and play the game many have come to expect from these Spartans in recent years.
"This is as competitive the conference has been since I have been here," said Todd. "We have nine games left, and they will all be battles. We have four of those games at home, a place where we uncharacteristically have blown leads in the third period and don't have a very good record in conference at just 2-2-1 so far. This weekend will give us a chance to better that, and I think we might have some extra motivation regarding the Friday night game to make-up for how we played at UNE and lost in the second game of the season back in November. Not taking anything away from their team, but we were not ready to compete, and now I hope our team will start to establish that home ice dominance we have had and do what we need to do to get wins and points.
"We can't worry about what other teams are doing. If we win our game, we are earning points and taking them away from teams we are competing with in the standings for position and potential home ice in the first round. Right now, UNE and Southern Maine are only a couple of points behind us, so every point means as much to them as it does potentially to us. We are 3-0-1 in our last four games against some good nonconference teams. Now we need to play at a higher level in the conference and keep that positive momentum moving into the final month of the season."
One key to the Spartans on-ice success may be found in the play of junior goaltender Erick Cinotti, who has posted seven of the team's nine wins this season, along with solid save percentage and goals-against numbers. Todd is very comfortable with all three of his team's goalies, and is focused on optimizing the playing time of Cinotti to the team's benefit.
"Erick is very aware of his physical abilities and limitations," noted Todd. "Having coached him over the past couple of years, we are very aware and monitor his ice time, practice time, and his ability to play at his best based on how he is feeling physically. He has been very good for us this season, and we will continue to make sure he is at his physical best to play and if we have to go to another goaltender for some games, both Jake [Stafford] and Thomas [Shelley] have the confidence of the team and the coaching staff."
The Spartans may be the true embodiment of it being about playing your best hockey when it matters most, and not who has been most consistent all season. There is still some clean up, left but the rewards for doing it could really be something special.