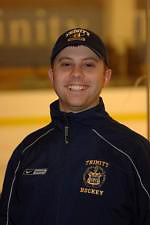 OK, before anyone gets the wrong idea, this is not about anything unsportsmanlike or involving unclean behavior or uniforms.  The bottom line for head coach Matt Greason at Trinity is his team needs to work as hard offensively in creating chances as they do defensively in stopping goals.
"All great or championship teams are very responsible defensively," noted Greason. "You take care of the defensive zone and limit scoring opportunities for your opponents and build that into transition and offensive chances for your team. So far this season, I think we have been very responsible defensively and now need to step it up in the offensive zone. We need to go to the 'dirty areas' on the ice and create more second-chance scoring opportunities for ourselves. It has been a little disappointing overall that we have been challenged scoring goals, and definitely it is a focus for our team in the second half now that we have seen everyone in the league one time around."
While the offense overall has struggled a bit, the brothers Menard (Jeffrey and Chris) have been at the top of the team's scoring table. Jeffrey leads the team in points, and brother Chris leads the team in goals, including five on the power play.  They are responsible for just over 29 percent of the team's goal output, and an amazing 58 percent of the goals on the power play. Moreover, they have provided Greason's team with some dynamic play on the ice and quiet leadership off it.
"Both these guys elevate our game," said Greason. "They really push the pace when they are on the ice and create problems for opponents. They play the game downhill, and most importantly they play the game the right way in terms of intensity and skill. They are very hard to defend against and really lead by example in what they do on the ice. In the locker room and off the ice, they are quiet and don't carry that overt leadership trait — it is much more about what they do and how they play the game that sets the right tone and compete level for the rest of our team."
The "compete level," as Greason puts it, is a key thing he thinks his team is still learning as the Bantams round into form in the second half. Noting two difficult losses to Nichols and Becker and play a couple of weekends ago against Williams and Middlebury, the coach sees the guys getting closer and closer to playing that complete game they will need down the stretch and hopefully in the playoffs.
"I have to give all due credit to Nichols and Becker," stated Greason. "They competed really hard against us and unfortunately we didn't rise to that level, which wasn't good enough to get the wins. I thought we really bounced back strong against Williams and Middlebury to take three of four points in the conference. The effort was there in both games, and that is important every night in this league where the margin for error and difference between points and no points is so thin. I think those two games helped us regain our confidence, and that is what we need to focus on over the remaining weeks and games on the schedule."
One area where Greason is pleased with his team's performance has been in the special teams, where winning that specific battle against opponents each and every game is a focus and a goal in the game plan to win hockey games.
"Our power play has been pretty good," noted Greason. "Certainly the Menards have a lot to do with that, but freshman Jim Burt has been a big part of success for that unit on the ice. He does things that don't always show up on the score sheet, like creating traffic in front of the net, picking up loose pucks, and maintaining possession in the offensive zone, which are keys to tiring out penalty killers and creating opportunities for other guys on the ice when he is drawing attention. He has been a valuable add to the unit, and he makes a difference in our success with the man advantage."
Ironically, the penalty kill has also been very strong for the Bantams, and if we were talking about other teams we might be mentioning some of the same names who do double-duty on special teams, whether a man-up or man-down. Not the case for Trinity, where a core group of four has developed some personal pride around their success in limiting opponents' power plays.
"It really is a big pride factor," said Greason. "We have four very dynamic guys that work very hard on the kill and have great results to show for it. Juniors Charlie Mullan and Will Gray, along with sophomores Samuel Kane and Tim Shea, really work hard and have built this skill for killing penalties while with the program. They know what I like to do system-wise and how I teach the penalty kill, and have really taken that to heart each and every practice and game. I think our power play might be a bit better because they have to beat these guys and Benjamin [Coulthard] in practice all the time where we work on special teams a lot. It's nice that we have the depth and experience in using different players on special teams, and that does help with keeping people fresh in games where a lot of players are seeing regular and valuable ice time."
This week, the Bantams entertain Tufts and Connecticut College at home, and while the students are not yet back on campus and the energy in the building might be a little lower than the normal hockey weekend, the coach thinks his team has enough to focus on with two difficult league opponents.
"Of course I look at the standings," said Greason. "We post them in the locker room after the fact. They are what they are. This conference is so competitive, you can't take anyone lightly. Guaranteed if we don't show up to play we will get beat. Tufts tied us the first time around, and both teams this weekend won good nonconference games on the road on Tuesday night. Everyone needs points to get into the top eight and a chance in the playoffs, and there is a lot of hockey to play. One mistake, one gaff, one stupid penalty, missed clearing opportunity, blocked shot — they all matter in the outcome. We are getting closer and closer to playing that smarter game. We have to go out and execute and execute consistently, find those dirty areas and hopefully find some goals."
If I didn't know better, I would expect there will be a lot more traffic in front of opposing netminders this weekend, and maybe, just maybe, the Bantams will find some of those "dirty" goals their coach is looking so hard to find.