Take a slow cruise through any of hockey-mad Buffalo's many 'burbs and you are bound to come upon a random neighborhood street hockey clash.
Wannabe Perreaults, LaFontaines, and Haseks have battled it out for generations for mythical Stanley Cup glory, be it on ice or asphalt.
The vast majority of those dreams ended at the foot of the driveway, as talent and desire, finding its proper level, claimed its victims.
Not so with Chris Kaleta, or his older brother Patrick, who banged for endless hours with their pals in the Southtowns.
Patrick, newly liberated from NHL lockout jail, is realizing his dreams as a "sandpaper" winger for his hometown Sabres. Chris, two years younger is equally pugnacious as a senior captain for Cortland.
Both Kaletas used their pre-teen tussles as tune ups for greater things.
"We used to battle it out at home," said Chris, "and in the driveway. Then we took it to the ice. We just focus on what we have to do."
Patrick, now 26, echoed his brother's sentiments.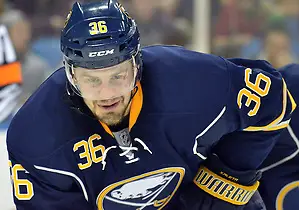 "We scrapped a couple of times, here and there," he said. "If we got into a battle, (he showed) he's pretty strong. He's a lot faster runner than I am, (so) I'd have to be my sneaky self and pull pranks. We're a close-knit family."
If Chris felt that his older sib was taking any liberties with him, he never harbored any resentment about it.
Indeed, as Patrick churned his way through major junior with Peterborough (OHL) on his way to the NHL, little brother was taking notes.
"I like to role model myself after him," said Chris. "He has a deceptive speed that no one really knows about. He's not a flashy guy. He's straightforward. I think I'm the same way. I like to bump and grind. And if I can chip in, I'll chip in."
Actually, Kaleta has been more than just chipping in to the Red Dragons cause; he's been an imposing presence in all departments. Not normally a scorer, Kaleta has potted a career-high 11 goals to date, one more than the two previous years combined. That includes his first three-goal "hattie," which came back on Nov. 10 at Morrisville.
True to his humble nature, Kaleta credits his linemates — A.J. Moyer and Michael Lysyj — not his own hard work, for the significant up-tick in his goal haul.
"It's my (them), definitely," he said. "They're workhorses. We read each other very well. They're going in (to the corners) and I'm just the guy in front. I just tap things in when they give me the chance."
While he's loathe to take any credit for his accomplishments, he is eager to pull on full responsibility as team captain when the Dragons fall short of expectations.
"I always like to put the load on my shoulders," he said. "Whether it's good or it's bad. If we're doing something wrong, I'll take the blame for it, because it might be me not getting the guys going."
All coaches value standup guys in the room, and Cortland bench boss Joe Baldarotta virtually gushes with praise for Kaleta.
"He's a great captain," said Baldarotta. "I've been doing this a long time, and he might be the best captain I've ever seen. The players might feel he's the best captain they've ever played for. He leads by example. He's quiet, and he's tough. He's got integrity."
And he's got a presence that even a gritty NHLer can't ignore.
"When he wants to do something, he can do it." said Patrick. "I call him my 'little big brother' because I think he pushes me around a little bit."
For the moment, Kaleta and his Dragons mates have their sights on a successful stretch run that they hope will net them a spot in the SUNYAC playoffs, or even a home ice berth.
The consensus among many in the SUNYAC is that Cortland is a team not to be trifled with.
Kaleta says he hopes that is the case.
"We're a hard-working team," Kaleta said. "We like to be pests at times. It makes other teams not want to play us. They wouldn't have to work as hard as (we do). If our feet are going, and we're doing the things the right way, I can understand why they wouldn't want to play against us."
With graduation and the "real world" looming in the near future, Kaleta is hoping that to draw an NHL paycheck like his brother does.
If he does, however, Kaleta, a sports management major, thinks he'll earn it in the front office, not on the ice.
"I'd like to stay involved hockey somehow," he said. "Maybe getting a job with the Sabres in marketing. Anything along those lines. Even if it's lower, I'll work my way up."
Why not? He's worked hard for everything else. Just ask his brother.
*******
Offense, or the lack of with any consistency, has been a season-long bugaboo for Brockport. To wit: the Golden Eagles have been shutout four times this season, all of them by SUNYAC foes, losses that have helped affect a massive logjam in the league standings.
So the return of junior forward Brendon Rothfuss from an injury suffered in pre-season came as welcome news. Rothfuss, who hails from nearby Hilton and also plays lacrosse for the school, scored three times for the Eagles last weekend. Unfortunately for them, those were the only goals they scored during two losses last weekend.
Brockport will try to jump-start its attack this weekend when it will host Buffalo State and Fredonia in tilts that are of critical interest to the playoff fortunes of all three teams.
The Golden Eagles also were bolstered by the return of freshman goalie Jared Lockhurst, who had grabbed control of the crease before being injured in mid-November.
*******
Big defenseman Derek Patterson is the latest junior to commit to a SUNYAC school for next season. Patterson, who captains the Buffalo Jr. Sabres (OJHL), will haul his imposing 6-foot-5-inch, 215-pound frame to Plattsburgh in the fall. He is the son of former NHLer Colin Patterson.