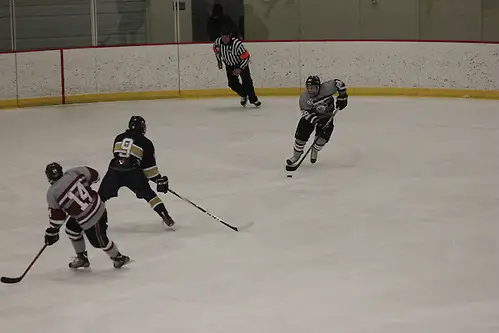 Wins have been difficult to come by for Hamline this season. The Pipers just haven't been able to find a victory, at home or on the road, despite playing hard every time they take the ice.
However, their fortunes changed slightly over the weekend. Finally, the Pipers nailed down a victory, and a memorable one at that.
Zach Johnson tipped in a shot by Joe Rubbelke in the final minute of overtime of a showdown against first-place St. Thomas to secure a 1-0 Minnesota Intercollegiate Athletic Conference win on Friday night. Matt Hemmingway made 33 saves and the Pipers ended their 15-game winless streak.
The thrill would be short-lived, though, as the Tommies bounced back on Saturday with a 3-0 win.
Still, to finally see the hard work his team has put in throughout the season rewarded brought a smile to the face of first-year head coach Doc Castillo.
"I am extremely proud of my team," Castillo said. "It's been a very difficult season as far as wins and losses are concerned, but our team has shown a lot of character all year. It was nice to see them get a win and see all of their hard work pay off. It didn't come easy, but it was a great experience."
It was one of those moments in sports where belief is reaffirmed that anything is possible. The Pipers had every reason to wonder if they would ever win a game this year.
Six times, they have lost a game by two goals or less. Twice, they have finished in a tie. Yet each week, regardless of the outcome, the Pipers, who are 1-14-2 overall and 1-7 in the conference, have come to practice ready to go.
"It's not easy to pick yourself back up after a loss, but these guys have never quit, they always come back ready to work hard," Castillo said. "I am extremely proud of how hard they have worked. They have had a good attitude all season and they have shown a lot of character."
Hamline has scored only 29 goals this year. It has allowed 72. Rubbelke leads the team with six goals, and has also dished out nine assists.
Brandon Zurn has come through with five goals, while Zach Johnson and Nick Widing have tallied four goals apiece.
Hemmingway has seen most of the time in goal, playing in 10 games and racking up 228 saves.
Although the statistics don't jump off the stat sheet, the Pipers have shown signs of improvement, especially on defense.
"We have gotten better playing team defense," Castillo said. "We've taken it to another level and have been more consistent on defense. We've become a tougher team to play against."
Castillo is hoping to see the offense continue to make strides as well over the final month of the season. He also wants to see the team find a way to win some of the closer games as they head down the stretch.
"In the first half of the year, we were in a lot of close games but we couldn't win them," Castillo said. "We want to find ways to win those close games. Our work ethic is good, and if we continue to practice hard, hopefully we can have a strong finish to the season."
Although hopes for a conference title and playoff berth are out of reach, the Pipers have no intentions of giving up on the year. Their focus is on continuing to make strides and to lay a foundation for success next season.
"There is no question that we want to end the year strong," Castillo said. "We want to end the year with a good taste in our mouths. It's all about seeing the players rewarded for their hard work, and we want to finish the year playing well. It will help put us in a good position for next year."
******************
MIAC roundup
Cardinals on the rise
St. Mary's has momentum on its side again after completing a sweep of Bethel over the weekend. The Cardinals, who entered the two-game series on a five-game losing streak, knocked off the Royals, 4-1 and 5-1, to move into second place in the conference.
Mike Hill and Nick Gorup scored two goals apiece in the win on Saturday as the Cardinals improved to 7-8 overall and to 5-1 in the conference. It's their best start in league play since opening the 2004-05 campaign with a 6-0-1 mark.
Andy Scheib made 22 saves in goal on Saturday and came through with 30 saves in the win on Friday. Hill finished his weekend with three goals, as he also scored one on Friday night.
St. Mary's will have a shot at taking sole possession of first place when it plays a two-game set against St. Thomas this weekend.
Cobbers thrive on road
For the first time since 2011, Concordia swept a conference opponent on the road. The Cobbers won both games against Augsburg over the weekend, winning 2-1 on Friday and rolling to a 6-2 win on Saturday.
Concordia has won three consecutive games and broke loose offensively in the series finale, as Ben Payne and Jordie Bancroft scored two goals apiece.
Andrew Deters tallied two assists in the victory, while Chris Neamontis racked up 39 saves on a night when Concordia was outshot, 41-24. Neamontis was tabbed as the MIAC Player of the Week.
Concordia is now 8-8-1 overall and 5-3 in the conference.
Oles stand tall in nonconference game
It didn't matter that St. Olaf was up against nationally-ranked Wisconsin-Eau Claire on Saturday night. The Oles didn't crack under the pressure, and skated to a 2-2 tie against the Blugolds.
St. Olaf actually took control early, as Mark Rath and Jeff Harris both scored to put the Oles in front, 2-0. St. Olaf was outshot, 34-22, and Steve Papciak tallied 32 saves.
The Oles are still searching for their first win of 2013, and will try to get it on Friday when they battle Bethel at home in the first game of a home-and-home weekend series.
All tied up
St. John's and Gustavus battled over the weekend, and both games ended in a tie. The Gusties and Johnnies skated to a 3-3 tie on Friday and played to a 1-1 tie on Saturday.
Tobias Linbro scored the only goal for the Johnnies on Saturday, and Darrin Lapic came through with the lone goal for Gustavus in the series finale. J.D. Wells made 26 saves for St. John's, and Tyler Venne came through with 24 saves for Gustavus.
Tied games are nothing new to either team. St. John's has had three games end in ties this season, while Gustavus has also played in three games that have ended with tied scores. St. John's is 1-3-2 in the conference, while Gustavus is 2-4-2 in the MIAC.