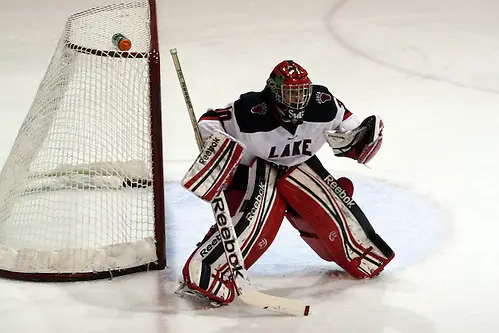 Defensively speaking, the Lake Forest Foresters are a great team. They currently have the 10th best penalty-kill unit in the country, going 66-of-76 (86.8 percent), which tops all other teams in the MCHA.
Lake Forest is fourth in the conference in defensive scoring, allowing an average of 2.80 goals a game. They are a disciplined squad, averaging only 13.5 penalty minutes a night, the second least in the conference.
With all of that defensive brilliance, it is a shame that the Foresters have only been able to score 32 goals, 18 netted in conference games. They hold a 5-8-2 overall record, while currently seventh in MCHA standings with a 2-7-1 record.
The Foresters are currently the living example of the cliché, "They are playing better than their record shows."
"In terms of wins and losses, I didn't think we played as poorly as our record in the first half of the season," said coach Ryan McKelvie. "There were some games I felt we outplayed our opponents; we just didn't get the goals, we struggled offensively."
The Foresters went 2-6-2 through November. Since then, they have gone 3-2-0, with nothing but conference games for the remainder of the season.
"Right now, we're not scoring, but we are playing defensively sound," McKelvie said. "Brendan Sullivan has been really good for us. He consistently gives us a chance to win."
Senior goaltender Sullivan carries impressive numbers between the pipes. He holds a .913 save percentage while boasting 2.38 goals-against average.
Sullivan is part of the four-man senior class that has experienced three different head coaches in their college career.
"It was tough mentally coming to the rink every day without clear expectations, that really turned around once coach got here," said Sullivan, "The last two seasons have been the most successful in my career because I know what is expected of us."
With a conference split last weekend against Northland, the Foresters look to gain some momentum this weekend as they take on Finlandia. It could be a crucial weekend for Lake Forest to gain some points in the standings.
"This week won't be any different than any other week," said McKelvie. "The conference is pretty balanced right now; there has been success from top to bottom.
"This weekend, both teams are desperate for wins, and someone is going to come out with them."
Spirits aren't low on the Foresters bench. When they find their scoring touch, they'll be a force in the MCHA.
"We take it one game at a time, striving to improve each week," said McKelvie. "Players are taking pride in their competition level; it's frustrating not to get the wins."
Notes from the week
Adrian remains undefeated in the conference (8-0-2) as Lawrence (4-4-2) skated to two ties with the Bulldogs over the weekend. On Friday night, the Vikings scored four first-period goals and added one in the second for a 5-1 lead over the Bulldogs. Adrian scored four goals in the third period, including two by Andrew Dovey, to secure the 5-5 tie. Saturday night's game was more tit-for-tat, as they went back and forth in scoring goals, ending up with a 4-4 game.
Concordia swept past Finlandia over the weekend. Rookie goalie Jake Hebda made 24 saves in Friday's 3-2 victory. Three players scored two goals apiece in Saturday's tilt. For Finlandia, Collin Saint-Onge tallied two. Martin Krestan and Morgan Sanchez each netted a pair of goals, helping Concoridia defeat Finlandia 5-4.
Lake Forest and Northland split their series. Mcauley Banning scored two goals for the Foresters, while five different skaters tallied goals for Northland in the 5-3 Lumberjacks win. Saturday's game again saw two different skaters scoring goals for Northland, while Bobby Barrett was the hero for Lake Forest, as he netted two goals in the Foresters' 3-2 win.
Marian shutout Milwaukee School of Engineering, 3-0, in their Saturday game. Josh Baker earned the win between the pipes for the Sabres, putting aside 33 shots on goal.
Marian sophomore forward Aaron Leonard earned MCHA Player of the Week honors for his 1-1-2 scoring line in Saturday's 3-0 win over MSOE.
Josh Baker, junior goalie for Marian, is the MCHA Defensive Player of the Week with his 33-save performance against MSOE. This was his second shutout of the season.
Rookie defenseman Brandon Boelter is the MCHA Freshman of the Week; he had a 1-2-3 scoring line on the weekend helping the Vikings to two ties against the nationally-ranked Bulldogs.