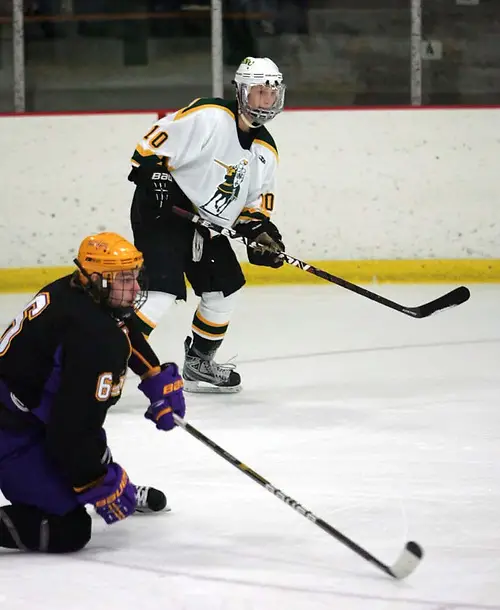 The motto of the St. Norbert men's hockey team could be, "Act like you've been there before."
After rolling off eight-straight wins, the Green Knights have battled their way back to the top spot in both the USCHO.com Division III men's hockey poll and the D3hockey.com poll. St. Norbert's last loss came on Nov. 16, a 5-3 setback to No. 6 Wisconsin-Eau Claire.
However, the Green Knights (14-2-1 and 8-1-1 in the NCHA) are no strangers to the spotlight. St. Norbert earned its second consecutive national championship in March, and came into this season the top-ranked team in D-III. In less than two months, St. Norbert could earn another trip to the Frozen Four as the top-ranked team in D-III, but the pressure of being ranked No. 1 doesn't faze the Green Knights.
"It's a nice little feather to have in our cap, but in the grand scheme of things, it's not what we set our goal at at the start of the year," said sophomore forward Cullen Bradshaw. "It's a little piece of the puzzle and it's nice to have, but we're just striving for that national championship at the end of the year."
On Friday, the Green Knights will try to keep their winning streak alive when they host Wisconsin-Stout for a weekend series. The Blue Devils are 8-7-2 and 3-7 in the NCHA.
St. Norbert coach Tim Coghlin believes his team's experience plays a major role in its ability to consistently be one of the best teams in the country.
"This isn't new for us, we've been doing this for a long time. With our guys, the level of expectation within our locker room is very, very high," Coghlin said.
Both Coghlin and Bradshaw said the leadership of senior forwards Kyle Stroh and Cody Keefer has been invaluable to the Green Knights' success. Both seniors have played in the national title game all three seasons, and could make it four straight in March. Stroh leads St. Norbert with 28 points (14 goals, 14 assists), and is tied with two other players as the nation's leading goal scorer. Keefer, meanwhile, ranks second on the Green Knights with 10 goals and 14 assists.
"We have a good core of guys, we have great leadership, and I think our guys have a good handle on how hard you have to compete and what you have to do," Coghlin said. "When we got beat by Eau Claire, we got beat, period. They came in here and it was evident they were the better team that weekend and I think they're obviously going to be a problem down the stretch. We're accustomed to getting everybody's best game and have been getting everybody's best game for a long time."
Defensively, St. Norbert carries an outrageously good penalty kill (91.4 percent) led by sophomore goalie David Jacobson and defensemen Reid Campbell, Zach McDonald, Sam Higgins, and Carl Ekstrom. Derek Donahue has also been a key contributor.
Offensively, Coghlin has seen Bradshaw emerge from a freshman who spent time on the Green Knights' fourth line to one of their leading offensive weapons. Through 16 games, Bradshaw has 12 goals and 11 assists. Bradshaw helps pace a St. Norbert power play that's the best in D-III, cashing in on nearly 40 percent of its opportunities.
"You see sparkles from Cullen every single day; he does something every day that makes you sit up and pay attention," Coghlin said. "He's a complete player — he's on the puck all the time. We can play him in any situation because we know he can do the job. This year, he's asserted himself a little more forcefully on the offensive side."
Bradshaw, a native of Medicine Hat, Alberta, was named the NCHA men's Player of the Week on Jan. 7. The sophomore scored eight points in two nonconference wins against St. Olaf and St. Mary's Jan. 4-5.
"Any player will tell you it's nice to get recognized, but it's kind of misleading from a general point of view," Bradshaw said. "All the boys were playing great that weekend and there could have been four or five guys that could have been recognized. I'm just a guy who can put the puck in the net and create some energy up front and get in other guy's faces when I can."