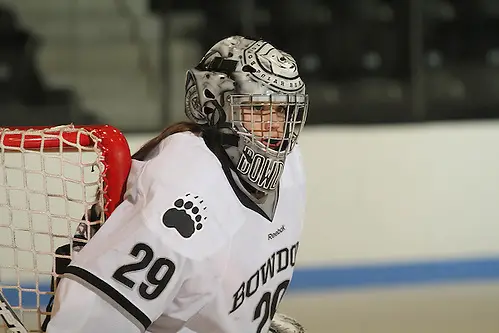 The Bowdoin women's hockey team has been one of the pleasant surprises so far in the 2012-13 season. Under alumnus Marissa O'Neil, the Polar Bears are off to their best start since the early 2000s with a 13-2-1 record. Bowdoin's 13 wins have already surpassed their total from all of last season, where it won 12 games.
Coming into last weekend's pivotal showdown with Middlebury, Bowdoin hadn't lost since its first game of the season, a 4-1 loss to Plattsburgh. The Polar Bears extended their unbeaten streak to 14 straight with a  resounding 3-0 shutout victory over Middlebury on Friday before the Panthers came back to down Bowdoin, 4-2, the next night and salvage the series split.
O'Neil said that although Bowdoin lost its first game against Plattsburgh, she saw a lot of good things that could lead to promising season.
"Even though it was our first game, I thought we played with Plattsburgh and we came to the realization then that we could be a good team, especially if we converted on our chances, which we didn't in that game." O'Neil said.
After a sweep of in-state rival Colby, Bowdoin really started to hit its stride the following weekend against a pair of ECAC East powerhouses.
"Our confidence really grew the weekend against Holy Cross and Norwich," O'Neil said. "Playing a complete game against Holy Cross and then tying Norwich really got us believing in what we were trying to accomplish. The biggest difference has been in the mindset. You've got to prove that you're better than the other team on the ice."
Bowdoin kept up the momentum at the end of December when it traveled out west and beat St. Norbert, 3-2, and Concordia (Minn.) 4-3 in overtime.
"Going out west and being able to get those two wins out there was a great experience," she said. "It was a good start to January, where we had 10 or 12 games in a real short period of time and was a good boost for NESCAC play."
After bursting back onto the scene in 2010-11 with 15 wins in O'Neil's first season at the helm of her alma mater, the Polar Bears battled to a 12-10-4 record last year, where she said at times the team felt like it underperformed.
"Last year we had a good year, but I think our returners came back this year knowing we could play better," O'Neil said. "I think we've learned this year that wanting to win is different than knowing how to win. This year, we've been able to get up as a team and then sustain that level of play. We've had some games where some people have stepped up in the clutch and made the difference."
With seven of its top-10 scorers back from last year, coupled with one of the nation's most prominent rookies, Bowdoin has been a much deeper and offensively dangerous team this season.
Freshman forward Rachel Kennedy leads the Polar Bears with 10 goals and nine assists for 19 points on the year, while veterans like Kim Tess-Wanat (6-12-18), Chelsea MacNeil (10-7-17), Stephanie Ludy (8-6-14) and Kayte Holtz (5-9-14 have chipped in with carrying the offense.
"Rachel has down a great job finding the back of the net, especially this past weekend in a big series against Middlebury," O'Neil said. "All three lines can get the job done, and all of them are competitors. They challenge each other so much in practice. We don't have a lot of numbers, but that forces everyone to play and contribute, and our team has been able to respond."
Not only does Bowdoin have eight players with 10 or more points already on the season, the Polar Bears also boast one of the best goaltending tandems in the country with seniors Kayla Lessard and Tara Connolly.
"They have both had their moments over the past few years where they've been the 'go-to' goalie," O'Neil said. "They've gotten to the point where they can both steal games for us. They're very versatile goalies and they play goalie in lacrosse and field hockey and made deep runs in the NCAAs with those teams, so I think that has helped with them with their confidence."
Lessard is 8-1-1 on the year with a 1.20 goals-against average and a .952 save percentage, while Connolly is 5-1-0 with a 2.16 goals-against average and a .906 save percentage.
Last weekend, Bowdoin helped its cause to try and claim its first NESCAC regular season title since 2005 by taking two points from Middlebury.
"Anytime you can take points away from a team like Middlebury, that's an accomplishment in itself," O'Neil said. "We've always been looking up to Middlebury even since I got to Bowdoin as a player in 2001."
With the split, Bowdoin now trails Middlebury by two points, but the Polar Bears have two games in hand on the Panthers. Bowdoin has eight games remaining, six of which are on the road, and all are league games.
"We're in control of our own destiny, but a lot has to happen in each game for us to end up on top," O'Neill said.
Not only have the Bowdoin women been impressive, but their male counterparts have been equally impressive in Brunswick this season, climbing all the way up to the No. 3 ranking in the latest USCHO.com poll. Bowdoin men's and women's hockey are a combined 29-3-2 right, now which edges Norwich and Plattsburgh for the best combined records. Norwich is 26-4-3 and Plattsburgh is 28-5-2.
"It's definitely really impressive and speaks to how hard the two programs have worked to get to this point," O'Neil said. "There is a shared excitement that both teams are making successful runs and the potential that we could possibly host both the men's and women's NESCAC championships."