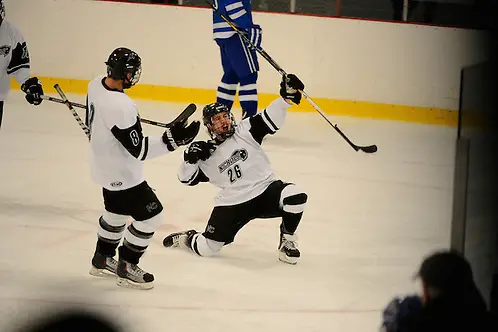 Kevin Swallow played at Dartmouth and Maine, Division I programs accustomed to certain schedules. There were classes and practices during the week. And there were games during the weekend.
Different story in the ECAC Northeast.
So, you can imagine that Swallow, in his first season as coach at Nichols College, is still in a bit of a transition phase. The Bison play on the weekends, sure, but they also play during the week, too, like the rest of the conference, and there is a time-management exam that coaches must ace here. And it's not always an easy thing.
However, the key is to use it to your advantage.
"From what I've been used to as a player, yeah, the midweek games are just a new experience; it takes some getting used to," Swallow said. "But it's good because if you have a tough game over the weekend, you do not have to wait around till Friday to get back after it. Usually a practice or two, and then you're right back out there for a midweek game.
"I've enjoyed the schedule this year, because of that."
For the most part, the Bison (10-7 overall, 3-3 in conference through last weekend) have as well. Just two points out of first place in the league headed into this week's action, Nichols — which met Salve Regina in Portsmouth, R.I., on Wednesday night — won four in a row to open the season and was the first team in the ECAC Northeast to reach 10 overall wins. On Jan. 11, the Bison defeated Brockport, 5-2, to reach double digits in victories.
"I was very happy with the first half. We got ourselves off to a hot start, we played some tough teams and some close games against some of the top teams in the country, and we learned from those," Swallow said. "We definitely learned that we have to bring our 'A' game every night, and be motivated every night, because every night will matter. We have a playoff mindset right now, and we have to keep that up."
That is the case for all teams in the league this season. Traditionally a close race for the postseason anyway, this year appears even tighter in the league, where seven teams were separated by just two points headed into the week's competition.
"Any team can win on any given night, and it's going to come down to the team that stays the most consistent and gets on a hot streak at the right time," Swallow said. "Hopefully, we can get it together here and be one of those teams. We don't want to be on the outside, looking in for the playoffs."
Maturity in the face of adversity can always help in these situations. which makes the Nichols recruiting mindset a bonus here. Like so many other ECAC Northeast teams, the Bison are a seasoned group. Even if some of the players are new to the college game, chances are they've already played junior hockey, and they've already been away from home.
It's the little things like that — being comfortable when things don't go right all the time, knowing how to manage a schedule when things get tight — that can do a long way down the homestretch of a long, hockey season.
"We have a pretty mature group of guys; most of them have played junior hockey," Swallow said. "So, they're a bit older, and a bit more prepared to handle college life, the college game, and the overall transition. You're often looking at 21-year-old freshmen, and that really helps. We also have a lot of leadership from the upperclassman, and it's valuable leadership. It's important on the ice, in the locker room, and they're also very active on campus.
"They set a standard for the others to follow."
Along the way, Swallow will rely on those players to clean up some of the team's on-ice ails. The scoring has been spread out, especially in league play, but getting that goal in crunch time is a concern. Headed into the week, no Bison player had four goals in conference — two forwards, freshman Frank Butler and senior Zach Kohn, had three — and five on the roster had scored league power-play goals, but no more than one apiece: sophomore forwards Mike Schiavone and Joe Sposit, freshman forward Tyler Beasley, Butler, and Kohn.
"We need to improve on special teams, we have struggled all year there," Swallow said. "We are doing the right things at times, but the penalty kill just hasn't gotten the bounces we need. On the power play, we also have some special players, but we just need an improved intensity level there."
Overall, the numbers are fine. Because of that hot start out of league, there are five Bison players with double-digit point totals, led by Beasley (eight goals, 17 points), and followed by Kohn (four, 14), freshman forward Paul Prescott (five, 13), Butler (eight, 12) and Sposit (seven, 11).
"There's a bit of a buzz this year on campus, and I think a lot of that has to do with the good start," Swallow said. "That definitely helped, and now it's on us to focus on a strong finish."