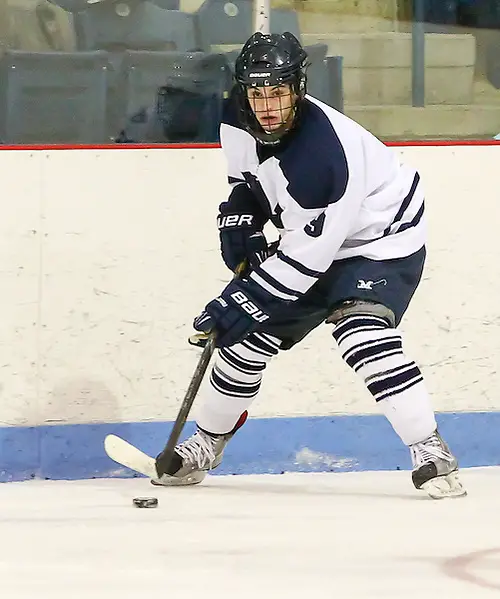 There is a very old coaching adage that says "You play like you practice."  While some teams may not appreciate the true value of that statement, the Middlebury Panthers are finding great value and relevance in their recent game performance correlated with the intensity level that has been showing up during practice. So the adage is definitely something that coach Bill Beaney is reinforcing with his young players.
"I think it has taken some of the newer guys a little while to really understand the value of practice time," said Beaney. "How you practice is how you play in the game. I don't think we have really practiced that way, but the practice quality across the board has really been amped up and the game effort and level of play has been reflective of that commitment in practice. We aren't all the way there yet, but we are improving and I am optimistic about our opportunity in this highly-competitive conference."
The Panthers currently find themselves in fourth place in the NESCAC, and with just six games remaining on the regular season schedule, the coach is excited about the challenges ahead as well as the opportunity his team has against some of the best teams in the conference, starting this weekend with Wesleyan and Trinity.
"There is really great parity in this league," stated Beaney. "I don't think anyone will catch Bowdoin, but after that anyone could finish between second and seventh. How great is it that with just six games left it is this wide open in the league? We have real challenging games left with Trinity and Wesleyan, who had a good weekend on the road and then Williams for two games before traveling to Amherst and Hamilton to close out the regular season. All of those teams are playing at a high level, so we have our work cut out for us, and how we play against these teams will determine if we are second, seventh, or somewhere in between."
One of the areas where the coach would like to see some improvement can be found in finishing off some of the abundant goal scoring opportunities being generated by their forwards. In the case of the last game against Trinity, the Panthers recorded over 50 shots and dramatically outshot the Bantams, only to lose by a 2-1 score. The chances are there; now there needs to be the maturity to finish.
"First, I have to give great credit to Trinity's goalie that day [Benjamin Coulthard]," said Beaney. "He was really on and definitely took away some goals with his play. But overall, I would say that a lot of our scoring is about experience and building the poise and patience to be able to settle the puck and finish. Our guys are definitely getting there, but we do have a ways to go. You hardly ever see the tic-tac-toe goals anymore. So much of scoring is unplanned in the sense that there is a bounce, a reaction, and a goal. We need to find and create more of those, and greater poise around the net to bury those chances will go a long way in increasing our goal scoring."
Another hallmark of successful past Panthers teams has been strong goaltending. This year, four netminders have had the opportunity to step into the number one role, but the overall play has been inconsistent and not at a level the coach feels will contribute to success down the stretch and into the playoffs.
"We definitely need more consistent play from our goaltenders," noted Beaney. "That is not a disrespectful comment directed at any one of our goaltenders. Our save percentage overall is below 90 percent, and that isn't good enough, in this league or any other, to put your team in a position to win hockey games. We need to improve that percentage to get over that 90 percent mark if we are going to have any chance at a successful month of February."
Of the four goaltenders, sophomore Dan Fullam had shown a lot of promise entering last year's playoff push, and backed the team into the NESCAC title game against Amherst. Last weekend, Fullam played pretty well for the Panthers, who swept Connecticut College and Tufts on the road, and that may have earned him a shot at three games in a row come this Friday night at home.
"It is always different when there are no expectations and you play well and exceed them," noted Beaney. "Much different than when you are 'the guy' and you carry those performance expectations into each game. I think Dan has been challenged by handling the requirements of being that guy with those expectations. Certainly if he can find that level of play that he brought to us in the second half last year, that would help solidify that part of the game for us and help give more confidence to the guys out front in our goaltending. Dan played pretty well last weekend, and that is likely to earn him the start on Friday night. Like the other players, we have gone a lot by how they look in practice during the week, but we definitely need to see improvement in our overall goaltending if we are to be successful against any of the teams we have left on the schedule."
Anything else the Panthers are tinkering with in the last few weeks of the season? Well, the penalty kill could be a bit better than the 23-percent-plus scoring success opponents have generated, but the coach has an answer for that one too.
"It's cliché," noted Beaney. "Your goaltender has to be your best penalty killer, and that would go a long way to making that percentage better."
Enough said. There wasn't time for more in the interview, because the coach was off to the ice for practice. Practice, where the Panthers hope their "amping things up" is going to reap benefits when the real puck drops on Friday night.