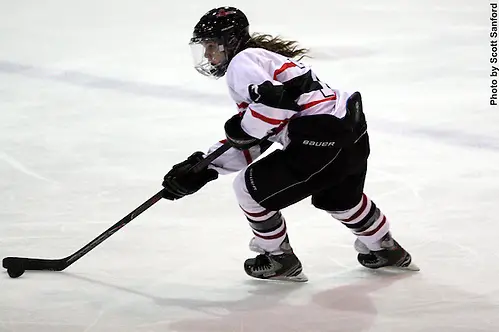 What do Plattsburgh, Gustavus Adolphus, and Lake Forest all have in common?
While it might be easy to pick the first two out as the two remaining unbeaten teams in Division III women's hockey, Lake Forest currently holds the nation's next longest unbeaten streak at nine games.
After starting the season 2-2-4, the Foresters have won nine straight games dating back to a 4-3 win over Wisconsin-Superior on Dec. 8 in Lake Forest's final game of the first semester.
Since then, the Foresters have been rolling after they started off the second semester in the East Region by taking the Codfish Bowl Tournament with victories over Plymouth State and Massachusetts-Boston.
"The girls made the decision collectively that they wanted to have a better start to the second semester than they did in the first semester," Lake Forest coach Carissa Zaban said. "It's just been one of those things where things have been going well and the girls are making it click. We knew we had a slow start, and we knew we were better than what our record had shown."
Zaban pointed to the Superior weekend as the team's turning point, when the Foresters were able to come back from losing 5-1 the first night and beat a then-ranked Yellowjackets squad the next day.
"Within our team, the Superior weekend was a turning point," Zaban said. "The second night was a big win for us. We played for each other, and that was one of the biggest differences."
With just two seniors and three juniors on the squad, Lake Forest entered the 2012-13 season dressing 14 underclassmen, eight of them freshmen.
"I was nervous coming into the season because we had such a young team with a bunch of players trying to figure out their roles and who works best with whom," Zaban said. "But, there is also no history there, so there aren't thoughts going around about worrying about the opponent because everything is brand new. We kind of needed that fresh start, and that has helped a lot."
Two factors in Lake Forest's recent success have been the emergence of two freshmen forwards leading the way in the scoring, along with a junior goalie that joined the team for the second semester.
Melissa Paluch leads Lake Forest with an even 12 goals and 12 assists for 24 points, while fellow rookie Michelle Greeneway has an even 11 goals and 11 assists for 22 points.
"They've both been great," Zaban said of her freshmen scoring tandem. "They work hard and are extremely competitive, and I think when you have kids like that on your team, it ends up raising the bar for the rest of the team. I think they just go out and play with a desire to win."
The Foresters have also been boosted on the back end with junior goalie Stacey Dierking joining the team for the second semester and posting immediate eye-popping numbers. Dierking is 8-0-0 with a 1.01 goals-against average and a .957 save percentage.
"She's doing a great job stopping the puck at the right time, and she's been playing really well," Zaban said.
Zaban also lauded the play of Emily Wybo and Morgan Pope, who have each stepped in some big games to each pot a pair of game-winning goals.
Lake Forest has also been making its run without its senior captain, Angie Chronis, who has been out for a large majority of the win streak.
"Angie has been out ever since we got back from Boston, so that's been an added inspiration for our team missing her in the lineup every game," Zaban said. "She's an amazing leader and great player, and we've been able to rally around it so far."
The last two weekends, Lake Forest has impressively swept both Adrian and St. Scholastica, as the Foresters continued their ascent up the NCHA standings. Lake Forest beat Adrian, 3-1 and 2-1, two weeks ago before going on the road and downing St. Scholastica, 4-1 and 4-3, in overtime last weekend.
"Adrian was a personal weekend for us, Zaban said. "It was alumni weekend and we were playing for Ry McCarthy, who died a couple of years ago from cancer. Every year we play that game, it's always an emotional game. Also, we have a lot of girls from Michigan, so a lot of our girls know a lot of their players to make it extra competitive.
"Last weekend against St. Scholastica, I don't know if we necessarily played our best hockey that weekend, but we came up big when we needed to. For me, that was great to see our team be able to do that."
Lake Forest will look to keep its momentum rolling, as the Foresters look to extend their program-record winning streak this weekend at Finlandia. Lake Forest then has three straight home games against Concordia (Wis.) and St. Norbert (two) before finishing up the regular season on the road with a showdown series at Wisconsin-River Falls.
"No matter what happens up until that series, that is going to be a great series for us," Zaban said. "We're hoping to continue to do well and make the playoffs. You can't go wrong when your last two games of the season are against the first place team. Win or lose, it's good going into that next round playing a very good team twice in a row."
Lake Forest finally started to get some recognition in the USCHO rankings this week, with the Foresters making their season debut in the poll at No. 9.
"I think it's great that we're getting the recognition that I felt we've deserved for awhile, Zaban said. "We need to just continue to take care of business and keep building toward the postseason, when we want to play well when it counts."