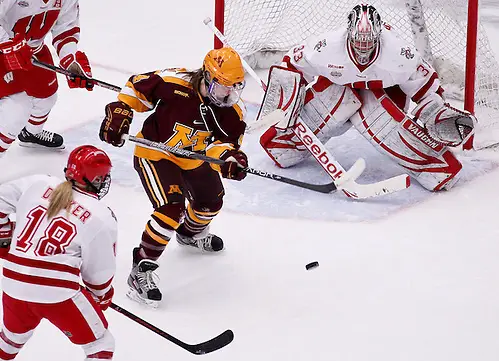 When Wisconsin lost at home to Minnesota on Sunday, it mathematically ended the possibility of the Badgers earning a third straight WCHA regular season championship.
That isn't entirely surprising; in the brief history of the league, no program has ever won the season nor the playoff crown in three straight years. But for a team that has played in the last two NCAA championship games and six of the previous seven, being eliminated from contention in January is a bit of a shock.
Obviously, the WCHA season title is just the first of three championships that the Badgers chase on an annual basis. They proved in 2009 that it isn't a prerequisite to winning the WCHA playoffs or the national tourney. That Wisconsin team entered the postseason with a pair of losses and ended the season with the same number.
This year, the Badgers have already lost nine times, more than they lost in the prior two seasons combined. Nine losses equals the most that coach Mark Johnson has lost in an entire season in his nine previous years behind the Wisconsin bench.
"When we're having trouble this year in the games that we've lost, it's been due to scoring," Johnson said.
More precisely, not scoring. The Badgers are averaging less than 2.2 goals per game in league action, and have been shut out six times.
"There's always a concern when you're not scoring, whether it's your top line or your defensemen or your power play," Johnson said. "You're looking for ways to manufacture goals."
The Badgers currently sit tied for second in the league standings with Minnesota-Duluth with both Ohio State and North Dakota within four points. Wisconsin is also safely within the top eight of the PairWise Rankings that will determine the NCAA tournament field, but due to automatic bids and jockeying for position likely to occur down the stretch, it is more of a Three Little Pigs straw house variety of safe.
However tenuous Wisconsin's position may be, it is safe to say that its circumstances would be far more dire without the presence of junior goaltender Alex Rigsby.
"One thing Alex has been is she has given us an opportunity to win in every game," Johnson said. "Overall, she's played well. We have to figure out ways to try to get to three or four [goals]. If we do, then our chances of winning are pretty good. Some nights, we're not able to do that."
When Wisconsin's offense has been able to score three or more times in a game, the team's record is 12-0-1, compared to a 3-9-1 slate when the production sags to two goals or fewer.
"It's a lot different year from my freshman year; even last year was different," Rigsby said. "All three years have been different years."
During her rookie season, a prolific offense piled up 212 goals; that dropped to 181 tallies a year ago, still on the explosive side of the scale.
"The role that has changed this year is I have to make sure that I'm on my game every weekend and every game, because there isn't much room for error," Rigsby said. "We have a young team this year, and I think that we've come a long way since we first started at the beginning of the year."
The most severe offensive woes came back in October, when the Badgers were shut out in three consecutive games. The drought returned at a most inopportune time, as they managed only a total of three goals over a crucial four-game stretch at North Dakota and hosting Minnesota, resulting in three losses.
Wisconsin isn't the first team whose statistics took a hit versus the Gophers.
"They play at a fast pace, and it takes time to get used to it," Johnson said. "Sometimes teams, it happens real quick that they can come out and play at a high level. [Sunday], the first period was good. We were skating with them and doing some things that we didn't do in Friday's game. This weekend gives you an opportunity to say, 'How do we get better?' I look at it every weekend. What did we do well in today's game? And you pick some things out that you did well and what didn't we do well and analyze that."
The Badgers have more time than normal for analysis.
"You'd like to play a game sooner than later, and unfortunately, we have the next weekend off," Johnson said. "After a loss, you want to play as soon as possible. It gets more practice time in, and obviously our next six games are crucial in regards to where we can position ourselves for the playoffs."
Wisconsin wraps up the regular season with road series at St. Cloud State and Bemidji State sandwiched around a visit from Minnesota-Duluth. The Badgers will be looking to pay back a sweep that the Bulldogs inflicted in Duluth. However, even a last-place team like the Beavers can do damage, as they proved by winning the first series as the teams opened LaBahn Arena.
"Every game you're going to have to come out and you're going to have to battle," Rigsby said. "From the first team to the last-place team, it's always going to be a strong game, and you have to be ready to go. There's been some weekends where some people have split where it wasn't expect, and we've lost some games that weren't expected, but it's because the level of the teams has come [up]. Teams that weren't so strong my freshman year have improved a lot."
Rigsby's save percentage and goals-against average are actually improved over two years ago, despite the fact in those days, the puck spent a lot of time 200 feet from the net she guarded.
"I think that the biggest thing that's helped out this year is our communication between defense, offense, and goalies," Rigsby said. "It's been huge this year. I think that's helped a lot with our team, and I think that's been a game-changer."
That's fortuitous, because the native of Delafield, Wis., has already faced more shots this year than she did in 31 games as a rookie. The extra work could aid her prospects for future U.S. national teams.
"This definitely helps me prepare for international levels," Rigsby said. "I'm tested every game. Our league here is a very strong league, so you can't not be ready for any game. I love getting the shots every game. I'd rather have a lot of shots like [Sunday's] game rather than have a game where you don't get as many shots. I think, too, with having leadership from this team and bringing it to the international level and learning from that level helps me with this team here."
Although the Wisconsin record is sickly compared to previous seasons, the opposite is true of its goaltender.
"This year hasn't been as mentally draining as last season or the season before, and I think it's partly because I've been healthy the entire season," Rigsby said. "Once you start to get injuries, it does take a mental toll on you, just having to make sure you're healthy every weekend. This season has been a lot different. I've come in being in better shape and stronger, so I think that's really helped with the weekends. Every weekend is a mental grind, but it's part of our game, and you just kind of get used to it."
Despite flaws that may exist in this edition of the Badgers compared to its predecessors, its safe to say that no opponent is relishing a postseason meeting with a squad captained by the reigning Patty Kazmaier Award winner, Brianna Decker, and backed by a goaltender that has experienced the pressure of playing in the season's ultimate game each of her first two years.