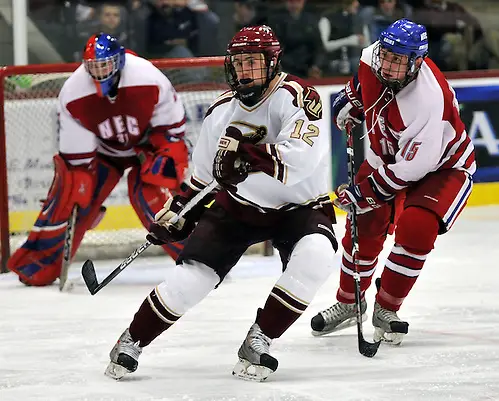 When you are the number one team in the country and have a number of consecutive league titles and Frozen Four appearances on your resume, it might be easy to get just a bit complacent entering the final weekend of the regular season. Having wrapped up the regular season title, the Norwich Cadets don't really have anything to play for this weekend, but you would not believe that if you talked to their coach, Mike McShane.
"We haven't won anything yet," said McShane. "We have had a good regular season so far, but we are not looking too far forward. This weekend is a really good challenge for us against two very good teams. Babson and UMass-Boston have both had great seasons, and always play well against us, so we have our work cut out for us this weekend. Right now, I haven't even thought about or looked at Saturday. We are very focused on Babson and Friday night. I watched Jamie's team online this past weekend, and they look very good, very balanced. They are getting great goaltending from what I saw from [Zeke] Testa, and they have a lot of talent throughout their lineup. They jumped out on us at our place a few weeks back and beat us. That usually is a pretty good motivator when you see a team that beat you the next time around, so I am sure we will be ready to play on Friday night."
In fact, the loss to Babson by a 4-1 score back on Jan. 12 was the last loss for Norwich, which enters this final weekend on a seven-game win streak in which it has outscored its opponents by a collective 32-11 margin, including two shutouts. Three of the wins have been on the road, where the Cadets are a perfect 7-0-0 in conference play and unbeaten on the season at 9-0-0. The Cadets are playing very good hockey, but that isn't something their coach is taking for granted.
"You know you are never where you want to be," said an emphatic McShane. "Any coach is always about the pursuit of perfection, and we are still working on some things in terms of combinations and our overall play. It is always a work in progress. We did some good things last weekend, and some things not so well, but that was last weekend. We enter each practice every day managing expectations. The one thing I can control as a coach is what happens on the ice in practice. Our team works very hard every day, and has been very focused. We make sure they have goals for each practice and strive to achieve those goals and manage expectations. It keeps us very grounded, and not looking beyond the task at hand."
For this group of seniors, it might be easy to look a little bit ahead at what could be in their future. Another ECAC East championship is in their reach, and a fourth consecutive Frozen Four appearance could be on the horizon if they can play well through the remainder of February and into March. While their coach is extremely proud of their accomplishments, he also knows that one hot goaltender or lackluster performance could derail it all.
"We had senior night last weekend, and our SID, Derek Dunning, was running some of the numbers on this group," noted McShane. "It's really impressive when you look at what this group has accomplished in their careers here. I guess if you take the overall numbers, it is probably the best group I have had for four years. You always look to bring in new talent in your recruits every year, and we have some great kids coming here but, that said, this group is going to be pretty hard to replace.
"It would be great if this team could win the conference and go back to the Frozen Four. Those would be great accomplishments, but we are not thinking about any of that right now. Our goals for practice this week have been to get ready for Babson on Friday night and play another strong hockey game. That is a big enough challenge right now."
There are a couple of areas that the coach is still tinkering with in his lineup, and even this late in the season, changes are happening during the actual games based on personnel combinations the coach feels may provide a spark or better play on the ice. Other than the first line of Colin Mulvey, Tory Allan, and Travis Janke that has produced 90 points this season, the remaining lines have seen a number of different combinations put together with the hope of generating more balanced offense and contributions from four lines.
"You know some of our guys struggled early, and I am sure the results were a little disappointing for them as well," noted McShane. "We see things during the game and have no problem making the change in lines and players as long as they have some experience with each other as part of prior games or practices. Lately, some of those things have worked out in getting some other lines going offensively, so I have no problem doing those things in the middle of a hockey game if it makes us a better team on the ice."
The goaltenders are another group that has seen multiple players seeing action for the Cadets. Two netminders have been splitting the action of late, but the coach has a lot of confidence in all three players and likes what he sees in practice from a level of competition and camaraderie.
"This isn't like the year we had Ryan [Kligensmith] as our horse," stated McShane. "We aren't like a Hobart or Utica that go with one guy. We have three very capable goaltenders, and I don't need to settle on just one to play down the stretch. A few years ago, I had three, and the third guy all season ended up playing in the championship game. We look at how they are doing in practice and usually decide based on how they look after Thursdays practice. That keeps the focus on Friday for sure. All three kids are good friends, and I don't think they compete against each other in practice as much as they compete to get better themselves. That is a very healthy situation that keeps them all very focused and ready if they get the call to start."
The Cadets will be hosting a quarterfinal game at Kreitzburg in two weeks, and presumably the pursuit of the ECAC East crown will also go through their home in Northfield, Vt. Just don't tell their coach or players that, because right now, the only game they have targeted is Friday night at Babson.
Locked and loaded!