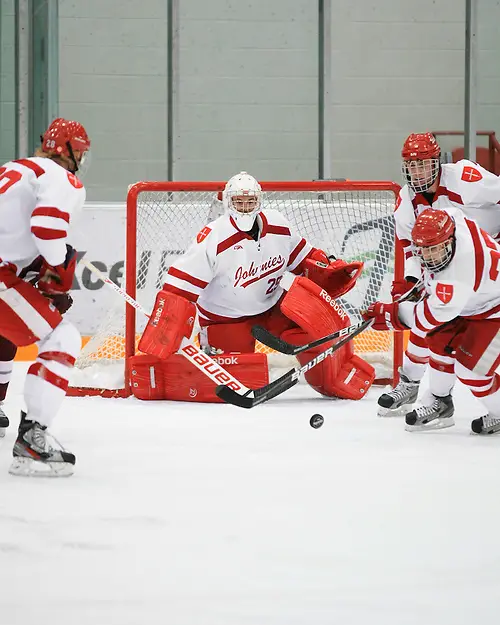 St. John's has put itself in a position to win the Minnesota Intercollegiate Athletic Conference championship.
Yes, the Johnnies still need a few breaks to go their way, and sure they need to take care of business against Bethel this weekend in a crucial home-and-home series that will cap the regular season.
But St. John's, which is 12-7-4 overall and 7-4-3 in the conference, a point behind first-place St. Olaf, is looking forward to the opportunity in front of it.
"Our league is very competitive and the standings are tight," St. John's coach Doug Schueller said. "Getting that sweep against St. Olaf last weekend was huge. It put us in a better position to compete for a playoff spot and even a league championship. It also gave us a lot of confidence."
Confidence has been one of those intangibles the Johnnies have had on their side lately. They have lost once in their last 10 games — 2-1 in overtime to St. Mary's — and have racked up six wins during the stretch.
"We've had to have some success and failures to learn what we had to do be a good team," Schueller said. "One of the big things for us has been how we've played on defense. We've harped a lot on playing good defense, and the players have bought into it."
It hasn't hurt to have one of the top young goalies in the league in Saxton Soley, who has allowed 29 goals and has tallied 394 saves.
The freshman played junior hockey before arriving on campus, but was never given an opportunity to really settle in at that level. Now, he's back to being the type of goalie that earned him Mr. Hockey honors in Wisconsin. Soley was the first goalie to earn the honor.
"He's always been a good goalie," Schueller said. "He tried the junior route out of high school and got shuffled around a bit. But he's come in this year, and after getting a little experience, he has gotten back to playing at the level he is capable of playing at."
Soley has a solid defense in front of him, as the Johnnies feature six defensemen with experience. Included in that group is junior Axel Ramsgard, who has dished out 10 assists.
"We had six defensemen coming back and it's a nice luxury to have," Schueller said. "They have a lot of experience, and our goals-against average is much better than it was a year ago."
The Johnnies haven't been bad on the offensive end of the ice either. They have struck for 66 goals, and are paced by senior forward Phil Johnson (11) and sophomore forward John Haeg (10).
There have been times this season when the Johnnies have failed to capitalize on scoring chances, but they have made strides of late, punching the puck into the net 20 times in their last five games.
"We have outshot a lot of our opponents, but we've been working harder on bearing down on scoring opportunities," Schueller said. "Our guys are being made more accountable for where their shots go. We've had some opportunities that didn't go in, and it cost us a game or two, but we have gotten better at making the most of our shots."
Now, the Johnnies hope to make the most of a golden opportunity. Two wins over Bethel would give them a shot at the league title.
"We are playing against a team that is fighting for its playoff life; they are going to be very tough, and we have to go to their place first," Schueller said. "We have to be ready to go. It's important for us to stay focused and play hard. If we can get a win Friday, we can talk about maybe winning the conference championship at home on Saturday. That would be special. First we have to focus on the game in front of us."
****************************
On top
St. Olaf lost both games to St. John's this past weekend, but still clinched a spot in the conference tournament. The Oles are in first place, and have a one-point edge over the Johnnies. St. Olaf lost the opener, 4-2, and fell, 4-0, in the finale. Jeff Harris and Nick Marsh scored the lone goals of the weekend for St. Olaf, which has lost three consecutive games after enjoying a five-game win streak. St. Olaf, which is 10-11-2 overall and 9-5 in the conference, will cap the regular season in a home-and-home series against Gustavus. The Oles have racked up 60 goals on the season, and have allowed 64. Harris leads the way with 16 goals. Dan Cecka has tallied eight goals. Henrik Wood has allowed 33 goals and has tallied 402 saves.
Cobbers in the hunt
Concordia is 8-6 on the season in conference play, and is still in the mix for a playoff berth. The eight conference wins by the Cobbers is the most since the 2001-02 campaign. Concordia swept Hamline last weekend, and will close the regular season with a pair of road games against St. Mary's. The Cobbers have won three consecutive games. Concordia hasn't been bad on the road this year, having gone 5-4, and it will need at least a split to have a shot at the postseason. Jordie Bancroft has been vital to the success of the Cobbers this season, scoring 11 goals and dishing out 10 assists. He is one of nine players who have scored at least four goals this year.
Sweep Success
Winning both games of a series is never easy in the competitive MIAC, but the Gusties came up with two big wins over St. Mary's this past weekend, and have put themselves in a position to clinch a postseason berth. The Gusties won the opener, 4-1, and capped the sweep with a 5-2 win on Saturday. They are 13-7-3 overall and 7-5-2 in the conference. Jack Walsh paved the way in the finale, as he scored three goals for his first career hat trick. He is the third Gustavus player to accomplish the feat this season. Walsh has scored 10 goals on the year, and has also dished out five assists. Adam Smyth leads the Gusties in scoring with 11 goals and eight assists. Offense has not been a problem for Gustavus lately. The Gusties have won four consecutive games, and have scored four or more goals in each of those wins. It's also worth noting that in the nine games Gustavus has played since the beginning of January, it has lost only once — 3-1 at Concordia — and has racked up six wins in that stretch.