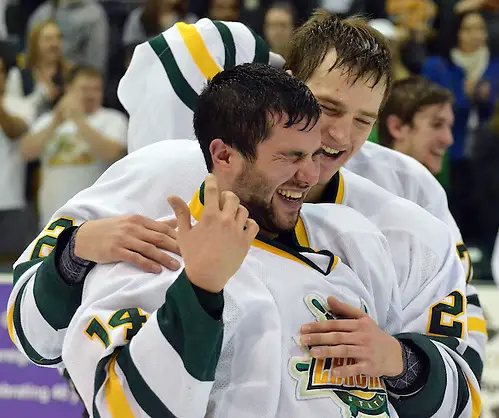 You can't really automatically pencil Oswego into an annual trip to the Division-III Frozen Four. It just seems that way.
Four FroFour appearances in the last four years — including this one — is reason enough to think that.
Stretch it to five FFs since 2007, all of them coming under coach Ed Gosek, if you want to include the Lakers' lone NCAA championship.
And why not?
Still, there's always room in the Campus Center trophy case for another piece of precious hardware, which the Lakers (24-4-0) are gunning for.
A trip to the Frozen Four? Old hat.
This group — which includes 14 seniors — has been there and done that, most of them three times already.
"We've been through this already," said senior assistant captain Chris Brown.
And the last of those, which resulted in a championship game loss to St. Norbert, is the hardest to take. Which means that if any of the four teams who will hit the ice in Lake Placid on Friday is on a mission, it certainly is Oswego.
"It's win and nothing else," said senior captain Jon Whitelaw. "The last three years have been heartbreaking. With all the seniors that have felt that heartbreak, anything but a national championship is a failure for us. It's all we think about and all we want. We won't settle for anything less."
The Lakers draw another perennial power, Norwich (also making its fourth FF showing in as many years) in Friday's semifinal. Oswego didn't meet the Cadets (24-3-1) this year, but both teams spent chunks of the season at the top of the USCHO D-III poll. Last year, Oswego used the semifinal tilt as the springboard to the championship game, although it wasn't easy.
In that contest against Amherst, they rebounded after giving up the tying goal with 22 seconds remaining, thanks to Paul Rodrigues' overtime game-winner. Rodrigues, the nation's second leading scorer (15-30-45) and SUNYAC Player of the Year, was the overtime hero again in Oswego's opening round, 3-2 win over Adrian.
That ability not to blink while at the brink is what makes this group of Lakers so special, according to Gosek.
"You don't want to dwell on last year's accomplishments," he said. "What you want to dwell on is using the last three years' accomplishments to become a better team. Each year, there's been a little different reason why we fell short. So we try to use our experience to widen our base of knowledge and work on doing the right things at the right times.
"People ask what you learn from all those final four's and it is the experiences."