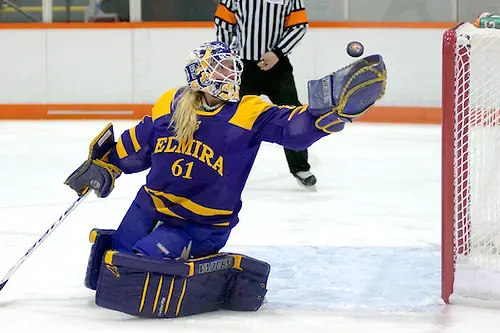 It's hard to believe we've reached the final weekend of the season already again, but here we are down to the final four teams set to collide in Superior, Wis. for the right to claim the 2013 NCAA Division III Women's Ice Hockey National Championship title.
This year's field is made up a familiar cast of characters, with Gustavus Adolphus making its fourth straight Frozen Four appearance, coupled with three-time national champion Middlebury and two-time national champions Elmira and Plattsburgh State. The most ironic fact all four teams have in common? All four teams are making their record seventh Frozen Four appearances.
Lake Champlain rivals Middlebury and Plattsburgh State will meet in the first semifinal at 4:30 p.m. EST, while Gustavus Adolphus takes on Elmira College in the nightcap at 8 p.m. EST.
For just the second time in the 12-year history of the NCAA sponsoring a D-III women's hockey championship, the Frozen Four weekend will take place in the West. The first time it went west was in 2010, when Gustavus Adolphus hosted.
This year, Wisconsin-Superior and Wessman Arena mark the first predetermined site host, and the first time the championship will be held without the host school participating.
Middlebury (19-7-2) enters this weekend's tilt with Plattsburgh (26-0-2) looking to win its first national championship since the Panthers claimed three straight titles from 2004-2006.
Middlebury advanced to this point by defeating Norwich University for the first time in five tries with a 3-2 overtime victory over the host Cadets. The Panthers' win assured us of having two new teams playing for the national championship after RIT and Norwich have met for the last two championships.
"I thought the Norwich game was one of the more exciting games we've played in my career at Middlebury," Middlebury coach Bill Mandigo said. "To beat a team of that caliber on the road in that situation was a great feat. I was very happy for the players and the team to be able to win a game like that."
Sophomore forward Katie Sullivan scored all three goals for the hat trick to lead Middlebury to the victory.
"She had a great day burying the puck three times," Mandigo said. "She had some great opportunities and she capitalized on them. At the same time, all three of those goals were helpers, as Lauren Greer set up the first two with perfect passes on her tape and then the third goal was set up on the power play by Heather Marrison and Katie Mandigo."
Middlebury is making its record 11th NCAA tournament appearance and its third trip to the Frozen Four in the last six years.
"We seem to do be an odd-year run with 2009, 2011 and 2013," Mandigo said. "The kids are really happy to be going back. To be able to go and play with the top four teams left is a goal all the time, and we're happy to be here but we're also not satisfied."
Plattsburgh and Middlebury have met twice so far this season, with the Cardinals taking both games by scores of 3-2 and 3-1.
"Both times, the games were close," Mandigo said. "In the first game, I thought we played pretty well, but they just came out on top. Second game, I thought they were unbelievable. If it wasn't for our goalie, it could have been 6- or 7-1. They are very good and very well-coached. They've got a great goalie, and plenty of people who can put the puck in the net. They are balanced in all three phases, and you can't say enough good things about them."
As was the case in the Norwich game, Mandigo said the key to the game will be relatively simple for Middlebury if the Panthers want a shot at claiming their record fourth NCAA tournament title.
"When you play the good teams, you don't normally get a lot of great chances, so when you do, you've got to bury them," he said.
On the flip side, Plattsburgh State is looking to replicate its feat from 2007, when the Cardinals claimed their first national championship as the only team to finish a season unbeaten with a 27-0-2 record. Should they win both games, Plattsburgh will not only replicate their 2007 feat, but they'll also break the record for wins in a single season,, which was set last year by RIT with 28 victories.
"It's kind of like a no-hitter," said Plattsburgh State coach Kevin Houle on the streak. "It's something we don't speak about or talk about as a team, and it has just happened. There are some games that could have gone either way over the course of the season. I don't think it's pressure. It's just part of the season and the journey."
Plattsburgh punched its ticket to a second consecutive appearance in the Frozen Four with a 5-2 victory over NCHA champion St. Norbert in the quarterfinals.
"It was a weird feeling going into the game, because you just don't know that much about the team," said Houle of the Western region opponent. "I thought our kids came out strong though, and did what we had to do in the first period to get up on them and then keep the pressure up for the most part. I thought SNC played hard and played well."
The Cardinals will also have the pain of last season's semifinal loss to rival RIT still sitting in the back of their heads heading into Friday's faceoff with Middlebury.
"It's been our team's goal from the end of last year to get back to the final four," Houle said. "We were able to get there last year in a different manner, having to go on the road in the quarterfinals. I think it was a great experience for them, and almost beat RIT in the semifinals. It was painful and a tough pill to swallow, but it's been something the kids have remembered and wanted to get back to."
Houle said although the Cardinals beat Middlebury twice already this season, nothing is guaranteed going into Friday's game with the Panthers.
"We were somewhat fortunate to come out of Middlebury with the win the first time," Houle said. "They are a great team that is well-coached. We know what they do and they know what we do. It's going to be a battle of wills I think, and execution. The key for us is not to sit back and take the game to them. If they get us playing their game, they are tough to beat."
In the second semifinal, Elmira (22-5-1) makes its return to the Frozen Four for the first time since 2010 to face perennial power Gustavus Adolphus (27-0-1) which is making its fourth straight appearance.
Elmira shutout NESCAC champion Bowdoin, 4-0, to advance to punch its ticket to Superior.
"There is no question Bowdoin is a real strong team and program," said first-year Elmira coach Dean Jackson. "Marisa [O'Neil] has done a great job there with a lot of speed up front and a strong goaltender. There was times when they had the momentum, but we had some times where we had it too. At the end of the day, we capitalized on our opportunities a couple more times than they did."
Jackson said it was exciting for Elmira to get back to the Frozen Four after two years of losing in the ECAC West Play-In round.
"The last couple years, it hasn't been the norm for Elmira College women's hockey to not get to the national tournament," he said. "Stuff like that happens though, and it's not always easy to be at the level on a year-to-year basis anymore. For us to get back here though is exciting, and it's something that has been in the back of the players' minds. This team wanted to do whatever it could to get back, and now they're meeting their goal."
The last time the two teams met was three years ago in Gustavus Adolphus in the third place game, with Elmira downing the Gusties, 4-1.
"We played each other three years ago in Gustavus, but only our seniors were a part of that," Jackson said. "The positive is that we are playing solid hockey and with confidence. Going against an unfamiliar opponent is exciting. It's always fun to play an opponent you don't normally play. They have a tremendous team over there and the statistics don't lie, as they are undefeated and coach Carroll has done a great job over there."
Jackson said it should be a great weekend of hockey with four close games that could be separated by just a few aspects of the game.
"Who is going to compete the hardest and execute their games and systems the best and limit their mistakes, that team will probably be the victor," he said. "It's going to be a fun weekend; all four games should be fantastic."
Gustavus Adolphus reached the Frozen Four by beating its old archrival, Wisconsin-River Falls, 2-1, in the quarterfinals for the fourth straight season.
"The game last Saturday was pretty evenly-matched," said Gustavus Adolphus coach Mike Carroll. "I thought River Falls played really well, and we were sort of up and down. But, we played well enough to win and once we got the lead we did a good job of holding onto it. We were tested a lot more than we had been recently in our defensive zone."
While Elmira, Plattsburgh, and Middlebury are all sharing a chartered flight out of Albany, N.Y., for both legs of the trip, the Gusties will make the three-hour bus trek to Superior.
"We're glad to be back," Carroll said. "Goaltending coming into the season was a big question mark after losing Danielle [Justice] and having three freshmen in the mix. Lindsey Hibbard has risen up and seized the opportunity. She played really well against River Falls, and our team has established confidence in that position throughout the year."
Despite losing Justice in goal and their top two scorers, who were both All-Americans last season, the Gusties are back once again and having their best season in program history to date.
"Our upperclassmen have really been able to dig deep after the tough losses we've experienced over the last few years at the Frozen Four," Carroll said. "They've been positive throughout the year and have really adopted the one game at a time concept, which has gotten us to this point. It's been an exciting year to watch our team grow. I think we're ready for the next phase but I'm sure there are three other teams ready too."
The best season in program history has Gustavus Adolphus sitting with a 27-0-1 record heading into this weekend, with the ability to tie RIT's single season record of 28 on Friday and then set the new record on Saturday should it win both games.
"It's an interesting topic," Carroll said of the unbeaten season. "Those types of scenarios are more of an outside influence and pressure rather than in the locker room. Fortunately, we've had the luxury of reading about the Gophers all year long, so we haven't had a lot of outside influences on that.
"Plattsburgh doing it is really cool too. We proved to ourselves we can do something special by going undefeated in the regular season, but our goal is to go undefeated in the postseason. Hopefully, that gives us some confidence that the end goal we've set can be reached."
Carroll said he doesn't know too much about Elmira since the two teams haven't met in three years, but he knows the Gusties will be in for one of their toughest, if not the toughest, tests of the season to date.
"Elmira has done a really good job this year getting back to the Final Four after missing a couple of years," Carroll said. "They've historically been a strong program with a good tradition, so we'll have our work cut out for us a little bit there."