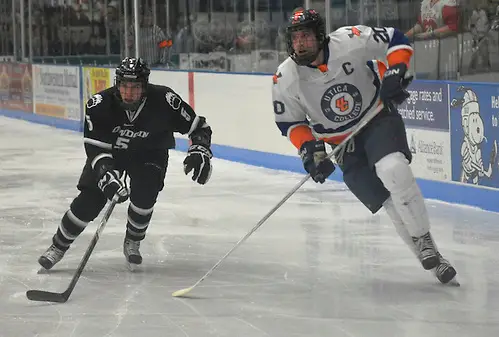 Utica College took a major step last week by earning its first-ever at-large berth in the NCAA Division III Tournament. The seventh-ranked Pioneers then did even better on Saturday night by defeating No. 5 Bowdoin, 4-2, to move on to its first-ever Frozen Four this weekend in Lake Placid.
"It's still sinking in," said Utica coach Gary Heenan. "It's a great feeling of accomplishment."
"It was definitely a great achievement as a team, and a step in the right direction for our program," said Utica senior captain Evan Chlanda.
The ECAC West regular-season champion Pioneers, who had been idle since Feb. 23, spotted the visiting Polar Bears a pair of first-period goals just over two minutes apart before answering with four consecutive goals of their own over the final 40 minutes.
"They took advantage of two opportunities to score, and took some very good shots," said Chlanda. "We had a little rust, but nothing too crazy we couldn't overcome it."
Chlanda assisted on Utica's first three goals, by Jordan Hobaica in the second stanza and Trever Hertz and Ridge Garbutt in the final frame, respectively. He also recorded three shots on goal himself in the middle 20 minutes of play in helping key the comeback.
"We have a veteran team," said Chlanda. "We came together, and there was no panic … We know what we have to do, and we're capable of coming back in games like that."
Garbutt's goal put Utica up, 3-2, with 4:24 remaining in regulation, before Eric Peterson punched the Pioneers' ticket to Lake Placid with an empty-net goal with 53 seconds left on the clock. Utica netminder Nick Therrien finished with 27 saves.
The Pioneers (21-5-1 overall) went 0-for-3 on the power play, but killed off all five Bowdoin man-advantage opportunities—–all in front of 3,847 raucous fans at the Utica Memorial Auditorium.
"I've never heard the building like that before," admitted Chlanda. "We started putting some goals in, and to hear the building erupt was just a great feeling for sure."
"At the final buzzer, the place was going crazy," added Heenan. "I won't forget that for some time."
To get to the Division III national championship game, the Pioneers will have to first get past No. 4 Wisconsin-Eau Claire (22-5-2), which upset two-time defending national champion St. Norbert by a 3-1 count on Saturday night. The Blugolds defeated the Green Knights three out of five times this year, and now will be looking to upend Utica on Friday at 7:30 p.m. to earn a title game date on Saturday with either No. 2 Norwich (24-3-1) or No. 3 Oswego State (24-4).
The Pioneers have never faced Wis.-Eau Claire, which is also making its Frozen Four debut, and technically don't know much about the Blugolds.
"They're the best in the West" said Heenan. "We'll focus on us, and look to put our best foot forward come Friday."
Utica does have some history with the two teams on the other side of the bracket, though. The Pioneers fell to Norwich, 5-2, in the first round of the Times-Argus Invitational during the 2006-07 season, but have faced Oswego several times in their history, including a 3-2 road win and a 6-0 home victory earlier this season.
First things first, however.
"It's a really exciting time, and we're looking forward to Friday in Lake Placid," said Chlanda.