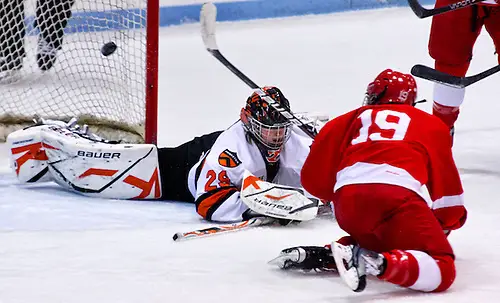 The season is down to seven games and three days. The first four contests are all scheduled for Saturday. Compared to last season's field, Wisconsin and St. Lawrence are out, and Clarkson and Harvard are additions. The following is a glimpse at the eight teams whose championship dreams are still intact and how they match up.
North Dakota at No. 1 Minnesota Golden Gophers, Saturday, March 16, 5 p.m. ET, 4 p.m. CT
For the second straight year, WCHA combatants North Dakota and Minnesota collide for a sixth time in an NCAA quarterfinal. The national tournament clash comes seven days after facing off in the WCHA championship game.
"We were prepared for this about two months ago," said Gophers coach Brad Frost. "As a staff, we were preparing to play either North Dakota or Wisconsin in this first game, so it is no surprise to us. We know them, and they know us."
Since sisters Jocelyne and Monique Lamoureux arrived in Grand Forks, this head-to-head series has been either feast or famine for UND. North Dakota won five of the first seven games and seemingly had Minnesota's number, but that number apparently changed along the way, because the Gophers have now rattled off eight straight, including three postseason contests.
Now, the two sit down at the high-stakes table where UND can win the war, despite losing all of the previous battles.
Statistical comparison
Category                North Dakota    Minnesota
Record                             26-11-1             38-0-0
Versus NCAA field       1-6-0                5-0-0
Goals-scored/game     3.74                5.37
Goals-allowed/game   2.24               0.76
Power-play pct.              28.0               32.0
Penalty kill pct.               86.7               92.5
Avg. penalty minutes   12.8                8.8
NCAA appearance         Second        11th
North Dakota
Top scorers: Jocelyne Lamoureux, Sr., F, (35-46-81), Monique Lamoureux, Sr., D/F, (26-39-65), Michelle Karvinen, Jr., F, (18-28-46), Josefine Jakobsen, So., F, (16-25-41).
Goaltender:  Shelby Amsley-Benzie, Fr., (19-7-1), 2.12 goals-against average, .911 save percentage, three shutouts.
North Dakota's record was just 4-5 after losing on home ice to Clarkson on Nov. 2. The next day, Monique Lamoureux moved from wing to the blue line, and UND has gone 22-6-1 since, with the only losses coming to top-10 teams Wisconsin and Minnesota.
That was not the only change that improved UND's fortunes. Michelle Karvinen, an Olympic medalist for Finland in 2010, returned from injury a week later and would rank in the top 10 nationally in points per game if she had played enough games to appear on the list. WCHA All-Rookie Team member Meghan Dufault started to adjust to the college game and began contributing on the offensive end as well. In January, coach Brian Idalski committed to redshirt freshman Shelby Amsley-Benzie in net, and she has brought stability to the position.
Jocelyne Lamoureux was honored as a Patty Kazmaier Award Finalist and WCHA Student-Athlete of the Year, and she, along with her sister, Karvinen, and Josefine Jacobsen, were named All-WCHA.
Minnesota
Top scorers:  Amanda Kessel, Jr., F, (43-52-95), Hannah Brandt, Fr., F, (30-49-79), Megan Bozek, Sr., D, (20-34-54), Maryanne Menefee, Fr. F, (16-19-35).
Goaltender:  Noora Räty, Sr., (35-0-0), 0.87 goals-against average, .959 save percentage, 17 shutouts.
WCHA Coach of the Year Brad Frost will wake up one of these days and realize that he's coaching a mortal team like everyone else. He just hopes that realization doesn't happen in the next two weeks.
Minnesota set NCAA records for wins in a season (38), consecutive wins (46), and consecutive road wins (25). By the time the season is complete, it will also own or share the records for best winning percentage, fewest losses, and it is on pace to lower the mark for goals allowed in a season. Netminder  Noora Räty had her own personal assault on the record books, setting new standards for wins in a season (35) and career (111), plus shutouts in a season (17) and career (43).
The Gophers also have the three finalists for the Patty Kazmaier Award in Räty, senior defenseman Megan Bozek, and junior forward Amanda Kessel. Kessel was the Player of the Year in the WCHA, Bozek was the league's Defensive Player of the Year, forward Hannah Brandt was WCHA Rookie of the Year, and Räty was the MVP of the conference tournament. Those four were all named to the All-WCHA First Team, and Kelly Terry, Mira Jalosuo, Rachel Ramsey, Maryanne Menefee, and Milica McMillen made all-conference teams as well.
Why North Dakota will win: North Dakota features three players that already own Olympic medals, more than the rest of the field combined. UND did not fare well as judged by the NCAA selection criteria, but according to some computer ranking systems, it is a top-three team. North Dakota hasn't allowed more than two goals in its last nine games, and only once in its previous 16. Combining the country's third-best power play, a renewed commitment to defense, and a hunger to reach the program's first Frozen Four, UND likely presents the biggest obstacle to a Minnesota repeat, as it is the last team to beat the Gophers and the last team to shut them out.
Why the Gophers will win: Minnesota is not big on Houdini acts. It has only trailed in five of the 46 games in its winning streak, and in only one of those was it behind after the game's midpoint. That came in the only overtime game in the stretch, a 3-2 win over Bemidji State on Feb. 16. The Beavers led twice in that game, and those leads lasted for 2:27 and 1:30. Of late, the Gophers have simplified their formula by not allowing a goal in their last six games.
Mercyhurst Lakers at No. 2 Cornell Big Red, Saturday, March 16, 1 p.m. ET, 12 p.m. CT
For two teams that don't share a conference, Mercyhurst and Cornell have played often since the Big Red's rise to prominence in 2009-2010. Cornell has triumphed in five of the nine games played over the last four seasons. The balance has also been shifting in the Big Red's direction, as they have taken four of the last five games, including the only meeting this year.
Cornell also claimed the most vital match, dropping top-seeded Mercyhurst from the 2010 Frozen Four with a 3-2 victory in overtime. While that could make revenge a possible motive, Lauren Jones and Stephanie DeSutter are the only remaining Lakers who played in that game.
Statistical comparison
Category                   Mercyhurst    Cornell
Record                            28-6-1        27-5-1
Versus NCAA field        2-3-0        5-4-0
Goals-scored/game      4.23        3.88
Goals-allowed/game     1.66        1.55
Power play pct.               21.4        17.8
.Penalty kill pct.               87.1        90.4
Avg. penalty minutes    11.9        10.9
NCAA appearance        Ninth        Fourth
Mercyhurst
Top scorers:  Christine Bestland, Jr., F, (28-41-69), Jenna Dingeldein, Fr., F, (14-27-41), Emily Janiga, Fr., F, (19-21-40), Molly Byrne, So., D, (8-24-32).
Goaltender:  Stephanie Ciampa, Sr., (19-1-0), 1.37 goals-against average, .937 save percentage, four shutouts.
The CHA regular-season and playoff champions return to the NCAA tournament for a record ninth-consecutive time, having participated in each of the eight-team fields. Mercyhurst ran its string of CHA regular-season titles to 11, and it started a new streak of playoff titles after losing out on that trophy for the first time a year ago.
Supposedly, this was to be a rebuilding season in Erie for coach Mike Sisti, but led by CHA Player of the Year Christine Bestland and senior Stephanie Ciampa, the conference goaltending champion and tournament MVP, the Lakers earned the at-large selection to the NCAAs. Featuring the country's third-best offense and top-10 rankings in defense, power play, and penalty kill, Mercyhurst boasts the third-highest winning percentage heading into the tournament.
Cornell
Top scorers:  Brianne Jenner, Jr., F, (34-33-67), Jillian Saulnier, So., F, (9-33-42), Lauriane Rougeau, Sr., D, (7-19-26), Jessica Campbell, Jr., F, (16-8-24), Hayleigh Cudmore, Jr., D, (5-19-24).
Goaltender:  Lauren Slebodnick, Jr., (24-5-1), 1.47 goals-against average, .930 save percentage, five shutouts.
Though perhaps not as dominant as in recent seasons, the Big Red still found their way to the top of the ECAC in the regular season and playoffs, giving their senior class seven of a possible eight ECAC trophies in their careers. The achievement earned Doug Derraugh honors as conference Coach of the Year.
ECAC Player of the Year and Kazmaier Finalist Brianne Jenner headlines a star-studded group. Jenner was joined on the league's first team by Lauriane Rougeau, also named the ECAC's Best Defensive Defenseman. Forward Jillian Saulnier, defensemen Laura Fortino and Cassandra Poudrier, and goaltender Lauren Slebodnick also received All-ECAC recognition.
Why the Lakers will win: The hosts have been letting teams hang around of late, and that's a dangerous approach to the postseason. Ciampa has lost only once all season, that coming when Robert Morris parlayed two power-play goals over a span of 2:24 into a 2-1 victory; other than that, she's been money in the bank in her 20 starts.
Why the Big Red will win: Cornell took a trial run against Mercyhurst six weeks ago by a 4-0 gap, and the Lakers haven't seen a top-10 opponent since then. The Big Red's seniors have visited the Frozen Four in their previous three seasons, and they looked poised to do so again.
Clarkson Golden Knights at No. 3 Boston University Terriers, Saturday, March 16, 3 p.m. ET, 2 p.m. CT
Clarkson at Boston University is the only quarterfinal pairing of two teams that have yet to square off this season. The Terriers and the Golden Knights did play to a 2-2 tie in October 2011. The last head-to-head win went to BU on home ice on Oct. 23, 2010, by a 3-2 score.
The Terriers enjoy a big edge in tournament experience, having participated in each of the previous three years, reaching the final game in 2011. Only Clarkson seniors Danielle Skirrow and Hailey Wood date back to the Golden Knights' NCAA tournament team of 2010.
However, Clarkson may enjoy an edge in recent seasoning. BU has only played one game against the tournament field since November, losing 3-0 to Harvard in the consolation game of the Beanpot.
Statistical comparison
Category                     Clarkson    Boston University
Record                           28-9-0        26-5-3
Versus NCAA field        5-5-0        3-3-1
Goals-scored/game       2.89        3.74
Goals-allowed/game      1.70        2.29
Power play pct.                17.5        25.0
Penalty kill pct.                 87.3        88.5
Avg. penalty minutes        9.8        10.3
NCAA appearance            Second        Fourth
Clarkson
Top scorers: Jamie Lee Rattray, Jr., F, (22-29-51); Carly Mercer, Jr., F, (17-23-40), Erin Ambrose, Fr., D, (5-30-35), Danielle Skirrow, Sr., F, (15-13-28), Brittany Styner, Jr., F, (9-19-28).
Goaltender: Erica Howe, Jr., (27-9-0), 1.67 goals-against average, .933 save percentage, six shutouts.
Despite being matched against a fresh opponent in the tournament, Clarkson likely has a good idea of what awaits it. The Golden Knights are the only team to have played at least one tournament team from each of the four conferences, and they've skated against five of their seven possible foes.
The team of coaches Shannon and Matt Desrosiers might be slightly undervalued, as it suffered a pair of losses to ranked opponents Boston College and Northeastern while without stars Jamie Lee Rattray and Erin Ambrose, the ECAC Rookie of the Year. That was the only time during the season where the Golden Knights dropped back-to-back games.
The foundation of the team is ECAC Goaltender of the Year Erica Howe. The junior is tied for third in the country in shutouts, and ranks in the top 10 in save percentage, winning percentage, and goals-against average. She was joined on the all-conference teams by Rattray, Ambrose, and Carly Mercer.
Boston University
Top scorers:  Marie-Philip Poulin, Jr., F, (16-33-49), Isabel Menard, Sr., F, (15-28-43), Jenelle Kohanchuk, Sr., F, (22-19-41), Sarah Lefort, Fr., F, (21-19-40).
Goaltender:  Kerrin Sperry, Jr., (22-4-3), 2.11 goals-against average, .921 save percentage, four shutouts.
Unlike its wild ride of a year ago while fighting through severe injury problems, Brian Durocher's squad's campaign has been remarkably steady. Other than a three-game winless stretch as October gave way to November and a two-loss Beanpot, the games have mostly migrated to the win column.
A full season of Marie-Philip Poulin and Jenelle Kohanchuk has offset the graduation of leading scorer Jenn Wakefield and increased the goal production of a year ago. Both were named Hockey East All Stars. Goals allowed has improved as well, despite the graduation of three senior defensemen, and a big reason for that was the addition of junior defenseman Shannon Doyle, a transfer from Colgate and a first-team HEA All Star. Goalie Kerrin Sperry was the MVP of the Hockey East Tournament, and looks to be peaking at the perfect time for the league's regular season and tournament champions.
Cornell lurks on BU's side of the bracket, and the teams have alternated eliminations the last two seasons, with the Terriers going down in an epic 8-7 three-overtime tilt last March.
Why the Golden Knights will win: Howe is likely the top goaltender in the East this season. Rattray is tied for the national lead in game-winning goals, and Ambrose leads in assists per game from the blue line.
Why the Terriers will win:
BU has largely taken care of home ice, going 16-2, with the losses coming back in October. Clarkson is the only team still playing that averages less than three goals a game, and in March, a team has to be able to score to win.
Harvard Crimson at No. 4 Boston College Eagles, Saturday, March 16, 1 p.m. ET, 12 p.m. CT
Two of the country's speediest teams, the Crimson and Eagles, meet in the NCAA tournament for the first time.
They went toe-to-toe in the first round of the Beanpot just over five weeks ago, and the goaltenders dominated the action for the first 40 minutes. Harvard got on the scoreboard first, but Boston College rallied with two goals for a 2-1 win.
The Eagles enjoy an edge of over a goal per game on offense, but the Crimson get most of that advantage back defensively. Harvard has had the greater workload of late, playing 10 games in the wake of the Beanpot, while BC has only taken to the ice seven times over that period.
Statistical comparison
Category                         Harvard    Boston College
Record                                 24-6-3        26-6-3
Versus NCAA field             3-6-0        5-2-1
Goals-scored/game           3.39        4.40
Goals-allowed/game         1.15        2.00
Power play pct.                   18.8        28.1
Penalty kill pct.               93.3        84.6
Avg. penalty minutes    8.1        8.3
NCAA appearance          Ninth        Fifth
Harvard
Top scorers: Jillian Dempsey, Sr., F, (24-21-45), Lyndsey Fry, Jr., F, (16-20-36), Mary Parker, Fr., F, (11-12-23), Samantha Reber, So., F, (5-13-23).
Goaltender: Emerance Maschmeyer, Fr., (12-5-2), 1.35 goals-against average, .932 save percentage, six shutouts.
Of this year's field, Harvard is tied for second with Mercyhurst with nine NCAA tournaments, and the Crimson are also second in Frozen Fours reached with five. However, only one of those came after 2005, and no player from the team's roster has won a game in the national tournament.
Coach Katey Stone, now in her 19th year in charge in Cambridge, may have turned in one of her best coaching jobs to get her team in this position after losing two top defensemen, Josephine Pucci and Marissa Gedman, to injury before the season even got off the ground. The Crimson still have star players, including Patty Kazmaier Award Finalist Jillian Dempsey and goalie Emerance Maschmeyer, named the MVP of the ECAC Tournament.
Thanks in large part to the play of Maschmeyer and senior goaltender Laura Bellamy, Harvard boasts the nation's top penalty kill, along with the second-ranked scoring defense. That served the Crimson well in the teams' Beanpot meeting, as they held the country's No. 2 offense to below half of its average.
Boston College
Top scorers:  Alex Carpenter, So., F, (31-37-68), Haley Skarupa, Fr., F, (23-27-50), Emily Field, So., F, (15-29-44), Melissa Bizzari, Jr., F, (17-14-31).
Goaltender: Corinne Boyles, Jr, (21-4-1), 1.82 goals-against average, .925 save percentage, three shutouts.
Boston College has had a great season, although that fact is not immediately evident by looking at its trophy case. The Eagles have only failed to win in four of their last 26 games, but the timing of the three most recent non-wins proved painful. A loss to Northeastern in the championship cost BC the Beanpot. At tie at Vermont on the last weekend of the regular season robbed the Eagles of a share of the Hockey East regular-season title. Another loss to Northeastern bounced Boston College from the league's playoffs.
The beauty of the NCAA tournament is that it can wipe away all disappointments. The Eagles advanced to the Frozen Four out of the fourth seed in each of the last two years, and this looks to be a far deeper roster. They enter the tournament having scored 53 more goals than they had at this point last year, without sacrificing defensively.
Alex Carpenter, Hockey East's top rookie a year ago, ascended to the position of the conference's Player of the Year, as well as Kazmaier Finalist. The Eagles have the new Rookie of the Year in forward Haley Skarupa. Coach Katie King Crowley made it a triple on league awards night by being named the circuit's Coach of the Year.
Why the Crimson will win: Goaltending is paramount in hockey, especially in the postseason, and Harvard has a rising star in Maschmeyer. With an Olympic sabbatical looming for Stone, twice the normal number of athletes will be playing their final tournament for their coach.
Why the Eagles will win: Coach King Crowley is 5-2 versus coach Stone, and her teams are 5-0 against Harvard in years where they have reached the NCAA tournament. In addition, the Eagles have a serious edge in firepower, with seven players with 25 points or more, while Harvard has only two.