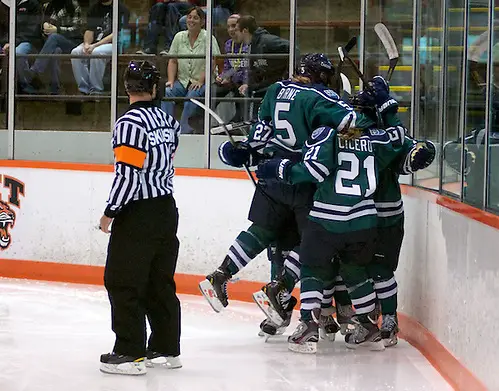 With 34 programs competing in Division I conferences this season, opportunities for young women to play college hockey at that level are at an all-time high. A typical roster has more than 20 student athletes, so that means over 700 players were competing at D-I.
While that seems like a decent number, the slots available can prove to be sparse for a goaltender. Some teams roster four goalies, others have only two, but three is the norm. Rough math suggests that there is room for only about 100 netminders, and 25 or so positions will open up for any given recruiting class.
As senior goaltender Stephanie Ciampa discovered, attracting one of those spots is not easy, but she landed a spot at Mercyhurst.
"I wanted to play hockey and I was just kind of seeing where I had an opportunity, and Mercyhurst came into the picture and it just worked out from there," she said.
Ciampa's introduction to hockey was typical of many young girls, following in the footsteps of an older sibling, skating at age four, and on a boys' mite travel team by six. She started taking rotations in net, demonstrated skill at the position, and was first coached by former Bruins goaltending coach Brian Daccord. At age 14, she began playing club hockey for Assabet Valley, where goaltender Kerrin Sperry was already on the roster.
On Friday, Ciampa will make her first start in a Frozen Four versus Boston University, and her opponent in the other net will be none other than Sperry.
It is unlikely for two goalies from the same program to wind up at opposite ends of the ice in a national semifinal. Based on her first three years, the likelihood of Ciampa playing in such a game was low on its own, as she'd made only five starts through the end of her junior season.
"Fortunately from the start of our program, we've always had great goaltending, and you need that," Mercyhurst coach Mike Sisti said. "Steph played behind the all-time leader in wins in Hillary Pattenden until [Noora] Räty broke her record this year. And that's the only reason she didn't play; it wasn't because she wasn't capable. Hillary was solid for us and dependable, and Steph's coach went with Hill over Steph, but [Ciampa] was always ready and always capable. What's awesome is that she's proven that this year."
With the graduation of Pattenden and her 100 career wins at the end of last season, Ciampa finally got the opportunity to start regularly. She responded with a stellar season, posting a 20-1 record, a .935 save percentage, and a goals-against average of 1.44, ranking second, sixth, and third nationally in those categories.
"She's been great; we wouldn't be here without her," Sisti said.
If others are surprised by her season, Ciampa is not.
"I don't know if I've even been that sharp," she said. "I've had my moments; I've had my weak goals. I just tried to stick to what I've always been taught. I worked hard, and even if I didn't play much in three years, there's still things you can do to keep yourself ready for game situations."
That's not to say that she doesn't appreciate the opportunity to play after years of waiting.
"It's been exciting," Ciampa said. "I told myself I wanted to make the most of this year, so it's exciting to finally get in and play, and just still trying to make the most of it."
Now that she has the opportunity to play in the biggest game of her career, the challenge is to treat it as just another hockey game.
"The biggest thing is to keep doing the same thing I've been doing," Ciampa said. "Just stay calm. It's going to be a crazy atmosphere out there, obviously, and there's a lot at stake, but you just got to stay calm, keep your emotions in check and just be ready for anything."
The Lakers have experienced wild happenings in big games already this year. Against Syracuse in the CHA championship game, the Orange scored a power-play goal in the final second of the middle period to break a scoreless tie.
"Our team has been pretty good at reacting to whatever happens," Ciampa said. "Like that goal when we played Syracuse; that was kind of a crazy thing, and a lot of teams could have broken down after that, but we found a way to pull through it. So I think that's the most important thing. There's going to be crazy things that happen out there. Goals are going to be scored; it's what you do after that."
The Lakers responded versus Syracuse with a four-goal third period to earn the CHA title. As with their previous league championships, that didn't bring the team an automatic bid.
"We've been in the NCAA tournament nine years in a row," Sisti said. "When you look at all the great teams, all the great programs that play women's hockey, that's tough to do. We've done it nine times in a row with an at-large bid. People will talk about our schedule, but with the way the NCAA chooses teams, you can't get in by luck. You can't sneak in the back door. You've got to win hockey games, and that's something our players have done."
In the first round of the NCAAs, Mercyhurst experienced another sudden momentum swing. Just 17 seconds after it took a 3-2 lead, Cornell answered with a final-minute goal to force overtime. Undaunted, freshman Jenna Dingeldein tallied five minutes into the extra session.
"We can definitely use the experience of last weekend to help us for this weekend," Ciampa said.
After graduating so many key players over the last couple of years, the Lakers no longer feature the household names of some of their previous squads. That doesn't preclude success.
"We're kind of more even across the board team this year, which can work to our advantage if we all buy into the system together," Ciampa said. "We know we have to work hard for this team to be successful."
Offensively, Mercyhurst will look to captain Christine Bestland to trigger a young attack. Her 71 points are the fifth-highest total in the country.
"I basically look at my numbers and don't really think anything of it," Bestland said. "If it wasn't for my team, I wouldn't have those numbers; they help me out a lot. Most of my points are assists, so I need them to finish it off and put it in the net, so if it wasn't for my team, I wouldn't have the points that I have. We have a lot of great offensive players, so that makes it easier."
Dingeldein and Emily Janiga, another rookie forward, are second and third on the team with 43 and 41 points respectively. Added up, the Lakers rank third in scoring behind Minnesota and Boston College, while Friday's opponent, BU, comes in sixth.
"They have some really skilled forwards," Ciampa said of the Terriers. "Obviously, they're a talented team. Anything can happen here; all the teams here are going to play hard, so we've just got to be ready for their pushes, and be ready to play a good game."
That's an area where Sisti's teams have had a lot of success over the years, and his scoring defense is second only to Minnesota among the remaining teams. It all starts in the goal crease.
"Our goalies are sharp," Sisti said. "When they're the last line of defense, they're not afforded too many mistakes ,or everyone knows it. You may have the forward or defenseman that may make six, seven, eight, nine mistakes in a game, and maybe only one costs you. Steph has done a phenomenal job. She deserves all of the attention that she gets for her season, which I think is an incredible season, and people should take notice of her being a great goalie."