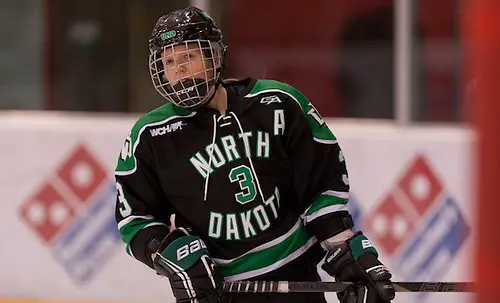 It would be ironic if North Dakota claimed its first conference championship in its first season without the Lamoureux sisters, but that is a definite possibility. Even without the offense that Jocelyne and Monique Lamoureux provided, few teams return a trio as prolific as Michelle Karvinen, Josefine Jakobsen, and Meghan Dufault, each of whom added more than 40 points.
The concern offensively would be that after those three, production dropped sharply; the next highest scorer had 12 points. Finnish import Susanna Tapani should help in that regard.
"Anytime you lose players the magnitude of Jocelyne and Monique, it's a transition," Minnesota coach Brad Frost said. "If other players fulfill their roles and really step up, then they've got an opportunity to have an incredible season. They've got some great recruits coming in. They'll probably be a little better defensively, which is maybe where they struggled last year and probably a little more depth. I think they'll have a very strong year."
UND especially needs that influx of talent on defense, because coach Brian Idalski no longer has the option of moving Monique Lamoureux back to the blue line as was necessary part way through each of the last two seasons. The impact of the new defensive rookies was apparent in North Dakota's exhibition game.
"We haven't been that deep on 'D'," coach Brian Idalski said. "Some of those kids with their outlet passes and moving the puck — that was really good. We were pretty impressed with that. I thought Gracen Hirschy was extremely strong today. You can see why we were so excited about her, and Halli [Krzyzaniak] is a fantastic player."
The other traditional position of concern for UND was goaltending. Inconsistency plagued the position; a few weeks of strong play would be offset by a regression at the worst time.
Sophomore Shelby Amsley-Benzie's performance down the stretch of her rookie campaign gave evidence that she may be the answer for the next few years. She became the full-time starter over the final two months of the season, and only twice allowed more than a pair of goals, yielding three on both of those occasions.
If she can improve on the .918 save percentage of her first season, then those North Dakota title aspirations may be realized. However, the Olympics present North Dakota with a different obstacle than the other WCHA contenders because of the European players at UND, leading Wisconsin coach Mark Johnson to conclude that North Dakota may be the team most impacted by the Olympic Games.
"Depending on what Sweden and Finland and a couple other players on their team, when they'll be leaving," Johnson said. "All of a sudden we get to Four Nations and six of your players are getting on a plane Monday morning and heading out to Lake Placid for the Four Nations [tournament] and then sometime in December heading out again. Then you get them in January preparing for the Olympics; you might have them for 60 percent of your season. That becomes challenging."