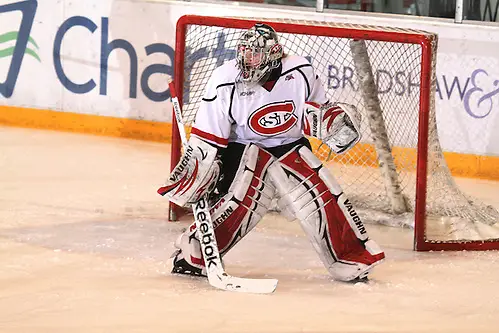 While many contending teams view the Olympic year as an additional challenge that results in the absence of key players, for St. Cloud State an Olympic year represents opportunity. The Huskies parlayed a talented senior class and depleted rosters of some conference foes to finish a program-best third in the WCHA in 2009-10, the previous Olympic season. It has been mostly famine ever since, so for coach Jeff Giesen, the Olympics likely couldn't arrive soon enough.
The offense has shown a gradual climb over the past couple of seasons, but opponents still scored twice as often as SCSU last year.
Both junior Julie Friend and sophomore Katie Fitzgerald are capable of winning in goal when afforded adequate support. Friend tends to get more minutes, although their numbers are quite similar.
The team defense overall would likely be adequate if the Huskies could just score more. At roughly a goal and a half per game, the offense just doesn't supply enough power.
The last couple of months of the season were particularly disappointing. SCSU won its eighth game on January 4, then added only one more win over the final 15 games, when the offense was never able to score more than twice.
The top producers are senior forward Molli Mott (22 points) and junior defenseman Audrey Hanmer (18 points). The Huskies just need more people to show up on the score sheet more often than once a month. In the meantime, at least the renovation of Herb Brooks National Hockey Center has been completed.