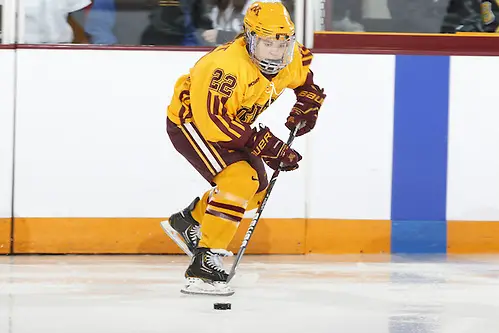 This promises to be a transitional year in the WCHA, as players like Brianna Decker, Jocelyne and Monique Lamoureux, and Noora Räty that have formed the identity of the conference have completed their eligibility. Their former schools all bring in strong recruiting classes, so while the personnel losses leave the door open a crack for lower teams to make a move, look for the influx of talent to help maintain the status quo atop the league.
Minnesota likely lost the most talent. Because the Gophers started with a definite talent edge, my guess is that they will remain on top when all of the subtracting and adding is complete. However, their margin of error has been eroded, so it wouldn't take much in the way of injuries or slumps to shift the balance and produce a different champion.
As of now, I see a top three of Minnesota, North Dakota, and Wisconsin with Bemidji State and St. Cloud State trying to escape the cellar. The only thing I'm sure of is that the picture will look much different in five months than it does today.
Click on the team team for a detailed preview.
Minnesota Golden Gophers
Projected Finish: First
WCHA Coaches Poll: First
Previous Season: First, 28-0-0-0, 84 points
Key Departures: Noora Räty, Amanda Kessel, Megan Bozek, Mira Jalosuo, Becky Kortum, Lee Stecklein
Arrivals: Dani Cameranesi, Kelsey Cline, Kate Flug, Paige Haley, Sidney Peters, Kate Schipper, Megan Wolfe
Key Players: Hannah Brandt (33-49-82), Maryanne Menefee (16-22-38), Amanda Leveille (0.00 goals against average (GAA), 1.000 save percentage)
North Dakota
Projected Finish: Second
WCHA Coaches Poll: Third
Previous Season: Tie for second, 18-9-1-0, 55 points
Key Departures: Jocelyne Lamoureux, Monique Lamoureux, Ashley Furia, Jordan Slavin, Megan Gilbert, Allison Parizek, Mary Loken, Jorid Dagfinrud
Arrivals: Annie Chipman, Kayla Gardner, Gracen Hirschy, Manda Koep, Halli Krzyzaniak, Lisa Marvin, Amy Menke, Nicole Novak, Marissa Salo, Lexie Shaw, Susanna Tapani
Key Players: Michelle Karvinen (18-29-47), Josefine Jakobsen (16-26-42), Meghan Dufault (19-22-41)
Wisconsin Badgers
Projected Finish: Third
WCHA Coaches Poll: Second
Previous Season: Tie for second, 17-9-2-2, 55 points
Key Departures: Brianna Decker, Alev Kelter, Saige Pacholok, Jordan Brickner
Arrivals: Mellissa Channell, Ann-Renée Desbiens, Sydney McKibbon, Sarah Nurse, Jenny Ryan
Key Players: Alex Rigsby (1.49 GAA, .943 save percentage), Madison Packer (18-19-37), Courtney Burke (4-19-23)
Minnesota-Duluth Bulldogs
Projected Finish: Fourth
WCHA Coaches Poll: Fifth
Previous Season: Tie for fourth, 13-13-2-1, 42 points
Key Departures: Jessica Wong, Katie Wilson, Brigette Lacquette, Pernilla Winberg, Aleksandra Vafina, Shara Jasper, Vanessa Thibault
Arrivals: Ashleigh Brykaliuk, Demi Crossman, Meghan Heurtas, Katherine McGovern, Sydney Morin, Lara Stalder, Nadine Ullrich, Bailey Wright
Key Players: Jenna McParland (11-17-28), Zoe Hickel (10-12-22), Kayla Black (2.29 GAA, .918 save percentage)
Ohio State Buckeyes
Projected Finish: Fifth
WCHA Coaches Poll: Fourth
Previous Season: Tie for fourth, 12-13-3-3, 42 points
Key Departures: assistant coach Chris MacKenzie, assistant coach Candice Moxley, Hokey Langan, Paige Semenza, Tina Hollowell, Minttu Tuominen
Arrivals: assistant coach Carson Duggan, assistant coach Keith Maurice, Breanne Grant, Claudia Kepler, Katie Matheny, Alexa Ranahan, Hayley Studler
Key Players: Ally Tarr (13-19-32), Kari Schmitt (5-23-28), Chelsea Knapp (2.50 GAA, .911 save percentage)
Minnesota State Mavericks
Projected Finish: Sixth
WCHA Coaches Poll: Sixth
Previous Season: Sixth, 6-17-5-1, 24 points
Key Departures: assistant coach John Austin, Lauren Smith, Emelia Andersson, Lauren Zrust, Erika Magnusson
Arrivals: assistant coach Brett Bruininks, Sara Bustad, Anna-Maria Fiegert, Brianna Quade, Savannah Quandt, Carina Randazzo
Key Players: Danielle Butters (3.15 GAA, .913 save percentage), Tracy McCann (15-11-26), Kathleen Rogan (6-14-20)
Bemidji State Beavers
Projected Finish: Seventh
WCHA Coaches Poll: Tie for seventh
Previous Season: Eighth, 5-22-1-0, 16 points
Key Departures: Sadie Lundquist, Emily Erickson, Erika Wheelhouse, Mackenzie Thurston, Abby Williams
Arrivals: Stephanie Anderson, Erin Deters, Carley Esse, Madison Hutchinson, Lauren Miller, Brittni Mowat, Ciscely Nelson
Key Players: Kaitlyn Tougas (7-7-14), Kristin Huber (3-4-7), Jessica Havel (3.62 GAA, .879 save percentage)
St. Cloud State Huskies
Projected Finish: Eighth
WCHA Coaches Poll: Tie for seventh
Previous Season: Seventh, 5-21-2-1, 18 points
Key Departures: assistant coach Brita Schroeder, Alex Nelson, Haylea Schmid, Lisa Martinson, Katie Allen
Arrivals: assistant coach Shera Fetter, Jacqueline Audet, Lauren Hespenheide, Alexandra Makaric, Caroline Markstrom, Christa Moody, Payge Pena, Jenna Redford, Kelsey Saelens
Key Players: Julie Friend (2.99 GAA, .911 save percentage), Molli Mott (9-13-22), Audrey Hanmer (5-13-18)