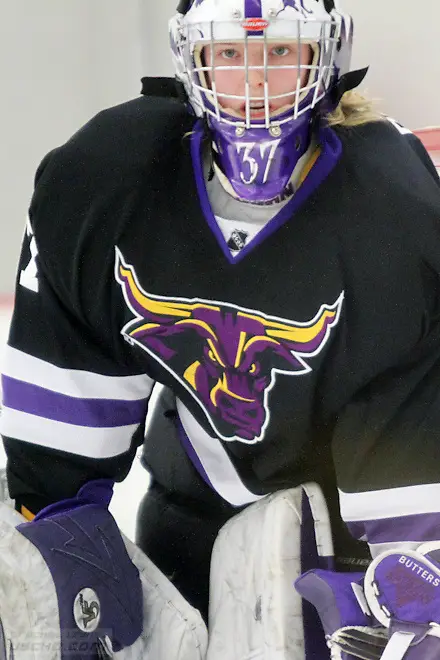 Minnesota State kicked off its season by hosting Mercyhurst in a nonconference series, taking the first contest, 4-2, before falling by a 3-2 score in the second game. While that split should be encouraging, the Mavericks also split with the Lakers two years ago in the season's second weekend, and then went on to finish last in the WCHA with only three wins.
This would appear to be a sturdier MSU team that features six senior forwards and is backstopped by senior Danielle Butters, who was very sharp versus Mercyhurst.
"That was our first recruiting class that came in," coach Eric Means said. "We're going to have to do it with experience and older girls that have played a lot of hockey."
They have yet to experience a lot of success, however. The sixth-place finish a year ago was their best finish at Minnesota State, and the team still ranked near the bottom nationally in both scoring offense and scoring defense.
Butters started strong in her first year as MSU's primary goaltender, but her numbers fell off as she battled injuries and fatigue. If she can stay healthy and get some timely rest, that will go a long way toward shoring up the scoring defense.
The offense looks to be more challenging. Top scorer Lauren Smith graduated, and none of the returners has demonstrated her ability to single-handedly create offense. The Mavericks do have a good power play, so perhaps they can leverage that same teamwork into their offense in even-strength situations. MSU ranks high in penalty minutes and low in penalty kill efficiency, so it would behoove it to improve in both areas.
While the Mavericks seem destined to finish sixth once more, their success versus Mercyhurst hints that they are capable of moving higher in the conference race.
"It's going to be tight, and that's what we told our team," Means said. "There's going to be no easy nights, and that's why it was a good weekend for us. That's the same type of hockey we're going to see every weekend."