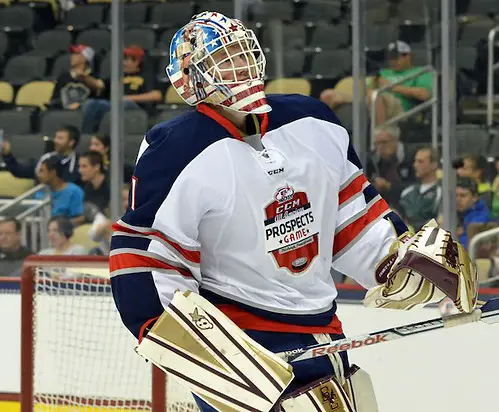 There was the World Junior camp invitation in Lake Placid and a chance to expose his goaltending ability to the world.
Then there was a spot in the All-American Prospects Game in Pittsburgh and a shot at showcasing himself to scores of NHL scouts.
"It's obviously encouraging," Boston College goaltender Thatcher Demko said. "It's a little bit of a boost. But obviously there's a lot of work to be done between now and me getting to the NHL. Every day is another day to work hard."
That said, you want to know what really has a grip on Demko's head space?
The task of grabbing the attention of Boston College coach Jerry York in time for the Eagles' Oct. 10 season opener against Michigan in Ann Arbor.
Demko, a true freshman at BC, has a chance to seize the crease while vying with holdovers Brian Billett and Brad Barone, both juniors.
"I'm just going to try to play as many games [at BC] as I can," Demko said following his half-game stint in last week's prospects game, staged in Pittsburgh by USA Hockey. "Obviously, nothing is given to you. You have to earn it. You've got to work hard in practice and perform in games. Hopefully take it from there."
Even so, the San Diego native who won't turn 18 until Dec. 8 said he's excited about the possibility of being the opening night starter for the perennial NCAA power.
"Absolutely," he said. "It's always fun competing for a job. It pushes you."
And as Demko sees it, that pushing can come best in college.
Recent seasons have seen a stream of American-born netminders — John Gibson, Alex Nedeljkovic, Mac Carruth, Anthony Stolarz et al — heading north, turning their backs on the NCAA to play major junior.
Demko could have joined the flow — his junior rights are held by Spokane of the WHL.
However, the psychology major (possibly an apt choice for a goalie) was firm in keeping his commitment to Boston College.
"Major junior is a quicker path to the NHL," Demko said. "And yeah, it's quicker. But I saw myself as a late bloomer. I have a lot of developing left to do both physically and mentally. I thought that an extra four years at a great level in the NCAA would really help my game."
Demko's game is pretty darned good already. Certainly the NHL thinks so.
Projected by the league as a possible first-round pick in the 2014 entry draft — Demko and Nedeljkovic were the only two goalies given "A" (must-see) grades by NHL Central Scouting — he was a no-brainer selection to the prospects game.
"It was definitely an honor," Demko said. "There were a lot of [great] American goalies that could have been here."
Demko saw just six shots during 28:23 of action but he stopped them all. Included was the sprawling skate save he made on a wraparound attempt by Ryan Donato.
"He made a good move," Demko said. "He cut to the net and made the 'D' hesitate, which gave him time to cut to the post. I felt the puck hit my skate and just tried to cover the net."
And at 6-foot-3 and 192 pounds (and still growing), Demko can cover plenty of net.