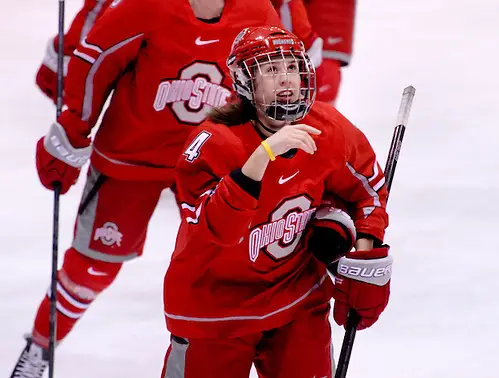 Ohio State continued its renaissance under Nate Handrahan, getting back to the conference semifinals for the first time in three years and being ranked as high as sixth. But for a slump after the new year, the Buckeyes could even have made their way into their first NCAA tournament.
"You look at them last year in the first half and they were one of the top teams in the country," Gophers coach Brad Frost said. "I think that experience has probably helped them for this year. While it's great to have a great first half, you have to have a great second half, too. They maybe lost some games that they were winning in the first half. Nate is changing the culture of that program, and they're one that expects to be in the national picture every year now. Another very tough opponent."
Just when OSU seemed poised to build on that success, the Buckeyes started the current campaign by losing an exhibition to the Toronto Junior Aeros in overtime. Yes, it was only an exhibition, but an inability to put away a junior team doesn't exactly inspire confidence.
"We don't draw up the script to play a team that you should beat handily and lose and find silver linings and say, 'Oh yeah, it's all good; it's all part of the big plan,'" Handrahan said. "I'm not that smart. I don't have a crystal ball. We need to learn from this and help us move forward."
It's important that the Buckeyes move forward quickly, because their season opens on Saturday with a key nonconference clash at Mercyhurst. That presents a challenge for both the coaching staff, where both of the assistants are new to Ohio State, and for the captains, seniors, and other leaders in the locker room.
Handrahan said, "I think the true test of our new leadership is going to be what happens now. We've lost a hockey game that in all reality we shouldn't have. As we go forward, they've got to feel that emotion, that embarrassment, those kind of things. Going forward from here, out leadership will be tested now. There are new opportunities, and I think they'll be up to the task."
With seniors at every position, OSU looks to be in good shape as far as leadership. In the new world of women's hockey, where the talent gap between teams grows smaller each season, it is imperative that teams play near their optimum every time out. An early wake-up call may prove beneficial in that sense.