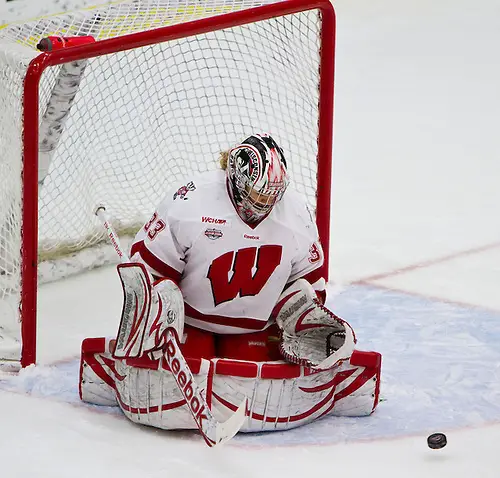 After scoring 212 goals during its last NCAA Championship season in 2010-11, Wisconsin's offensive output dropped to 103 goals a year ago. Brianna Decker, who tallied a point on more than half of those, is now gone. That doesn't bode well for a return to potency this season.
"The thing that helps us, especially in the early part of the season, is our goaltending situation where we're strong in the nets," coach Mark Johnson said. "We've got some good veteran defensemen coming back. From an offensive standpoint, that go-to person, the Brianna Decker, they've graduated, they've moved on. Hopefully, we'll be able to do things by committee, which, actually, could turn out to be a very positive situation."
The Badgers will need more committee members to emerge, as only three players besides Decker had as many as 20 points. Those three — Madison Packer, Karley Sylvester, and Courtney Burke — are back, but only one other returnee from last year reached double-digit points. Luckily, Brittany Ammerman is healthy after an injury limited her season to three games; Ammerman recorded 30 points as a sophomore.
The situation is far more promising on the other end of the ice for Wisconsin, where senior goaltender Alex Rigsby has already posted 83 career victories.
"They've got the strongest returning goalie probably in the whole country, at least experience wise," Minnesota coach Brad Frost said. "They're extremely tough to score on, and with Rigsby in net, she gives them a great chance."
For Wisconsin to get back to the top spot in the WCHA, it will need improvement from many players. Johnson expects the team to get a boost in that regard as the Badgers begin their second season in their new rink.
"The one advantage this group has had is that we had the LaBahn Arena all summer," he said. "So for the kids that stayed around in summer school, they got a chance to skate all summer during that eight-week summer session. They got a chance to work out. So our base, as far as a conditioning standpoint, a strength standpoint, we're probably ahead of where we were last year at this time."