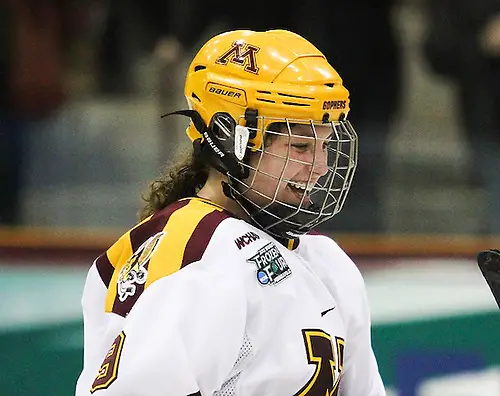 A wide variance exists in how the coming season might unfold for Minnesota.
Teams often struggle after saying goodbye to a franchise goaltender, and the Gophers graduated the winningest goalie in NCAA history in Noora Räty.
"As of right now, Amanda Leveille is going to get the start for us," coach Brad Frost said. "She's got some great experience. She learned a lot last year after playing behind Noora, and she played in seven games and didn't give up a goal."
So if goaltending doesn't sink Minnesota, how about the loss of Patty Kazmaier Award winner Amanda Kessel to the Olympics?
"I'm not worried necessarily about our players up front," Frost said. "I think we've got 11 or 12 that can play up there."
The numbers bear that out, as seven forwards from the top three lines return, all of whom had at least 18 points a year ago, led by sophomore Hannah Brandt with 82. Rookies have stepped right in to fill the openings up front, Kate Schipper and Dani Cameranesi, who garnered the most votes for WCHA Preseason Rookie of the Year.
"Dani is not really a natural goal scorer, but she's going to get her goals because of how hard she works and her nose for the net," Frost said.
The position of greatest concern at Minnesota is defense, where Megan Bozek and Mira Jalosuo graduated and Lee Stecklein was named to the United States centralization roster.
"We were planning on obviously losing Kessel," Frost said. "We didn't know about Hannah Brandt. Didn't know about [defensemen Rachel] Ramsey, [Milica] McMillen, or Stecklein. It could have been worse for us and lost even more players."
The last time the Gophers failed to qualify for the NCAA tournament came in 2006-07, when after reaching the championship game in three straight seasons, the team needed to replace three defensemen. However, Frost was able to survive a similar obstacle in 2009-10, the most recent Olympic year, and return to the Frozen Four with 50 percent turnover on the blue line.
Frost auditioned five different players for the three openings on defense in the team's two exhibition games, and expects to settle on a rotation over the next couple of weeks. My guess is that Minnesota will be able to cope with some growing pains on defense because of its strength in other areas, such as at center, where Brandt and seniors Kelly Terry and Sarah Davis return.
"I think with the youth that we have on our blue line, it's critical that our centers are experienced in the D-zone coverage," Frost said. "That may change throughout the year, but to start we'll have all three of our returning centers there."
While Minnesota may defend its WCHA title, don't expect it to duplicate the team's record from a year ago.
"It's not about going undefeated," Frost said. "It's about improving throughout the year, and I would expect us to be a much better team five months from now than we are right now."