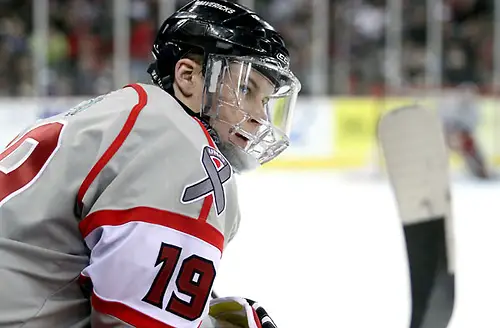 Looking at Nebraska-Omaha's roster for the 2013-14 season, one might wonder if that list is a bit short on numbers and depth.
It is. On both counts.
UNO just experienced a second consecutive offseason that included the introduction of a new assistant coach as well as players leaving school early. The most recent summer was arguably worse than the one before, though, as the Mavericks were forced in August to jettison a player that wore a "C" on his sweater last season.
On Aug. 16, UNO coach Dean Blais announced he was releasing two players and suspending a third after the three student-athletes were ticketed for disorderly conduct in connection with an Aug. 3 incident in downtown Omaha that allegedly involved the use of racial slurs.
One of the two players dismissed was Matt White, a team captain from last season who finished third on the club in goals (16) and fourth in points (34).
Would-have-been incoming freshman defenseman Preston Hodge was also dismissed. Senior forward Alex Simonson, who appeared in 18 games in 2012-13, is suspended and will miss the beginning of the new season.
However, White, who arguably would have been UNO's best returning playmaker, is easily the most prominent of the three. Blais said the absence of White and Hodge makes for a big change in what this season's Mavericks team is going to look like.
"Every year, we've had something like this happen that we haven't expected to happen in the summer when school's not in session," Blais said. "We hadn't even gotten going [with preseason training] and school wasn't on, but they got here in July and come the middle of August, bam, we're without a defenseman and a forward, and that affects a lot.
"It affects the team because we're down to seven defensemen, and one forward line doesn't have a winger with White out of there, so instead of 15 forwards, we're down to 14 and down to seven defensemen from eight, so it makes a huge difference."
The early departures didn't end with White and Hodge, though. Two other former UNO defensemen signed NHL contracts in the offseason, with Andrej Sustr and Tony Turgeon linking up with Tampa Bay and Pittsburgh, respectively.
Some defensive stalwarts such as senior Michael Young and sophomore Nick Seeler return, but UNO's biggest strength coming into this season is unquestionably the offense. Apart from White, every forward from last season's roster returns.
This season's senior class will be heavily relied upon. 2012-13 Hobey Baker Award candidate Ryan Walters is the headliner after a 22-goal, 52-point season, but Johnnie Searfoss, Zahn Raubenheimer and Brock Montpetit also will be looking to end their college careers on a high note.
For as strong as the offense will be, though, the Mavericks' goaltending is by far the team's biggest question mark going into this season.
Junior Ryan Massa is UNO's lone returning netminder. He sat out the majority of the last season for what were initially cited as personal reasons, and he practiced with the Omaha Lancers of the USHL before rejoining the Mavericks in January.
John Faulkner was one of only three UNO seniors last season, and the Mavericks parted ways with would-be junior Dayn Belfour in the summer. This leaves Massa ahead of incoming freshmen Reed Peters and Kirk Thompson.
Blais said he feels prognosticators' questioning of UNO's goaltending depth this season is fair.
"With Ryan Massa, last year he didn't come back with the numbers he'd put up the year before," Blais said. "Which is understandable as he missed half a year of practicing with the college guys and instead worked with the Lancers, where it's different shooting and a different speed. But he's back now to where he was two years ago, and he's looked upon [this season] to be our starter.
"After him, we'll see what happens."
Questions surrounding UNO's goaltending and defensive depth influenced 16 NCHC media members in placing the Mavericks last in the league's inaugural preseason media poll. Finishing at the bottom of the eight-team conference, however, is something Blais won't tolerate.
"Eighth is not going to be acceptable to this team," Blais said. "[Our players] will tell you they want to win, and do we have a legitimate chance to win? We'll see, but we're short [due to late dismissals] already, and that's strike two, and that's a factor.
"[White and Hodge] were two players that we were going to count on, and now we're short. Does that mean we can't be successful, though? Absolutely not."
About the Mavericks
2012-13 overall record: 19-18-2
2012-13 WCHA record: 14-12-2 (Seventh)
2013-14 predicted finish: Candace seventh, Matthew seventh
Key losses: F Matt White, F Brent Gwidt, D Bryce Aneloski, D Andrej Sustr, G John Faulkner
Players to watch: F Ryan Walters, F Josh Archibald, F Dominic Zombo, D Michael Young, D Jaycob Megna, G Ryan Massa
Impact rookies: F Jake Guentzel, F Austin Ortega, D Ian Brady
Why the Mavericks will finish higher than predicted: Although White's situation was unfortunate, UNO's offense still comes into this season stacked and shouldn't have much difficulty finding the back of the net.
Why the Mavericks will finish lower than predicted: Goaltending is UNO's biggest question mark coming into the 2013-14 campaign, with defensive depth another issue. What's worse, the Mavericks have made a habit of stumbling down the stretch (2-14 in March in UNO's past three seasons).