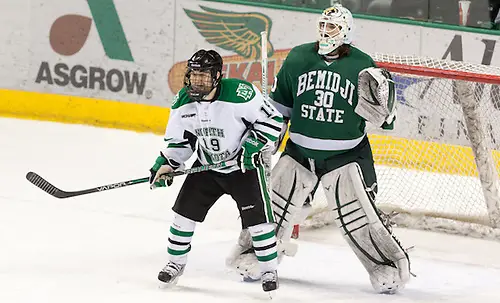 No sports team at any level can afford to spend too much time thinking about past accomplishments and former greats on its roster.
This is something known all too well by North Dakota coach Dave Hakstol, charged this season with leading a young UND squad into a new conference.
UND's 4-1 NCAA West Regional final loss March 30 at the hands of eventual national champion Yale stung on several levels. It meant the end of a strange season for UND, but it also prompted the departure of a group of six seniors that supplied over 43 percent — 59 of 135 — of the team's goals in its 2012-13 campaign.
What's worse, despite getting major contributions from two Hobey Baker Award finalists in then-senior forwards Danny Kristo and Corban Knight, UND's men's hockey team's final season in the WCHA wasn't the program's finest. It was the first season in the last 11 in which North Dakota failed to win either the WCHA's regular season or playoff title or qualify for the Frozen Four.
Now, though, Hakstol and a UND team that includes eight freshmen has a chance to restore order as it tries to make hay in the inaugural season of the NCHC.
Hakstol said last season won't be UND's sole motivation to improve this time around. Not that it could be, anyway, with so many new players on the roster.
"It's a different year, and this is a very different group," Hakstol said. "We're going to be a young team this year, and while that doesn't change the fact that I'm not happy with our ending from last year, that has nothing to do with how this season is going to begin or, more importantly, how this season is going to progress.
"I'm sure there's motivation for all the returning players based on a lot of different things, not just the ending of last year, but this is a very different team."
This is one of the younger teams Hakstol has had since he took the reins at UND in 2004, but that's not to say it's an underwhelming one on paper.
Eight newcomers, including six 2013 NHL draft picks and Canada's Junior A 2012-13 goaltender of the year in Matt Hrynkiw, will try to quickly jell and compete with the veterans in the squad.
UND also boasts returning veterans that pack plenty of firepower. UND's scoring output may not turn out to be quite as prolific as it was last season, but third-year sophomore Rocco Grimaldi, junior Mark MacMillan and sophomore Drake Caggiula will be expected to lead the lines up front.
UND will miss departed defensemen Joe Gleason, Derek Forbort and Andrew MacWilliam, but senior Dillon Simpson is set to be this season's team's rock in defense. Junior Nick Mattson is also a solid, veteran blueliner.
Goaltending might be UND's biggest strength this season. Senior Clarke Saunders and sophomore Zane Gothberg make up one of the NCHC's best goalie tandems, and both were among the WCHA's top four goaltenders in both major statistical categories between Feb. 1 and the end of last season.
Between what returns this season and the new talent coming in, the potential is there for UND to improve upon what the 2012-13 team managed to accomplish. As for worrying how much the team might miss last season's stellar senior class, however, that isn't a thought Hakstol's willing to entertain.
"We're really proud of that senior group, and they were great players and great leaders and a lot of those guys are going to go on to good careers playing the game and doing other things, but [their departure] is where you turn the page now to a new team," Hakstol said. "Everyone might look at them and compare stats with who you lost, but I don't.
"As a staff, we're just really focused on looking at who we have on this year's team. And we're going to be young, but that doesn't really matter. We feel like we've got 26 guys in our locker room that can help us become a good team this year."
About North Dakota
2012-13 overall record: 22-13-7
2012-13 WCHA record: 14-7-7 (Third)
2013-14 predicted finish: Candace third, Matthew second
Key losses: F Danny Kristo, F Corban Knight, F Carter Rowney, D Andrew MacWilliam, D Joe Gleason, D Derek Forbort
Players to watch: F Rocco Grimaldi, F Mark MacMillan, F Drake Caggiula, D Dillon Simpson, G Zane Gothberg, G Clarke Saunders
Impact rookies: F Luke Johnson, F Wade Murphy, F Adam Tambellini, D Paul LaDue
Why UND will finish higher than predicted: One or both of North Dakota's veteran goaltenders — or perhaps even Matt Hrynkiw — could catch fire, and yet another solid UND recruiting class will jell in a hurry with the team's veterans.
Why UND will finish lower than predicted: UND's goaltending and defense might be strong, but, considering how prolific last year's seniors (apart from third-string goaltender Tate Maris) were at the other end of the ice, huge shoes have been left that require filling.