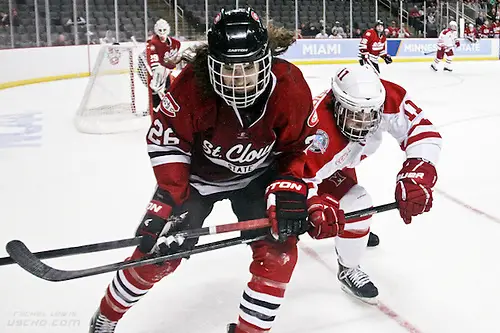 In many ways, 2012-13 seemed like a dream season for the St. Cloud State Huskies. They won the MacNaughton Cup as WCHA regular season champion on the final weekend of the season and spent large stretches of the year ranked in the top 10.
After being upset by Wisconsin in the Final Five, the Huskies rebounded with convincing wins over Notre Dame and Miami in the NCAA Midwest Regional to advance to the program's first Frozen Four.
However, St. Cloud's dream season was undone by the first 11 minutes of the Frozen Four semifinal game against Quinnipiac, where sloppy play and strong work by the Bobcats had St. Cloud in a 3-0 hole it never came back from.
"We are pretty proud of our team last year from start to finish," St. Cloud coach Bob Motzko said. "We grew a tremendous amount and became an outstanding hockey team. We are sure disappointed with the first five minutes of that semifinal game, and we give Quinnipiac a lot of credit. They took advantage of our slow start and got on top of us and then their goalie wouldn't let us back in.
"There's definitely some frustration in that, but overall we are proud of our season. This is a new season, and we want to build on what we've been doing here for a long time."
Senior forward and team captain Nic Dowd, who finished second in team scoring last season, echoed his coach's comments.
"Obviously, we can use that to our advantage. We've been to a Frozen Four now and been in those high-pressure situations and we've won a couple of championships, and I think that's just good for a program," he said. "There's always those games where you are going to have a hard time getting to the next level, so for us to finally break through and won a league championship, I think that is something we can use to our advantage this season. I think the main thing I always tell people is that we lost our last game of the season, so I think that should be enough fuel."
Last season, the Huskies were led by Hobey Baker Award winner Drew LeBlanc, who scored 53 points, led the nation in assists with 37, and was 10th nationally in points per game while earning WCHA student-athlete of the year honors. LeBlanc is gone to graduation, as is fifth-leading scorer Ben Hanowski. Another key loss was junior defenseman Nick Jensen, who signed with the Detroit Red Wings. However, most of the Huskies roster returns to build on last season.
A key for the Huskies will be whether Jonny Brodzinski and Kalle Kossila, who finished third and fourth, respectively, on the team in scoring as freshmen, have sophomore slumps.
Brodzinski tied for fifth nationally and led all rookies in goals scored with 22.
"Yeah, we are a young hockey team still," Motzko said. "We lost four players off last year's team, which is a low number. The problem on our side is that we lost some great players, or big parts of our team last year. We have some pieces to put back together.
"We have a lot of goalies returning, we are strong in goaltending, we like our offense, but it's a new season. We want to build off what we've been doing and the excitement last year, but that excitement isn't going to score goals or keep goals out of the net. This team has to find its heartbeat and its pulse and its identity, and that's the challenge that all of us have to start the season.
"You do want to build on the things you do, but you start new, and that's the exciting thing about starting a new season, finding the leadership and players that are going to take big steps in their career and put it together."
One player from whom Motzko is looking for big things is goalie Ryan Faragher, who was 21st in goaltending nationally last year with a 2.27 GAA and a .914 save percentage.
"When Mike Lee went in for surgery and was out for almost three months, Ryan got baptized under fire his freshman year and he came through outstanding, and with Mike signing and leaving early, Ryan fell into the No. 1 spot as a sophomore," Motzko said. "Ryan was a very, very good college goalie last year and a big part of our success. …
"He has to raise his game on a more consistent basis night to night and be a dominant factor, because he can be a dominant goalie. He's just an outstanding young man and a fierce competitor, and he wants that challenge and we're excited for it."
About the Huskies
2012-13 overall record: 25-16-1
2012-13 WCHA record: 18-9-1 (Tie-first)
2013-14 predicted finish: Candace first, Matt third
Key losses: F Drew LeBlanc, F Ben Hanowski, D Nick Jensen
Players to watch: F Nic Dowd, F Jonny Brodzinski, F Kalle Kossila, G Ryan Faragher
Impact rookies: D Ben Storm, D Niklas Nevalainen
Why the Huskies will finish higher than predicted: With a Frozen Four under their belt and some fierce firepower up front, they should continue to terrorize opposing defenses. The Huskies finished tied for third nationally in team offense.
Why the Huskies will finish lower than predicted: The loss of Nick Jensen could hurt an already middling defense. St. Cloud finished tied for 17th last year in team defense and needs to improve on that number.