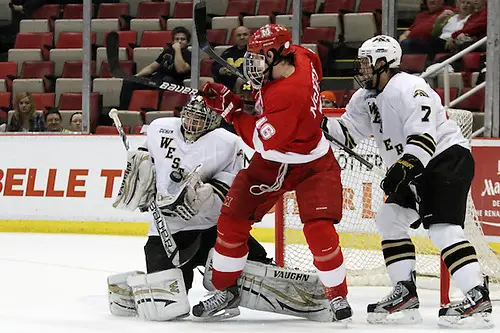 Western Michigan did some good things in its final season in its old league, but other parts of the Broncos' game need work as WMU enters college hockey's post-realignment era.
The Broncos finished third in the now-defunct CCHA's closing campaign, and that success was largely due to their defense. Western boasted the league's second-stingiest defense (2.13 goals per game) and a starting goaltender in Frank Slubowski who gave up even less than that (2.11) over 30 appearances.
Slubowski is back for the inaugural season of the NCHC, though, and so is the bulk of last season's defensive corps. That's the good news; the bad news is Western has lost a lot of offensive talent from a 2012-13 team that didn't score much to begin with.
The players that left Kalamazoo, Mich., last summer were responsible for 37.9 percent (33 of 87) of their team's goal-scoring output over the 2012-13 season. When you consider no CCHA team scored fewer goals in the last campaign than the Broncos did, Western's list of departures hits that much harder.
Forwards Dane Walters and Mike Leone, two of WMU's top five point-scorers last season, have graduated. Also gone is defenseman Danny DeKeyser, who opted to forgo his senior season in favor of signing with the NHL's Detroit Red Wings.
Western Michigan coach Andy Murray said that lack of scoring prowess, combined with seven losses in the Broncos' final 11 games of last season, kept WMU from making a third consecutive NCAA tournament appearance.
"[Losing that much] of our scoring from last year would not be very much because we didn't score very much," Murray said. "We were one of the lowest-scoring teams in all of college hockey, and we were certainly, for 90 percent of last season, in the top three in terms of goals against, and we let that slip a little at the end. That's why we didn't get to play in the national tournament after being ranked in the top 10 all year.
"Our offense-to-defense differential has to be better. We can't afford to give up anything more defensively, so we've got to continue to emphasize solid team defense. But we want our defense to be based on an attacking offense where we have the puck, and we need to have a higher finishing percentage on our shots.
"We generate a lot of shots and don't give up a lot of them, but we've got to continue to emphasize defense. Our defensive numbers last season were quite good as we had the puck so often offensively, but we weren't efficient enough with our finishing ability."
Murray's list of returning players includes plenty of players who know how to get on the score sheet, however. Senior forwards Chase Balisy, Shane Berschbach and Mike Cichy will be relied upon to lead the lines up front.
On the blue line, senior defenseman Dennis Brown is a solid veteran offensive defenseman. Sophomore Kenney Morrison had a good first year in Kalamazoo and should play an expanded role this season with that experience under his belt.
The rest of Western's playing personnel is relatively unproven. Add to that eight freshmen entering the fold — down from nine after star recruit and first-round NHL draft pick Mike McCarron signed with the Montreal Canadiens in July — and Murray will be relying on the upperclassmen to lead a young team this season.
"This is a young team, and people are telling me it's the youngest team Western's ever had," Murray said.
"We've got four seniors here, as well, that have been with me for two years and one with Coach [Jeff Blashill, who coached WMU during the 2010-11 season]. It's the case with any college program that people can talk about the freshmen, but ultimately it's the upperclassmen that have to be the difference-makers."
If the youth can jell quickly with the veterans and the Broncos can find the balance between offense and defense that eluded them last season, a return to NCAA tournament play is possible. If the bonding and balancing don't happen, though, Western might find itself further down the NCHC standings than it'd like to be come March.
About the Broncos
2012-13 overall record: 19-11-8
2012-13 CCHA record: 15-7-6-3 (Third)
2013-14 predicted finish: Candace eighth, Matthew eighth
Key losses: F Dane Walters, F Mike Leone, D Danny DeKeyser
Players to watch: F Chase Balisy, F Shane Berschbach, D Dennis Brown, D Kenney Morrison, G Frank Slubowski
Impact rookies: F Sheldon Dries, F Kyle Novak, D Mike McKee
Why the Broncos will finish higher than predicted: Their .605 winning percentage in the 2012-13 campaign, compared to .585 the season before, indicates an upward trajectory under Murray. The 2013-14 Broncos are a very young bunch, but with that youth comes a lot of potential to keep Western's momentum under Murray going.
Why the Broncos will finish lower than predicted: WMU lost to graduation and professional hockey a lot of the offensive weaponry from a 2012-13 Broncos team that didn't score very often to start with. Replacing what left Kalamazoo after last season is a big burden to place on a team featuring 16 underclassmen.