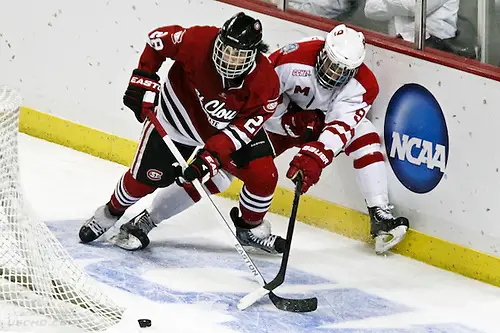 College hockey teams, regardless of which conference they're in, beat up on each other through the regular season in order to obtain favorable spots in a postseason in which they'll beat up on each other all over again.
In a league as powerful and competitive top to bottom as the new NCHC, though, it's tough to tell in preseason how much the eight teams will have left in their tanks come playoff time.
That's the view held by Bob Motzko, the St. Cloud State coach that guided the Huskies last season to a share of the regular season championship in the WCHA, traditionally one of Division I's strongest leagues.
Six former WCHA member schools make up three-fourths of the NCHC: St. Cloud State, Colorado College, Denver, Minnesota-Duluth, Nebraska-Omaha and North Dakota.
All six teams have plenty of experience squaring off with each other on the ice. Now, though, they'll also get to try to beat up on — and also be beaten up by — Miami and Western Michigan, two of the top three teams last season in the now-defunct CCHA.
"It's almost silly to rank predictions for our eight teams," Motzko said. "I don't think you will find a league in the country that can be more balanced with eight programs as you do here, and I think it's going to play out that way.
"Our schedule on paper, when you look at it, doesn't look a whole lot different than it did in the past. The big change for us is we are going to Western Michigan and Miami on our schedule, and really you can't think any more than you have to start the fight week-to-week, and we're probably going to be a league that is very geared to [the NCHC] playoffs.
"We're going to beat each other up all year long and you're going to want to be playing your best hockey at the end of the season."
Talk to any coach or player in the NCHC and they'll tell a story similar to Motzko's. Some, like Western Michigan coach Andy Murray, feel being in such a well-balanced league is what fans desire and what will make his young team this season better.
"We couldn't take a night off in the CCHA, and we can't now," Murray said upon considering both the Broncos' NCHC schedule as well as Western's non-conference slate this season.
"We're going to have tough games all the time, and our players are going to learn to thrive. And with 10 new players, we're not letting them in the back door and tell them to pace themselves and find their way. If we do that, we're going to be so far behind at the start of the year. So we've got a tough schedule but that's what our fans want to see, and I believe that's how we're going to get better."
Another view shared throughout the new league is that, while the landscape may be different going forward, how the teams prepare to earn the desired results will be much the same as before.
"We were used to playing in the WCHA, which is considered, year in and year out, to be the most competitive league in the country," North Dakota coach Dave Hakstol said. "And now we're beginning a new chapter and will start new traditions in the NCHC just as other teams will in their own respective leagues.
"I expect the new NCHC to be as competitive top to bottom as any in the nation, so I don't think our mentality or preparation will change a whole lot. I think the WCHA has prepared us very well to go into another very competitive league."
Minnesota-Duluth coach Scott Sandelin said he feels the same way about how the WCHA prepared his band of Bulldogs for life in their new conference.
"I think the competitive standpoint is obviously going to be very similar," Sandelin said. "I think the difference is that we are going to be playing each other more than we did in the WCHA with some teams.
"The schedule was certainly significant in some years, depending on who you played. I think this is certainly going to make it more difficult week in and week out to win hockey games, but at the same time, that's the exciting part. I think that is the challenge we are looking forward to. I think when you play a strong schedule, it forces you to get better quickly."
With as strong as the NCHC is, then, it's hardly a cliché to say every league game matters.
"I felt [the strength of the WCHA] was a big reason that our league then had some success, and I think this league will have the same thing, too, with everybody pushing each other," Sandelin said.
"The unfortunate thing is some good teams at the end aren't going to be in there, but that's why you play the regular season."
Listed below are links to USCHO's NCHC team previews, listed in alphabetical order (see below for predictions). Click on each school's name for a full preview complete with capsule information.
Then-senior goaltender Joe Howe carried the previously inconsistent Tigers to last season's WCHA playoff championship game, but coach Scott Owens now has to build upon that success without Howe and four of CC's top five scorers from the 2012-13 campaign. Read more
Jim Montgomery, the Pioneers' first new head coach since 1994, has been given the reins to a DU team that features 10 freshmen and is missing some key early departures such as forward Nick Shore and goaltender Juho Olkinuora. Read more
RedHawks coach Enrico Blasi took a team featuring 12 freshmen to last season's CCHA regular season title and the NCAA Midwest Regional final, and most of that squad returns as Miami enters a new conference that many prognosticators expect the RedHawks to win. Read more
Forwards Tony Cameranesi and Austin Farley and defenseman Andy Welinski had impressive freshman seasons in 2012-13, and they will be relied upon heavily to lead a young UMD team that features only nine upperclassmen. Read more
The Mavericks could have done without having to lose star forward Matt White and a would-have-been freshman defenseman in August. While this year's UNO roster lacks both depth and numbers, many accomplished upperclassman veterans will look to help keep their team competitive. Read more
UND doesn't rebuild so much as it reloads. One of last season's best senior classes in all of college hockey is gone, but North Dakota is ushering in one of the nation's best groups of incoming freshmen and returns solid veterans at every position. Read more
Hobey Baker Award winner Drew LeBlanc and a few other key pieces have left St. Cloud, Minn., but returning stars like forward Jonny Brodzinski, defenseman Nic Dowd and goaltender Ryan Faragher are determined to prove that the cupboard is far from bare and that the Huskies have the potential to make a second consecutive Frozen Four appearance. Read more
Goaltender Frank Slubowski is back after backstopping the CCHA's second-best defense from last season, but the Broncos need to pick up the pace at the other end of the ice after having scored the fewest goals of any team in their league in 2012-13. Read more
Candace's picks
1. St. Cloud State
2. Miami
3. North Dakota
4. Denver
5. Colorado College
6. Minnesota-Duluth
7. Nebraska-Omaha
8. Western Michigan
Matthew's picks
1. Miami
2. North Dakota
3. St. Cloud State
4. Denver
5. Minnesota-Duluth
6. Colorado College
7. Nebraska-Omaha
8. Western Michigan