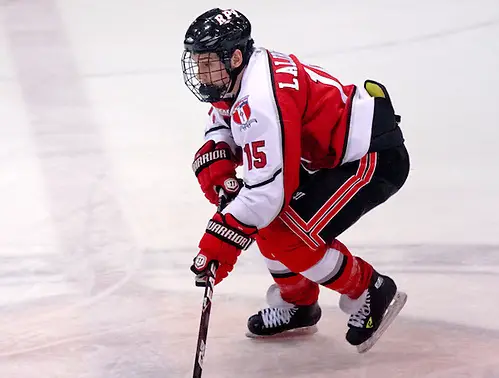 When the list of key losses is not a list, it's a pretty solid indicator of a better season than the last.
And last season wrought a second-place finish for Rensselaer.
"That's the strength of our program in numbers right now, is in our sophomore and junior classes. A lot of our go-to guys from an offensive perspective are in those two classes," said coach Seth Appert, whose Engineers have been tabbed as the team to beat by league media members.
One of the biggest surprises last year is now one of RPI's expected standard-bearers: Sophomore goalie Jason Kasdorf will be counted on to stabilize the squad from the back, though he will be supported by 21 returning skaters, including seven defensemen.
Among those returning blueliners, four — senior Bo Dolan, junior Guy Leboeuf, and sophomores Chris Bradley and Curtis Leonard — combined to play 141 games last season, averaging a robust 35 games apiece.
With their own zone in seasoned hands, the forwards should have plenty of opportunities to open the throttle. Junior Ryan Haggerty and sophomore Mike Zalewski each potted a dozen goals last year, junior Jacob Laliberte notched 11, and junior Matt Neal is the leading returning scorer following a 30-point campaign.
As prepared as the Engineers may be for a memorable year, Appert knows that you don't move forward as a team if you don't move forward as individuals.
"As well as some of those young men performed last year — especially in the second half for us — it's going to be critical … that those guys … don't return as the same players they were before, but march forward toward being more complete hockey players," he said.
Could we see the eighth league champion in the last nine years, and Rensselaer's first crown since 1985? No one looks to be in a better position entering the season than the Engineers.
About the Engineers
2012-13 overall record: 18-14-5
2012-13 ECAC Hockey record: 12-7-3 (second)
2013-14 predicted finish: Second in the coaches' poll and first in the media poll
Key losses: D Nick Bailen
Players to watch: F Ryan Haggerty, F Jacob Laliberte, F Matt Neal, G Jason Kasdorf, F Mike Zalewski
Impact rookies: F Riley Bourbonnais, D Parker Reno
Why the Engineers will finish higher than predicted: All the pieces are in place for a dynamite year in Troy; so long as players continue to mature and improve, the sky's the limit.
Why the Engineers will finish lower than predicted: Critical word: improvement. If too many players fail to beat last year's totals, it could be a frustrating season for RPI.