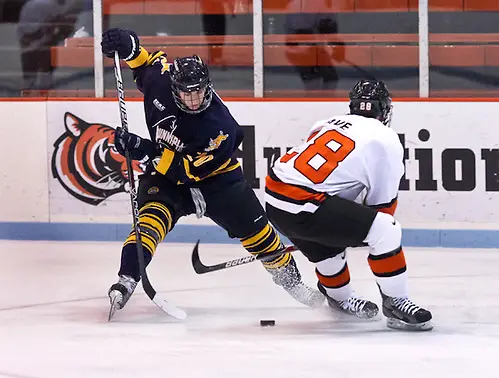 Perhaps no team in ECAC Hockey faces as many question marks this season as Quinnipiac.
Only seven months removed from a runaway regular season championship, the program's first NCAA appearance since 2002, its first-ever Frozen Four berth and a shot at the national title, the 2013-14 Bobcats will bear little resemblance to their record-setting forebears.
"We obviously got cleaned out pretty good, losing 11 seniors, some good ones there in Eric Hartzell, four defenseman and some pretty good forwards up front in [Jeremy] Langlois and some others," coach Rand Pecknold said.
Ever the optimist, Pecknold viewed last season's accomplishments as a seed planted, not a climax achieved.
"We'll have to forge a new identity," he said. "We've got to find a new goaltender, and the early part of the season will be fun and exciting for us trying to play some new freshmen, get them in the lineup, because we have to play them."
The Bobcats' biggest gap to fill will be the one in net, as program bar-raiser Eric Hartzell has moved on with a diploma and an NHL contract with the Pittsburgh Penguins. In his stead stands sophomore Michael Garteig, all 118 NCAA minutes of him.
"We have three goalies; we'll play it out as we go this season," Pecknold said, but then added: "I think 'Gartsy' is going to be our guy this year. We'll see how the other two come in, if they can battle him. We liked him when we landed him as a recruit; we like him even more now. He just doesn't have the game experience. We'll put our faith in him out of the gate."
The immediate effects of May's graduation may be tough to take for Bobcats fans, as the team returns only 185 Division I games at the defense position, split between just three players (senior Zach Tolkinen, junior Danny Federico and sophomore Alex Barron). The offense rolled 55 percent of its offensive production into diplomas last spring, and 51 percent of its goals.
But all is not lost in Hamden. Twin terrors Connor and Kellen Jones aim for their best seasons yet, junior Matthew Peca is among the best young forwards in the league and there is reason to believe that Quinnipiac's steady improvement has generated strong recruiting classes as well.
Connor Clifton and Peter Quenneville were each tagged by the big boys in this summer's draft, increasing the number of NHL prospects on the roster from three last year to five this time out.
No matter how rough the road, Pecknold is right about one thing: The early season should be nothing if not exciting for Quinnipiac.
About the Bobcats
2012-13 overall record: 30-8-5
2012-13 ECAC Hockey record: 17-2-3 (first)
2013-14 predicted finish: Tied for third in the coaches' poll and third in the media poll
Key losses: D Mike Dalhuisen, G Eric Hartzell, F Jeremy Langlois
Players to watch: F Connor Jones, F Kellen Jones, F Matthew Peca, F Jordan Samuels-Thomas, F Travis St. Denis
Impact rookies: D Connor Clifton, F Peter Quenneville, D Devon Toews
Why the Bobcats will finish higher than predicted: The returning Bobcats players now possess the experience and confidence to take the team on their shoulders early on, allowing for minimal growing pains.
Why the Bobcats will finish lower than predicted: Expectations — both internal and external — are bound to be higher than is reasonable for this new squad, and early-season stumbles can snowball when the target is set too high.