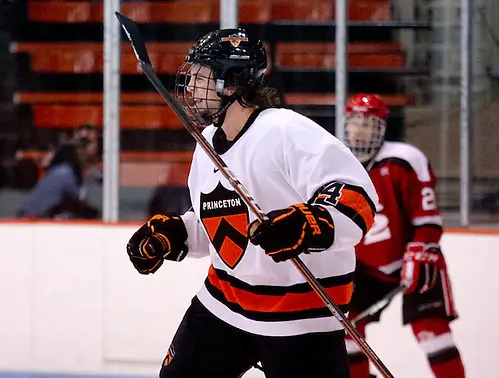 Princeton opened last season with two exhibition losses and two regular season losses, and that pretty much set the pace for the rest of the year. The Tigers held a .500 record (2-2-1) on Nov. 17, but never again hit that mediocre mark.
The primary reason for this sad Tigers tale is injuries. Princeton was besieged by bad luck last year, as only nine of 24 rostered skaters missed fewer than five of the team's 31 games. Another nine skaters were scratches for 10 games or more. At the risk of overkill, seven Tigers played more than five league games, but fewer than 10: That is indicative of a banged-up team.
It should therefore come as no surprise that one of Princeton's biggest keys to success this year might be its least controllable: health.
"We need Andrew Ammon to come back and be healthy; he's a big piece to support 'Cales' [Andrew Calof]," assistant coach Scott Garrow said of two of his senior forwards.
Also dinged up was freshman Mike Ambrosia, who — despite "never [playing] at 100 percent last year," according to Garrow — nonetheless mustered six goals and 11 points in 21 games. That's saying something for a kid who endured "a couple" of hip surgeries to score one-twelfth of his team's total goals in two-thirds of a season.
Elsewhere, Garrow and the rest of second-year coach Bob Prier's staff will be looking for a bounce-back year from captain Jack Berger, who misplaced seven goals and 10 points between his sophomore and junior years. The other spotlight will be on senior goaltender Sean Bonar, who aims to achieve the consistency necessary to be a true No. 1 goalie.
"We feel that Bonar can fill the role in net," Garrow said.
Princeton hopes Bonar will be pushed for time by rookie Colton Phinney, who was recruited as a No. 1-in-training; his signing was no practice-team afterthought.
The Tigers will be looking to their newcomers beyond the crease as well, especially on defense with the departures of Eric Meland and Michael Sdao. Fortunately, the coaching staff is high on local product Tom Davis, a former Delbarton Prep star who is described as "big, skilled, and mobile" by Garrow.
In front, fellow frosh Ben Foster played impressively for Tri City of the USHL, and before that at Choate. The Tigers already have him pegged as a top-nine forward.
On the whole, Princeton's outlook is much like the other middle-third teams: Luck and timing — good or bad — is likely to play a significant role in the Tigers' fate this year.
About the Tigers
2012-13 overall record: 10-16-5
2012-13 ECAC Hockey record: 8-10-4 (eighth)
2013-14 predicted finish: 11th in both the coaches' and media polls
Key losses: G Mike Condon, D Eric Meland, D Michael Sdao
Players to watch: F Andrew Ammon, G Sean Bonar, F Andrew Calof, F Tyler Maugeri
Impact rookies: G Colton Phinney, D Marlon Sabo
Why the Tigers will finish higher than predicted: Bonar will remind us of Zane Kalemba, and scoring depth will bloom into season around Calof.
Why the Tigers will finish lower than predicted: The sticks will go colder than Baker Rink in late January, and the defense and goaltending will freeze up to boot.