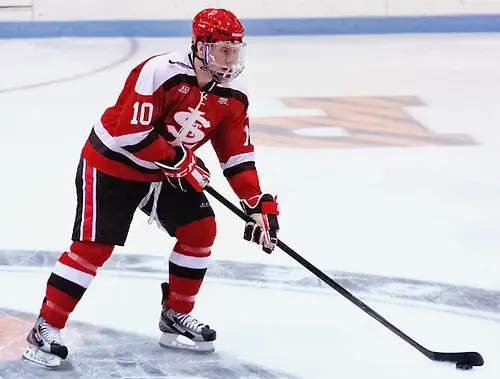 Will St. Lawrence develop and sustain enough scoring depth beyond Greg Carey? That is the question.
On a team that featured inconsistent production beyond Carey and graduated seniors Kyle Flanagan and George Hughes, second-year coach Greg Carvel is well aware how tenuous the Saints' situation is.
"Obviously, our key player is Greg Carey; he led the country in goals last year," Carvel said. "There was some concern that he wouldn't return, but he's a very mature and intelligent young man — he's actually one of the top scholar-athletes at our school. To give him credit, he knew he wasn't ready to move on. He came back to campus, lost 10 pounds, he's in tremendous physical condition, so we're excited to see what he can do to elevate his game."
Carey buried 28 goals in 38 games last year, accounting for over a quarter of all Saints goals. When graduated players' contributions are deleted, Carey's share increases to a solid third of returning Saints' goals. Keeping opponents honest and Carey healthy are going to be critical components of any success St. Lawrence is going to have this year.
Carvel and the rest of his program will look toward senior forward Jeremy Wick and junior forward Gunnar Hughes — among others — to pick up the slack released by Flanagan and George Hughes. The coaches are also counting on significant contributions from a huge incoming class.
"Our club is in a transition period," Carvel said. "We also have a huge incoming class: We have 15 returners and 11 new faces. Other coaches have talked about their returners having to carry them; I think we're in a different position. We lost two All-American players in George Hughes and Kyle Flanagan. With our recruiting class, we're hoping to fill those holes with newer players rather than returners. Our team this year is really going to rely on how fast our incoming players can adjust to college-level pace and intensity."
Fortunately for the Saints, the goaltending scenario seems clear, with senior Matt Weninger returning for a fourth go-round.
Weninger secured a career-best .915 save percentage last season with a 2.79 GAA. He will look for assistance from his defense, which returns five players who played significant minutes last year (seniors Riley Armstrong, Justin Baker and Pat Raley; junior Nelson Armstrong; and sophomore Ross McMullen).
With a little luck, rookies like Matt Carey — Greg's younger brother — will be able to step into a regular role as a point-producer. Because despite the name, one Carey simply can't shoulder the whole team.
About the Saints
2012-13 overall record: 18-16-4
2012-13 ECAC Hockey record: 9-9-4 (sixth)
2013-14 predicted finish: 10th in the coaches' poll and seventh in the media poll
Key losses: F Kyle Flanagan, D George Hughes
Players to watch: D Justin Baker, F Greg Carey, G Matt Weninger, F Jeremy Wick, F Gunnar Hughes
Impact rookies: F Matt Carey, D Mike Graham, F Brian Ward
Why the Saints will finish higher than predicted: Saints scorers beyond Greg Carey will rise to the occasion, giving the big guy the time and space he needs to keep St. Lawrence dangerous.
Why the Saints will finish lower than predicted: If Carey is the only cannon in Canton, it's going to be a long year … for him and his teammates.