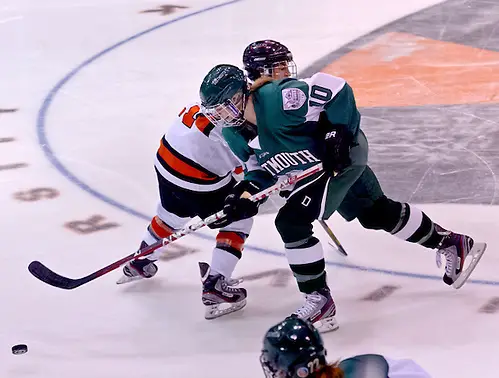 If you believe that a 60-minute hockey game is a few minutes too short, then Dartmouth may be the team for you. The Big Green went to overtime eight times in the last campaign.
When asked how to convert more of those games into victories, coach Mark Hudak laughed and said, "Score more goals."
"I am laughing say that, but I really do mean that," he said. "I don't think offensively we did as well as we could have last year. I was mostly happy with the way we played defensively, but I think we were missing a little of the offensive jump, the offensive spark."
Unfortunately, the team graduated several of its main sources of offense. That includes four of the five leading scorers, Reagan Fischer, Camille Dumais, Jenna Hobeika, and Sasha Nanji.
Hudak said he may take the reigns off of his team and allow it to be a little more creative than in the past. One player who returns and hints at having the potential to flourish in a less-structured environment is sophomore forward Laura Stacey, coming off a 22-point rookie year.
"We've got 20 players this year, including our three goalies, and 13 of those players are freshmen and sophomores," Hudak said. "I think we're going to be a little bit on the younger side, some inexperience, but I think there's a lot of energy in the class. I think there's also some decent talent in both of those classes. I think it's one of those years as a coach where you're going to have to be okay with some energetic mistakes, but I think it's really going to be a fun group to coach."
It is likely that there will be some moments along the way that will be less fun. The Big Green open on the road at No. 2 Boston College.
Hudak said, "I think it's an awesome test for us to start with somebody that is that strong with that much talent for us to say, 'Okay, this is what it is going to be like.' Hopefully, that sets the standard for what we've got to prepare for and what we've got to be ready for all year long."