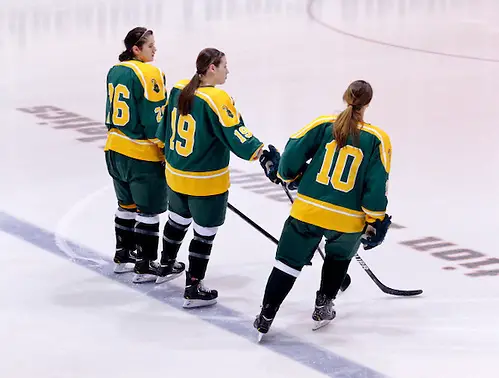 Unlike the three other conferences, where the league tournament is all-inclusive, ECAC Hockey leaves four teams on the outside looking in when the playoffs commence. It becomes a mad scramble to get into the field, and last season's final week saw no fewer than four teams alive for the final berth.
That makes it competitive for players, stressful for coaches, and exciting for fans — at least for those that advance. That first weekend of the postseason is likely none too thrilling for the fans of teams that are eliminated by regular-season action.
Of late, the ECAC has belonged to Cornell; before that, Harvard ruled. One has to go back to 2006-07 and Dartmouth to find a year where the season title was claimed by someone other than the Big Red or the Crimson. This could easily be the year where some other squad breaks through. Six of the teams are already underway, but conference action has yet to kick off.
Clarkson looks destined to be either the league champion or to come very close. Cornell should also finish in the top four and wind up hosting.
After that, the picture gets murky. Harvard has a lot of talent and plenty of unknowns. Quinnipiac, Dartmouth, and St. Lawrence have positives, but they have also lost very key performers. Where there was a big gap between the top six and the rest of the teams in February, expect that separation to close or be erased altogether in this season's race.
Click on the team name for a detailed preview.
Clarkson Golden Knights
Projected Finish: First
ECAC Coaches Poll: First
Previous Season: Tie for second, 18-4-0, 36 points
Key Departures: Danielle Skirrow, Hailey Wood
Arrivals: Genevieve Bannon, Jessica Gillham, Corie Jacobson, McKenzie Johnson
Key Players: Erica Howe (1.73 goals-against average (GAA), .931 save percentage), Jamie Lee Rattray (22-30-52), Carly Mercer (17-24-41), Erin Ambrose (6-30-36)
Cornell Big Red
Projected Finish: Second
ECAC Coaches Poll: Second
Previous Season: First, 18-3-1, 37 points
Key Departures: Brianne Jenner, Lauriane Rougeau, Laura Fortino, Erin Barley-Maloney
Arrivals: Hanna Bunton, Caroline DeBruin, Kaitlin Doering, Sydney Smith, Brianna Veerman, Paula Voorheis
Key Players: Jillian Saulnier (10-33-43), Jessica Campbell (16-8-24), Hayleigh Cudmore (5-19-24)
Quinnipiac Bobcats
Projected Finish: Third
ECAC Coaches Poll: Fourth
Previous Season: Fourth, 13-6-3, 29 points
Key Departures: Victoria Vigilanti, Regan Boulton, Brittany Lyons, Felicia Vieweg, Breann Frykas
Arrivals: Taryn Baumgardt, Shiann Darkangelo, Emma Greco, Danielle Marmer, Mika Nervick, Sydney Rossman, Meghan Turner, Emma Woods
Key Players: Kelly Babstock (28-27-55), Nicole Kosta (11-28-39), Erica Uden Johansson (11-14-25)
Harvard Crimson
Projected Finish: Fourth
ECAC Coaches Poll: Third
Previous Season: Tie for second, 17-3-2, 36 points
Key Departures: coach Katey Stone, Jillian Dempsey, Lyndsey Fry, Kaitlin Spurling, Michelle Picard, Kelsey Romatoski, Hilary Hayssen, Josephine Pucci
Arrivals: assistant coach Laura Bellamy, Sydney Daniels, Abigail Frazer, Brianna Laing, Briana Mastel, Natasha Rachlin, Robyn White, Hannah Zarzecki
Key Players: Emerance Maschmeyer (1.44 GAA, .935 save percentage), Mary Parker (12-12-24), Marissa Gedman (8-19-27 two seasons ago)
Dartmouth Big Green
Projected Finish: Fifth
ECAC Coaches Poll: Sixth
Previous Season: Sixth, 11-7-4, 26 points
Key Departures: Reagan Fischer, Camille Dumais, Jenna Hobeika, Sasha Nanji, Lisa Berreman, Margaux Sharp
Arrivals: Robyn Chemago, Emma Korbs, Devon Moir, Kennedy Ottenbreit, Katty Ratty, Mackenzie St. Onge, Eleni Tebano
Key Players: Laura Stacey (8-14-22), Lindsey Allen (7-7-14), Lindsay Holdcroft (2.11 GAA, .914 save percentage)
St. Lawrence Saints
Projected Finish: Sixth
ECAC Coaches Poll: Fifth
Previous Season: Fifth, 12-6-4, 28 points
Key Departures: Kelly Sabatine, Brooke Fernandez, Michelle Ng, Kayla Sullivan
Arrivals: Alex Moore, Kirsten Padalis, Brooke Webster
Key Players: Rylee Smith (15-19-34), Amanda Boulier (8-24-32), Carmen MacDonald (2.19 GAA, .925 save percentage)
Colgate Raiders
Projected Finish: Seventh
ECAC Coaches Poll: Ninth
Previous Season: Eighth, 6-13-3, 15 points
Key Departures: Brittany Phillips, Jenna Klynstra, Jessica Hootz
Arrivals: Meghan Brennan, Kayla Haus, Cat Quirion, Hannah Rastrick, Annie Roche, Liz Trautz
Key Players: Miriam Drubel (9-10-19), Jocelyn Simpson (7-9-16), Megan Wickens (1-15-16)
Rensselaer Engineers
Projected Finish: Eighth
ECAC Coaches Poll: Eighth
Previous Season: Tie for 8th, 6-14-2, 14 points
Key Departures: assistant coach Brent Hill, Taylor Horton, Katie Daniels, Andie Le Donne
Arrivals: assistant coach Derek Alfama, Hannah Behounek, Laura Horwood, Heidi Huhtamaki, Lindsey Hylwa, Katie Rooney
Key Players: Alexa Gruschow (13-14-27), Jordan Smelker (9-12-21), Kelly O'Brien (2.48 GAA, .905 save percentage)
Princeton Tigers
Projected Finish: Ninth
ECAC Coaches Poll: Seventh
Previous Season: Ninth, 16-4-2, 14 points
Key Departures: Corey Stearns, Kelly Cooke, Alex Kinney
Arrivals: Kelsey Koelzer, Hilary Lloyd, Fiona McKenna, Audrey Potts, Morgan Sly, Molly Strabley, Cassidy Tucker
Key Players: Sally Butler (8-7-15), Brianna Leahy (9-5-14), Kimberly Newell (2.90 GAA, .915 save percentage)
Yale Bulldogs
Projected Finish: 10th
ECAC Coaches Poll: 10th
Previous Season: 10th, 4-15-3, 11 points
Key Departures: Alyssa Zupon, Danielle Moncion, Jamie Gray, Natalie Wedell, Jen Matichuk
Arrivals: Abby Gahm, Hanna Mandi, Taylor Marchin, Phoebe Staenz, Gretchen Tarrant, Krista Yip-Chuck
Key Players: Jaimie Leonoff (2.83 GAA, .925 save percentage), Kate Martini (6-10-16), Tara Tomimoto (2-12-14)
Union Dutchwomen
Projected Finish: Tie for 11th
ECAC Coaches Poll: 12th
Previous Season: 12th, 0-18-4, 4 points
Key Departures: assistant coach Julie Chu, Rhianna Kurio, Nicole Bartlett, Emma Rambo, Jeannie Sabourin, Alana Marcinko
Arrivals: assistant coach Nicholas Carpenito, Kathryn Davis, Alli Devins, Emily Erickson, Emma Pincott, Eastyn Yuen
Key Players: Shenae Lundberg (2.85 GAA, .906 save percentage), Courtney Turner (6-8-14), Jessica Kaminsky (6-6-12)
Brown Bears
Projected Finish: Tie for 11th
ECAC Coaches Poll: 11th
Previous Season: 11th, 5-17-0, 10 points
Key Departures: assistant coach Lucy Schoedel, Alena Polenska, Laurie Jolin, Katie Jamieson, Victoria Smith
Arrivals: assistant coach Jillian Kirchner, Monica Elvin, Catherine LeBoeuf, Maddie Woo
Key Players: Aubree Moore (2.27 GAA, .921 save percentage), Jessica Hoyle (5-7-12), Lauren Vella (4-7-11)