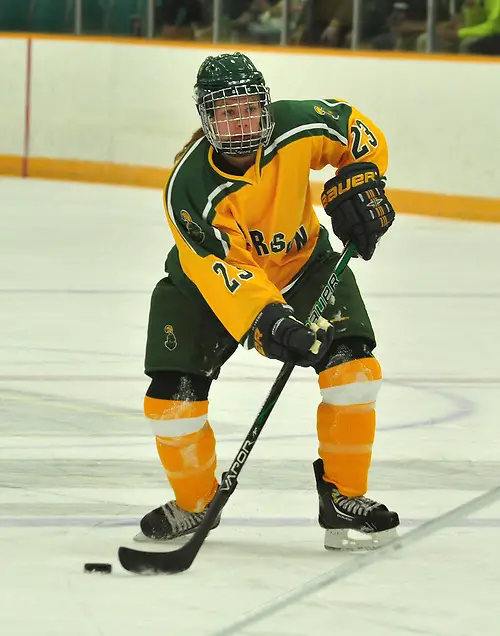 "I think a lot of this year starts with our senior class," said co-head coach Shannon Desrosiers. "I truly believe this year we'll go as they go."
The current group of seniors arrived at Clarkson on the heels of the program's first trip to the NCAA tournament. However, a large and talented class had just graduated, so the newcomers were thrown into the fire immediately. Leading scorers Jamie Lee Rattray and Carly Mercer have been counted on to put up points throughout their careers, and goaltender Erica Howe has logged the bulk of the minutes in net.
Last season, they led the Golden Knights back to the national tournament. With 15 players from that squad returning, Clarkson is favored to not only make another excursion to the NCAAs, but to capture its first ECAC championship after losing out to Cornell by a single point in 2013.
"Just having that NCAA experience last year for those players is really going to help," said Matt Desrosiers, the other half of the head-coaching tandem. "They know they played pretty well in that game [versus Boston University], and it definitely could have gone either way. I think that motivates the players, not only to want to get back to that point, but to go beyond. They're prepared, they're ready, and they have lofty goals."
With four new players added to the mix, plus Cayley Mercer healthy after an injury redshirt, Shannon Desrosiers says that the team will have greater depth at the forward position, where last year they often had only nine players available. Ten of the 11 players to reach double digits in points are back, making it likely that the Golden Knights will better last year's performance as the ECAC's fifth-highest scoring offense.
Another reason for optimism is that Erin Ambrose figures to be healthy for the entire season. As a rookie, she made an immediate impact, particularly on the power play. Ambrose helped her team have the league's second unit in power play conversion.
The staple of Clarkson's game is a stingy defense, backed by all-conference goaltender Erica Howe. It faltered a bit in both the ECAC and NCAA tournaments, yielding a goal in the opening minutes. Matt Desrosiers says the team may have pressed a bit in those pressure-packed situations. He feels the experience will help both the players and the coaches deal with it more effectively when they get another chance on the big stage.