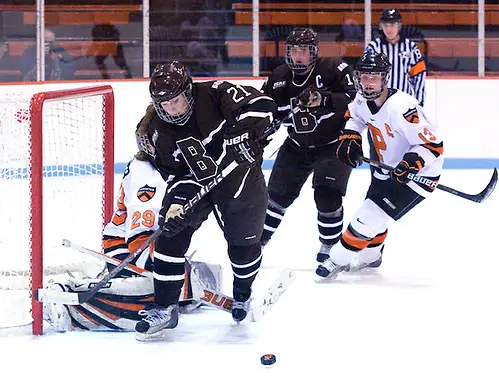 After guiding Brown back into the postseason in her first season, coach Amy Bourbeau was unable to duplicate that feat in 2012-2013. The biggest problem was scoring goals, or rather, a failure to do so on a consistent basis. Opponents outscored the Bears nearly two to one in league play.
Reducing that gap this season becomes more daunting with the graduation of Alena Polenska, Brown's leader in both goals and assists despite missing several games.
Bourbeau says that the team will need to work extremely hard to make up for her loss, and one of the keys will be finishing on the power play. The team clicked at 11.6 percent with the advantage a year ago, and bettering that mark would be a good place to search for added offense.
Another vital area for Bourbeau's team will be goaltending, and the Bears are in better shape on that front. Aubree Moore ranked in the top half of the league in both save percentage and goals-against average, so if she can have a huge senior season, it will be a boost to her team.
While the Bears have distance to cover to resume their place as a contender in the ECAC and nationally, qualifying for the postseason field on an annual basis is a reasonable objective.
"Our goal is to return the team to playoffs," Bourbeau said. "We recognize that the program is still developing, but we look forward to the challenge."
So far, so good. Although Brown's first official game isn't until October 25 at RIT, Bourbeau likes how hard the players have been going about their preseason work.
"There is a lot of good energy and excitement to get started," she said. "I look forward to surprising teams this season."