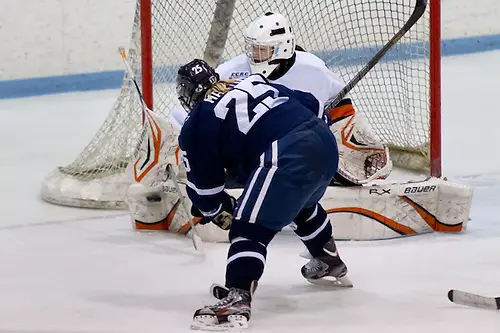 After a particularly trying season in 2011-2012 that saw Yale win but a single game, hope returned to New Haven, Conn. last season. That renaissance was fueled by an incoming class that made a difference immediately, and now, according to coach Joakim Flygh, they return as sophomores bigger, stronger, and faster, and he looks for them to have even more of an impact.
They already led the way as rookies. Four members of the class — Kate Martini, Jamie Haddad, Janelle Ferrara, and Hanna Åström — finished in the top five on the team in points. Martini, the points leader, plays on the blue line, as does junior Tara Tomimoto, the runner-up in points.
That glass could be half empty or half full. It's good that a team is getting offensive contributions from defensemen. On the negative side, one would like to see greater offense in evidence at the forward position. The net result is that the Bulldogs finished 10th in the league in scoring offense, mirroring their position in the standings.
The lack of offense puts more pressure on the defense and goaltender Jaimie Leonoff.
"She's going to have to be very good for us to be competitive in our league, and I feel she's more than capable of doing that," Flygh said.
Another obstacle for Yale over the past couple of seasons has been the quantity of injuries that have knocked players out of the lineup or hampered their effectiveness. Flygh said preparation is a must in staying healthy, "Just making sure that we're in better shape." He added, "and a little bit of luck," citing the number of concussions his players have suffered.
A number of things need to go right for the Bulldogs to get back into the playoff field, but at least this season, that is a realistic goal. It is made challenging by the number of ECAC teams that share that goal and are demonstrating improvement.
"Women's hockey in general is getting more competitive," Flygh. "A lot of teams are doing a great job of recruiting."
As Flygh pointed out, the fact that the ECAC was the best represented conference at Hockey Canada's U-22 camp over the summer is evidence of that.