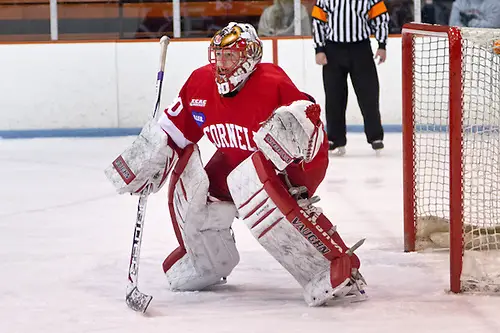 After a run of four consecutive regular-season titles, the ECAC Hockey coaches slot Cornell in at second in the preseason poll. That has a lot to do with the names missing from the Big Red's roster.
"Being an Olympic year, losing someone like [leading scorer Brianne] Jenner and then also losing two All-American defensemen in [Lauriane] Rougeau and [Laura] Fortino, it's going to be a little bit of a different look for our team, but I feel like we've got strong balance throughout our squad," coach Doug Derraugh said.
The team still has great players, albeit players who have been overshadowed to an extent at Cornell by those three and recent graduate Rebecca Johnston. Now those who remain get their chance at the spotlight.
"For our team, we've had situations where some of our players have already had to deal with that with those players that we lost with Jenner and Rougeau and Fortino in particular," Derraugh said. "They've been gone for other weekends for hockey camp, whether it's Four Nations or the Meco Cup, where we've had to have some of our other players step up and they've done so. Obviously, Jill Saulnier comes to mind and Jess Campbell is somebody that is always there and seems to play her best when we need it and scores big goals for us at big times in big games. Emily Fulton is another one who seems to relish those situations and steps up for us, especially when we lose some of those players that you talk about. Last year, Taylor Woods stepped up as a freshman and played really strong for us down the stretch."
The blue line is in surprisingly good shape as well.
"Our 'D' corps, even though we lost two All-Americans, I think we're solid from top to bottom, led by our two seniors in [Hayleigh] Cudmore and [Alyssa] Gagliardi," the coach said. "We have a freshman in Syd Smith that we think will help out on our back end."
Senior Lauren Slebodnick returns to guard the Big Red net, so few if any holes can be found in Cornell's lineup. Clarkson being the first choice speaks more to the strength of the Golden Knights than any presumed weaknesses in Ithaca, N.Y.
"In order for us to be successful this season, some players are going to have to step up to another level for us to be successful in the playoffs through the ECACs, and hopefully, the NCAAs," Derraugh said.
He will receive some early progress reports on that front; Cornell's October consists of opponents that have either been ranked in or near the top 10, and November ends the same way, highlighted by a series with Boston College.
"We do have some really strong nonconference teams that we have to play this year, so it'll certainly be a real challenge for us early on in the year," Derraugh said. "We're going to find out in a hurry where we stand. I think also when you challenge your team early on in the season, it also pays dividends in the second half, because you've been through some things and faced a lot of tough teams and you'll see where your weaknesses are and what you really need to focus on going into the second half of the season."