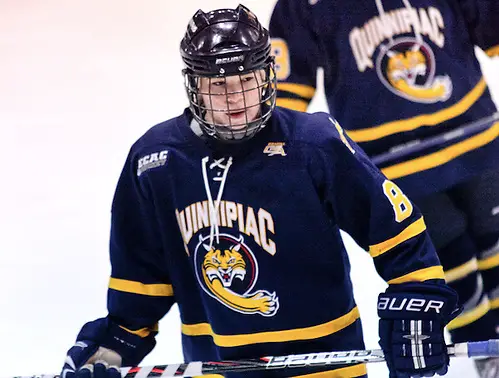 Victoria Vigilanti is likely the player that has meant the most to Quinnipiac in its brief history. The Bobcats were 3-26-5 the year before her arrival; that record jumped to 19-10-8 in Vigilanti's first year of guarding the Bobcats' net.
"The bottom line is with Vigilanti graduating, we have no real experience in net," coach Rick Seeley said.
A new face of the team will emerge, and one player in particular has been leading the way offensively since she came to Hamden, Conn., three years ago.
"Obviously, Kelly Babstock leads the group," Seeley said. "It's hard to say she might have a breakout year after putting up [154] points in three years, but it's the most fit she's ever shown up and the most focused she's been."
While Babstock is definitely the first player that comes to mind for Quinnipiac, she also has help.
"[Junior] Nicole Kosta might be our best all-around player," Seeley says. "We do have a great transfer coming in from Syracuse, Shiann Darkangelo, which will help solidify the center spot in our first two lines."
Some young players will also contribute to the offense.
"Nicole Connery, who had a pretty solid freshman year – I think, 18, 19 points, scored some big goals for us — has the potential to be an exceptional player at this level," Seeley said. "It's just a question of when she gets there."
In the incoming class, he likes the scoring potential of Emma Woods.
One of the hallmarks of a Seeley team is stout team defense, and that can't be accomplished without a strong blue line. The Bobcats are talented in that regard, but young; the only representative from the upper class is senior Shelby Wignall. That unit held up well in its first weekend of play at St. Cloud State, teaming with new starting goaltender and junior Chelsea Laden to limit the Huskies to one goal in 125 minutes.
Quinnipiac next hosts a series with Penn State before a trip to Maine for two games. All three of the first opponents are expected to be found closer to the bottom of their league races than the top.
"We're pretty excited about a gradual start to try to get this team on board," Seeley said. "It's a great group of characters, but when you lose Vigilanti and Reagan Boulton, our captain, it's always going to be tough to replace that kind of leadership. It gives us an opportunity to bond. We're on the road for long road trips two of our first three weekends, so we'll see where the chips fall."